First batch of Lithuanian rum set to go on sale on Feb. 1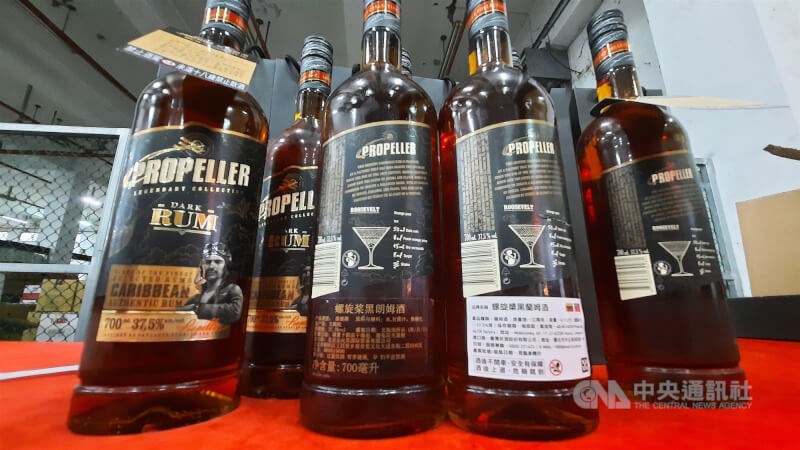 Taipei, Jan. 22 (CNA) A batch of 6,000 bottles of rum from Lithuania is expected to go on sale in Taiwan on Feb. 1, the first day of the Year of the Tiger on the Chinese calendar, state-run Taiwan Tobacco and Liquor Corp. (TTL) said Saturday.
The 6,000 bottles are part of a shipment of 20,400 bottles of rum which arrived in Taiwan on Tuesday, Jan. 18, after being purchased by TTL to prevent the shipment from potentially being blocked by Chinese customs from entering China as part of economic sanctions imposed on the Baltic state from Beijing.
In a news conference, TTL Chairman Ting Yen-che (丁彥哲) said the 6,000 bottles of rum had been priced at NT$600 (US$21.66) each and would be placed in the company's showrooms around Taiwan and some TTL authorized sellers for sale.
In addition, FamilyMart, one of the leading convenience store chains in Taiwan, will launch pre-order sales for the Lithuanian rum, TTL said.
Taiwan and Lithuania have forged a strong friendship through recent exchanges, including face mask and vaccine donations during the COVID-19 pandemic, and the purchase of Lithuanian rum was the latest effort to enhance bilateral ties, said Ting.
According to TTL, the company was notified on Dec. 18 by the Ministry of Finance and Eric Huang (黃鈞耀), head of the Taiwanese Representative Office in Lithuania, that a shipment of Lithuanian rum made by MV Group Production scheduled to arrive in China on Dec. 29 could face potential hurdles with Chinese customs.
TTL said the company's decision to purchase the Lithuanian rum was to show support for the Baltic nation, which has been facing increasing political and economic pressure from Beijing due to Lithuania allowing Taiwan to open a de facto embassy in November with "Taiwanese" in its official name.
"TTL will study the possibility of further cooperation with Lithuania," Ting said. TTL has exchanged product catalogs with MV Group, accessing a choice of products for sale in each market, Ting added.
Ting said since TTL announced it would purchase the 20,400 bottles of rum from Lithuania earlier this month, the company has received many inquiries from potential consumers, while the Presidential Office, the Ministry of Foreign Affairs, other government agencies, and private businesses such as Grand Hotel have also showed interest.
In addition to rum, Lithuanian beer brewer Volfas Engelman received a notice in October about a cancellation of orders from China.
The oldest beer brewer in Lithuania entered the Taiwan market in mid-2020 but is now exploring opportunities to expand in the market in the wake of an implicit ban on products from the Baltic state by China.
Excessive Drinking Endangers Health