Video snafu at democracy summit 'technical issue,' U.S. tells Taiwan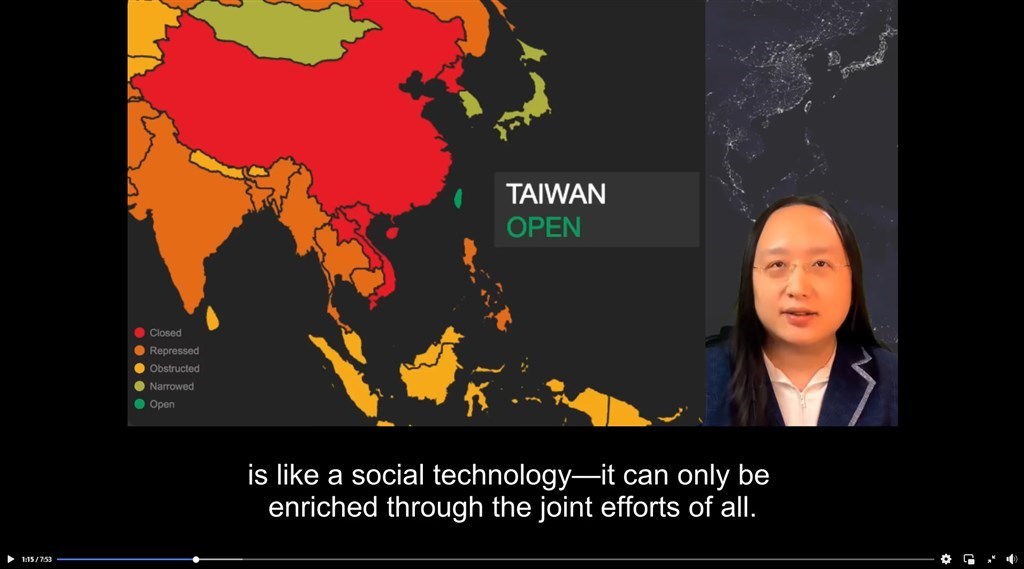 Taipei, Dec. 13 (CNA) The United States has blamed a "technical issue" for a video feed of digital minister Audrey Tang's (唐鳳) speech being cut during the U.S. Summit for Democracy last week, Taiwan's Ministry of Foreign Affairs (MOFA) said Monday.
There was confusion over screen-sharing when Tang was concluding her address in a panel session of the summit Friday, resulting in her video feed being dropped, MOFA said in a statement, citing the explanation it was given by the U.S.
The full video of Tang's remarks during the panel has since being put online by the summit at its official site https://www.state.gov/schedule-the-summit-for-democracy/#Day2, MOFA said.
MOFA was responding to a Reuters report that cited unnamed sources as saying the video feed was cut deliberately on the White House's instructions and replaced with an audio feed after a map in her slide presentation showed Taiwan in a different color than China.
The U.S. was concerned that the color scheme showed Taiwan as a distinct country, which could be seen as being at odds with Washington's "one-China" policy in which it avoids taking a position on whether Taiwan is part of China, the unnamed sources said.
The White House offered no formal comment, but the State Department said "confusion" over screen-sharing resulted in Tang's video feed being dropped, and called it "an honest mistake."
"We valued Minister Tang's participation, which showcased Taiwan's world-class expertise on issues of transparent governance, human rights, and countering disinformation," a spokesperson said.
Tang, a minister without portfolio responsible for digital issues, and Taiwan's top envoy to the U.S. Hsiao Bi-khim (蕭美琴) both participated in the virtual summit, held from Dec. 9 to 10, on behalf of Taiwan government.
Aside from participating in the panel on "countering digital authoritarianism," Tang also delivered Taiwan's national statement during the summit.