REFERENDUMS 2021
/
Nuclear advocate, opponent argue over safety issues in televised forum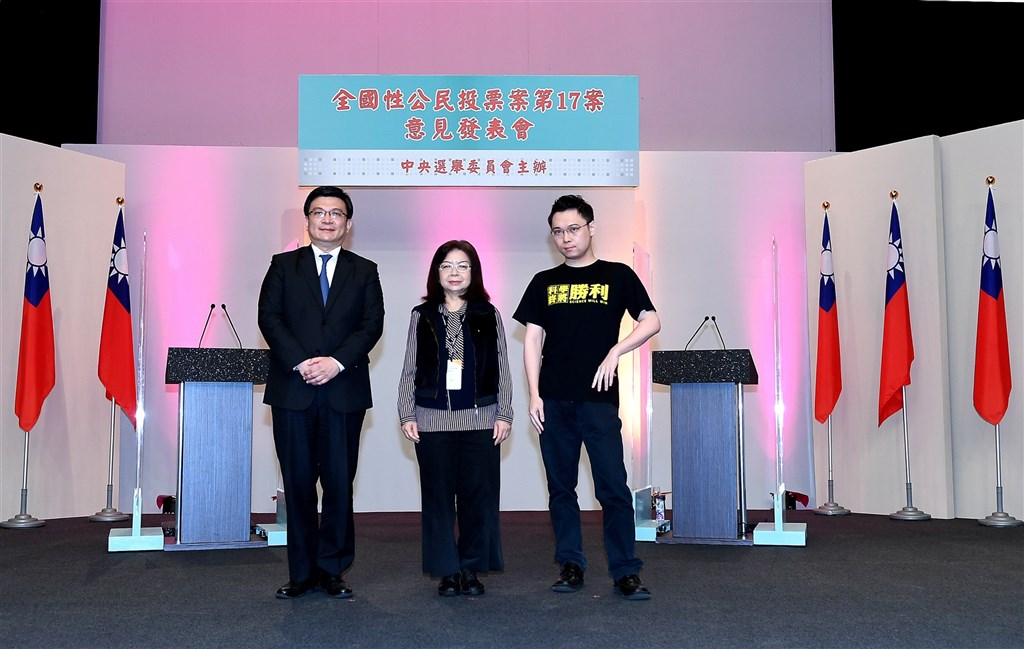 Taipei, Nov. 13 (CNA) A deputy minister defending the government's anti-nuclear position and a nuclear advocate argued over safety issues concerning Taiwan's long-mothballed Fourth Nuclear Power Plant Saturday in a televised forum ahead of an upcoming referendum that will determine its fate.
Nuclear advocate Huang Shih-hsiu (黃士修), who initiated the campaign for a public vote to unseal the power plant and start commercial operations, said a majority of the plant's safety checks were passed by the Ministry of Economic Affairs (MOEA) before it was mothballed by then-President Ma Ying-jeou (馬英九) in 2014 due to public concerns.
The referendum question on the nuclear plant, which Huang wrote, asks: "Do you agree that the Fourth Nuclear Power Plant should be unsealed and operated commercially to generate electricity?"
The refusal of the Atomic Energy Council (AEC) to conduct a safety inspection of the power plant made it look like a safety failure, Huang said during the first of five televised forums on four referendums scheduled for Dec. 18.
"It is like a teacher refusing to review a student's test even though the answers were all correct," said Huang.
In response, Deputy Economic Affairs Minister Tseng Wen-sheng (曾文生) said "the completion of safety tests is a lie," as an MOEA inspection, instead of one conducted by the AEC, was like a "mock test," which was not credible.
Even if the safety checks were completed for the plant's test run, it did not mean there were no safety concerns, Tseng stressed, as such a check was only one of the 75 tests required for formal operation.
There were 40 tests that the power plant failed to pass, he said, arguing that it was an "unrealistic" expectation to think it was possible to reactivate the power plant.
Tseng also pointed out that counting on the Fourth Nuclear Power Plant to tackle Taiwan's energy shortage was exactly why the country has been struggling with the problem, accusing the Kuomintang's Ma of failing to invest in energy development other than nuclear power during his tenure.
But Huang questioned if it was unrealistic to reactivate the power plant as argued by the ruling Democratic Progressive Party (DPP), which has stated that it would take at least seven years to do so.
It took only four years for the Kashiwazaki-Kariwa Nuclear Power Plant in Japan, which uses the same advanced boiling water reactor as the Fourth Nuclear Power Plant, from construction to operation, Huang said, adding that the Fourth Nuclear Power Plant's former head Wang Po-hui (王伯輝) had said it would take only one to two years to restart the plant's No. 1 generator, for instance.
Huang said reactivating the power plant would bring enormous economic benefits as it would generate 20 billion kilowatt-hours of electricity per year, which would save the country NT$60 billion (US$2.16 billion) each year compared with using renewable energy.
It also meant that the power plant would be able to break even after operating for five years, he said in the forum, which allowed the two sides to explain their respective positions opposing and supporting the referendum question, with each speaking for 24 minutes, over two 12-minute rounds.
The next four forums - on issues including nuclear power, pork imports, conservation of algal reefs, and whether future referendums should be held on the same day as major elections - will take place on Nov. 18, Nov. 24, Dec. 2, and Dec. 11, the Central Election Commission (CEC) said.
The events will be streamed live on https://web.cec.gov.tw/referendum/hearing/110rmedia.
View All