Taiwan reaffirms desire to join TPP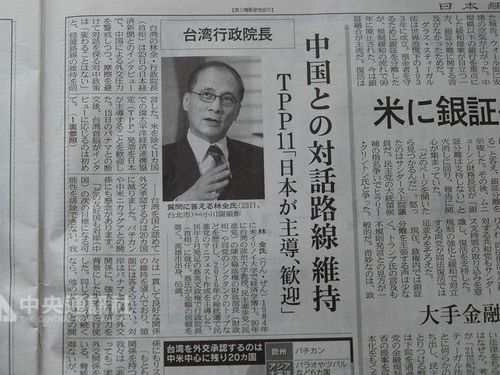 Taipei, June 24 (CNA) Premier Lin Chuan (林全) recently reaffirmed that Taiwan wished to join the regional trade bloc Trans Pacific Partnership (TPP), even though the United States -- a driving force behind the trade pact -- has withdrawn from the agreement.
In an interview with the Japanese newspaper the Nihon Keizai Shimbun, Lin reiterated Taiwan's wish to join the TPP, when asked whether the trade pact was worthy of Taiwan's participation now that the U.S. had withdrawn.
Japan is now pushing ahead on the TPP, since U.S. President Donald Trump pulled out the trade pact earlier this year following his January inauguration. The TPP was previously led by the U.S. under the administration of President Barack Obama.
Lin said during the interview that trade is the main driver of Taiwan's economic development, which means liberalization is necessary. "We hope to reduce trade barriers," he said.
Taiwan had previously expressed a desire to join the TPP and is now pleased to see Japan become the leader among the 11 remaining TPP countries, following the U.S.' withdrawal, Lin said, according to the full text of the interview that was posted Saturday on the Cabinet's website.
He expressed the hope that Taiwan will be included in the TPP. "We will be pleased to have the opportunity to join such multilateral trade blocs, for further market liberalization," he said.
Lin said that China's suppression has made it more difficult for Taiwan to sign bilateral or multilateral trade agreements with other countries.
However, Taiwan needs to overcome such obstacles in order to gain an opportunity to participate in multilateral trade pacts or reach bilateral trade agreements with other countries, he said.
He said Taiwan has a relatively strong economy and its participation will be beneficial to the TPP.
Taiwan also hopes to develop closer trade ties with Japan, other TPP countries, the United States and the European Union and reduce tariffs in bilateral trade, he said.
(By Elaine Hou)ENDITEM/pc