TPP's Ko says China policy will be based on 'deterrence & communication'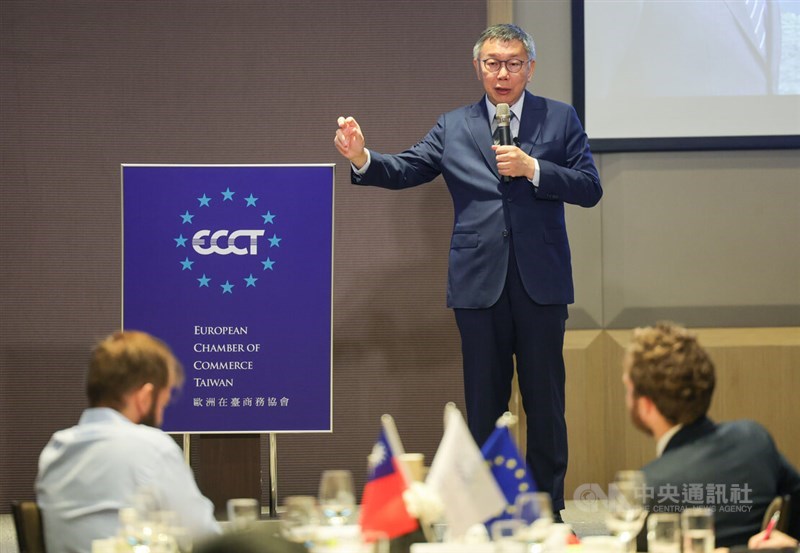 Taipei, Sept. 4 (CNA) Taiwan People's Party (TPP) presidential candidate Ko Wen-je (柯文哲) said Monday he would make "deterrence and communication" the foundation of his China policy to avoid staking Taiwan's future on "goodwill" alone.
Speaking during a luncheon hosted by the European Chamber of Commerce Taiwan (ECCT), Ko, the current TPP chairman and former Taipei mayor, pledged to increase defense spending to deter a potential Chinese invasion while engaging in dialogue with Beijing.
Ko described "communication" as key to improving strained cross-strait relations, stating that it would "effectively decrease the possibility of misunderstanding."
Although it is extremely unlikely Taiwan and China can engage in talks on political issues in the current stage, both sides can start with easier topics, such as cultural and sports-related issues before moving to economic exchanges, Ko said.
"The keyword for cross-strait relations is step-by-step," said Ko, who currently sits second behind presidential front-runner Vice President Lai Ching-te (賴清德) of the ruling Democratic Progressive Party (DPP) in most polls.
Meanwhile, Ko told European company representatives at Monday's event he knew foreign investors in the country were most concerned about Taiwan's energy supply, reiterating his stance of pushing back the DPP's planned 2025 phase-out of nuclear power.
He reiterated his stance that contrary to the DPP government's goal of nuclear-free Taiwan, his party believes the country should push back the timeline to phase out nuclear power while at the same time gradually boosting the percentage of renewables in Taiwan's energy mix.
In addition, Ko said, Taiwan should boost the percentage of renewables in the country's energy mix, as part of a "pragmatic" approach to achieve net zero emissions by 2050.
Overall, Ko said that if elected president, his administration would seek to govern in a "rational, pragmatic and scientific" manner.
"Based on these principles we will find answers to many questions," he added.
The ECCT represents 1,050 members from over 450 European companies with operations in Taiwan.
More 'Election 2024' articles
Election 2024/From popular mayor to ho-hum candidate, KMT's Hou struggles to gain traction
Election 2024/Dissecting Ko: Why young people seem to favor the TPP presidential candidate
Sept. 2: Terry Gou resigns from Hon Hai board of directors
Aug. 31: Only DPP firmly defends Taiwan's sovereignty: VP Lai
Aug. 31: Presidential hopefuls to take part in climate debate in October