Taiwan shares continue upwards as TSMC leads gains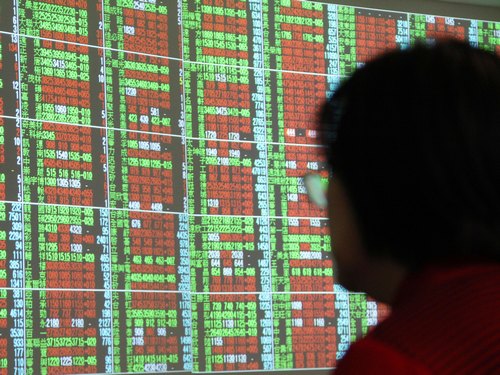 Taipei, Oct. 16 (CNA) Shares in Taiwan continued to move higher Wednesday to hit a 16-month high, helped by gains posted by contract chipmaker Taiwan Semiconductor Manufacturing Co. (TSMC), dealers said.
Buying largely came from foreign institutional investors who held a large number of long position contracts in the futures market and wanted to prop up the spot market to profit in futures Wednesday when October futures were set to be settled, they said.
The weighted index on the Taiwan Stock Exchange (TWSE), the Taiex, ended up 51.03 points, or 0.46 percent, at 11,162.83, after moving between 11,113.18 and 11,180.11. Turnover was NT$146.10 billion (US$4.76 billion).
The market opened up 0.49 percent on follow-through buying from a session earlier, reacting to a 0.89 percent rise in the Dow Jones Industrial Average and a 1.00 percent rise in the S&P 500 index overnight on strong corporate earnings, dealers said.
Taiwan's semiconductor sector and electronics sector led the upturn, driven by the 2.22 percent rise in the Philadelphia Semiconductor Index on Tuesday to push up the Taiex to its highest level since June 13, 2018, when the Taiex closed at 11,173.21, they said.
TSMC, the most heavily weighted stock in the local market, rose 1.02 percent to close at NT$296.50, a new closing high for the stock, with 40.22 million shares changing hands, off an early high of NT$298.00.
The stock's gains contributed to an increase of about 30 points in the Taiex and boosted the electronics sector and the semiconductor sub-index by 0.36 percent and 0.73 percent, respectively.
"TSMC served as an anchor that boosted the broader market again today," Dayu International Securities Investment Consultant analyst Chang Chih-cheng said.
"Investors have widely anticipated that TSMC will continue to enjoy the lead over its peers in high-tech technology development."
TSMC will hold an investor conference Thursday to detail its third quarter results and give its fourth quarter guidance. Chang said it would be no surprise if the chipmaker forecasts a rosy picture for the current quarter.
In the July-September period, TSMC posted consolidated sales of NT$293.05 billion, up 21.6 percent from the previous quarter, which surpassed the company's guidance given in mid-July, which forecast growth of about 18 percent.
"Moreover, the settlement of October futures contracts today also led foreign institutional investors to buy TSMC to push up the spot market and profit in the futures market," Chang said.
According to the TWSE, foreign institutional investors bought a net NT$9.33 billion in shares on the market Wednesday.
Despite TSMC's gains, other large cap tech stocks were mixed.
Among them, dynamic random access memory chip maker Nanya Technology Corp. gained 0.57 percent to close at NT$70.00, and integrated circuit packaging and testing services provider ASE Technology Holding Co. rose 0.26 percent to end at NT$77.00.
But Largan Precision Co., a supplier of smartphone camera lenses to Apple Inc., fell 2.78 percent to end at NT$4,378.00.
"The gains seemed uneven so technically speaking, the Taiex could take a pause after recent solid gains to consolidate," Chang said. "I still have faith the Taiex will continue to move higher amid ample liquidity."
Such uneven gains in share prices were also seen in old economy and financial shares, dealers said.
Among the mixed old economy stocks, Formosa Plastics Corp. gained 1.37 percent to close at NT$95.90, and Formosa Petrochemical Corp. rose 0.82 percent to end at NT$98.00, while Eclat Textile Co. lost 1.33 percent to close at NT$408.00.
In the financial sector, which gained 0.44 percent, Fubon Financial Holding Co. rose 0.67 percent to close at NT$45.25, and Cathay Financial Holding Co. added 1.36 percent to end at NT$41.10, while Mega Financial Holding Co. closed unchanged at NT$29.15.
"Trade friction between the United States and China remains a factor in Taiwan's market," Chang said.
While Washington and Beijing appeared to reach an initial agreement in the latest high-level talks over the weekend, both sides are expected to meet again before they ink a formal agreement.
"We should look closely at what the written agreement says," Chang said.