Downpours do little to ease drought conditions in southern Taiwan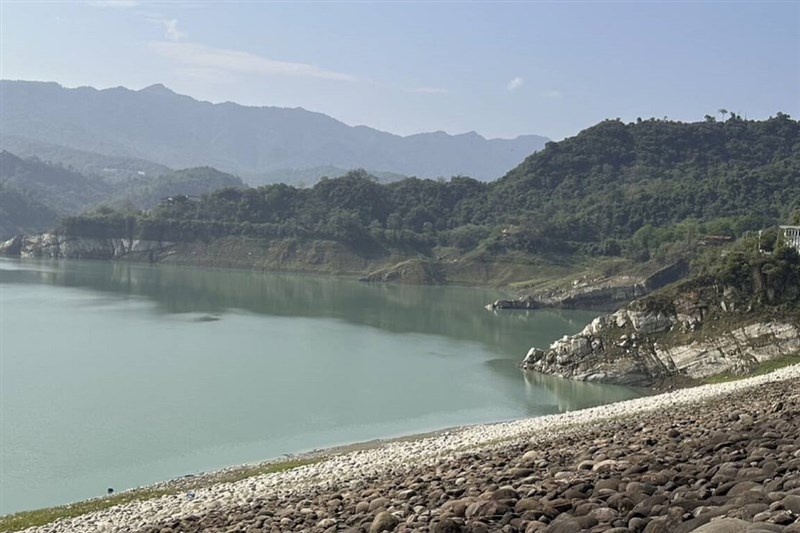 Taipei, May 23 (CNA) A weather front brought heavy downpours to much of Taiwan on Monday night, but less than 5 percent of the rain ended up in reservoirs in the drought-stricken southern part of the island, the Water Resources Agency (WRA) estimated Tuesday.
The weather front is estimated to have deposited 20.25 million cubic meters of rainwater in reservoirs nationwide from 7 a.m. Monday to 7 a.m. Tuesday, but only 950,000 cubic meters went to reservoirs in the south, according to WRA statistics.
The agency said 500,000 cubic meters of rain was deposited in the Tsengwen and Wu Shan Tou reservoirs combined, leaving them with water reserves equaling only 13.4 percent of capacity.
Another 250,000 cubic meters were deposited in the Lantan and Renyitan reservoirs combined and 150,000 cubic meters reached the Nanhua Reservoir, and they remained at barely over 20 percent of capacity.
In contrast, reservoirs in the north collected an estimated 9.8 million cubic meters of usable water, the WRA estimated.
Shihmen Reservoir received 4.3 million cubic meters during the 24-hour period, pushing up its reserves by about half a percentage point to 34.47 percent of capacity as of 7 a.m., and that number continued to rise Tuesday, reaching above 35 percent as of 2 p.m.
Also, an estimated 3.3 million cubic meters of water helped push Baoshan Reservoir and the Second Baoshan Reservoir to nearly 75 percent of capacity, from under 73 percent Monday.
May 23: Flooding reported across Taiwan after downpours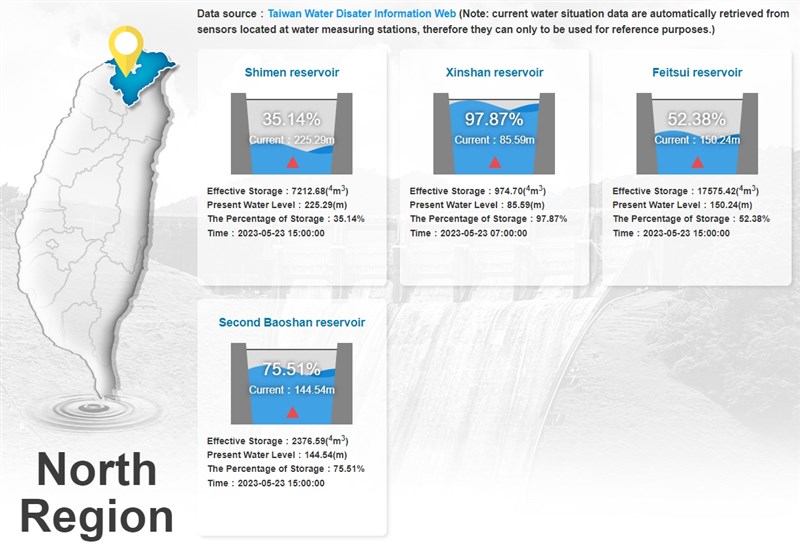 In central Taiwan, the Techi, Liyutan, and Sun Moon Lake and Wushe reservoirs received an estimated 9.5 million cubic meters of water in the same span.
Sun Moon Lake and Wushe reservoirs gained an additional 2.3 million cubic meters in water, while Liyutan Reservoir got 2.1 million cubic meters.
Except for Hushan Reservoir and Liyutan Reservoir, which were respectively at 29.7 percent and 46.1 percent of their capacity on Tuesday morning, the other reservoirs in central Taiwan listed by the WRA were at more than half of their capacity, the data showed.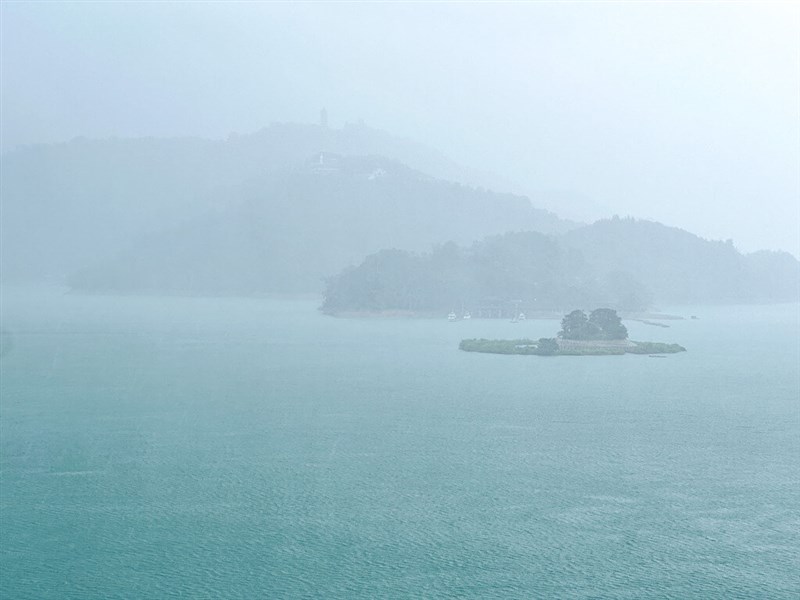 According to the agency's official website, the two major cities in southern Taiwan, Tainan and Kaohsiung, are currently subject to an "orange" water conservation alert, under which the water supplied to some large commercial users is limited.
Meanwhile, Hsinchu County and City, Taichung, the northern part of Changhua, and Chiayi County and City are subject to a "yellow" alert, meaning water pressure is reduced daily between 10 p.m. and 6 a.m.