CORONAVIRUS
/
COVID-19 data to be updated weekly: CECC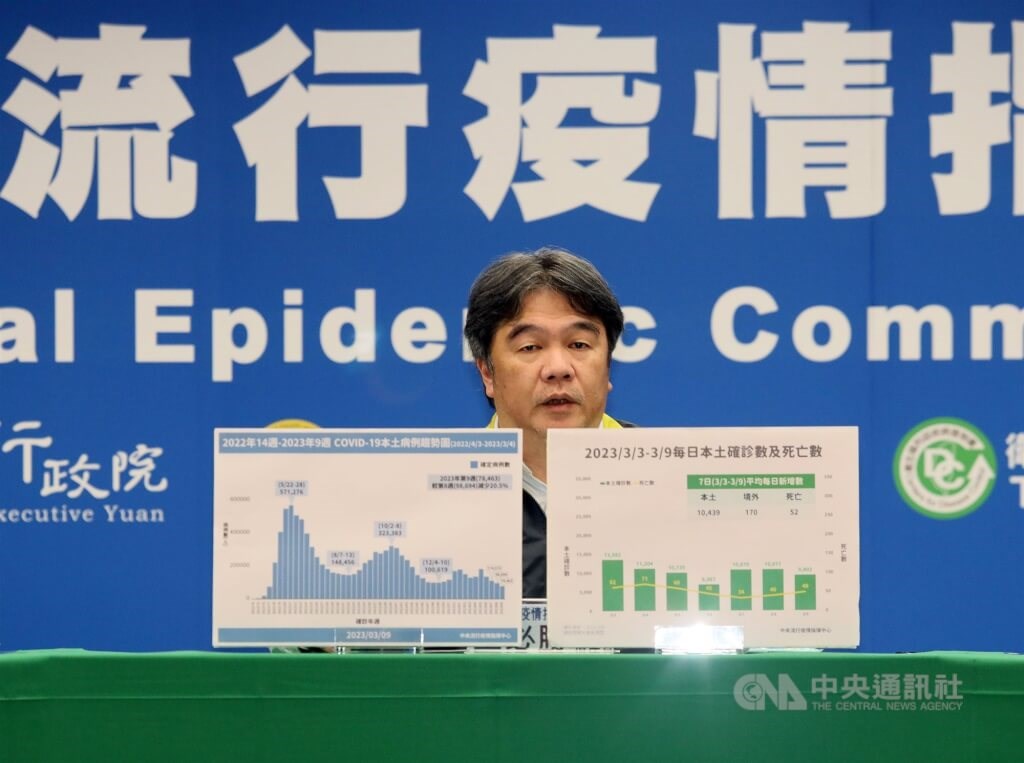 Taipei, March 28 (CNA) As new COVID-19 infections over the past month have shown a steady downward trajectory, from Thursday the COVID-19 dashboard will be updated weekly rather than daily, Taiwan's Central Epidemic Command Center (CECC) said Tuesday.
Weekly updated statistics that track the number of newly infected COVID-19 cases with moderate to severe infections and fatalities will be published every Thursday, CECC spokesman Lo Yi-chun (羅一鈞) said.
Also included in the weekly release will be figures on healthcare capacity, dispensing rate for oral antiviral drug treatments for the disease, positivity rate at facilities for individuals with physical or mental disabilities and subvariant surveillance, he said.
Taiwan reported 137 moderate and severe COVID-19 cases, all domestically transmitted, and 14 deaths from the disease Tuesday, the CECC said.
The number of moderate and severe cases recorded during the past month has been 119 per day on average, with a range of 13 to 236, the lower numbers probably being caused by the lag in reporting on holidays, according to the CECC.
Separately, Taiwan on Tuesday reported five more cases of monkeypox (mpox), four locally infections and one imported case from Japan, the Taiwan Centers for Disease Control (CDC) said in a press release.
Since mpox was designated last June as a Category 2 communicable disease, which requires doctors to report confirmed or suspected cases to the CDC within 24 hours, Taiwan has recorded 21 confirmed cases, 14 locally transmitted and seven imported as of Tuesday, according to the CDC.
Related News
March 23: Taiwan aims to remove mask mandate on public transport by late April
● Q&A/The lifting of Taiwan's mandatory COVID-19 quarantine
March 9: Taiwan to end reporting, quarantine for mild COVID cases on March 20
March 6: Mask-wearing persists despite lifting of Taiwan's on-campus mandate
March 1: Taiwan records first two local monkeypox cases
Feb. 23: New COVID vaccination campaign planned in March, annual jab from 2024
Latest COVID-19 rules
● Taiwan ends self-initiated epidemic prevention for migrant workers (March 20)
● Taiwan's eased indoor mask mandate takes effect Feb. 20
● COVID-19 testing for overseas arrivals dropped from Feb. 7 (2023)
● Revised protocol for hospital visits from Dec. 10

● Taiwan to stop paying COVID medical fees for certain foreign nationals
● Taiwan to remove weekly arrival cap on Dec. 10
● Taiwan cuts COVID isolation to 5 days, lifts workplace vaccine mandates (Nov. 14)
● Taiwan to further ease border rules for China, Hong Kong, Macau residents
View All