CORONAVIRUS
/
Taiwan reports 33,377 new COVID-19 cases, 38 deaths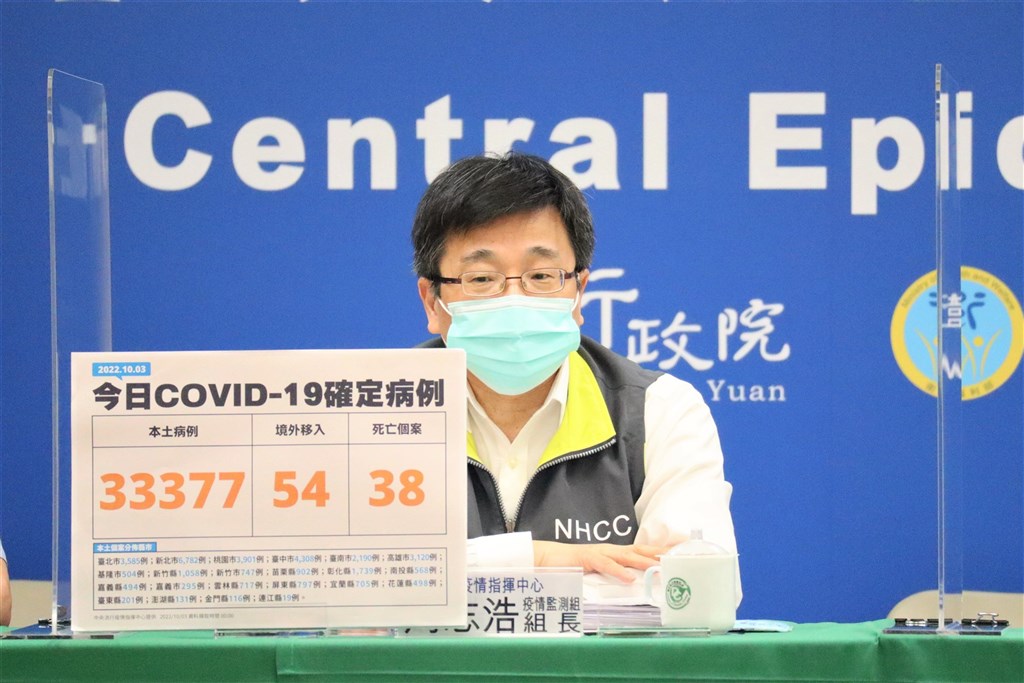 Taipei, Oct. 3 (CNA) Taiwan on Monday reported 33,377 new cases of COVID-19 and 38 deaths from the disease, according to the Central Epidemic Command Center (CECC).
The deceased ranged in age from their 50s to their 90s. All but two had underlying health issues and 22 were unvaccinated against COVID-19, the CECC said.
Also on Monday, the CECC reported 30 cases that were newly classified as severe and 44 as moderate.
Of the 6,498,079 domestically transmitted cases recorded in Taiwan this year, 12,149 have been classified as severe infections and 16,266 as moderate, accounting for 0.19 percent and 0.25 percent of the total, respectively, according to CECC data as of Oct. 2.
Regional breakdown
Regionally, New Taipei reported the highest number of new cases on Monday, with 6,782, Taichung had 4,308 and Taoyuan 3,901.
Taipei recorded 3,585 cases, Kaohsiung 3,120, Tainan 2,190, Changhua 1,739, Hsinchu County 1,058, Miaoli 902, Pingtung 797, Hsinchu City 747, Yunlin 717 and Yilan 705.
Nantou had 568 cases, Keelung 504, Hualien 498, Chiayi County 494, Chiayi City 295, Taitung 201, Penghu 131, Kinmen 116 and the Matsu Islands 19, the CECC said.
To date, Taiwan has recorded 6,581,117 COVID-19 cases since the pandemic began in early 2020, including 35,024 imported infections.
With the 38 deaths reported Monday, the number of COVID-19 fatalities in the country rose to 11,201.
Also on Monday
Oct. 3: CECC revises definition of COVID-19 reinfection
Oct. 3: Gene deficiency likely linked to long COVID-induced anxiety: researchers
Oct. 3: Patients with COVID-19 and flu display more obvious symptoms
Latest COVID-19 rules
Oct. 1: Taiwan drops vaccination requirement for outbound tour groups
Sept. 29: Taiwan's new COVID-19 protocols for arriving passengers
Sept. 8: Taiwan to ease COVID-19 in-person class suspension rules
Sept. 5: Taiwan to resume visa-free entry for multiple countries from Sept. 12
Sept. 1: Taiwan's new COVID-19 protcols, '3+4' policy taking effect Sept. 1
Related News
Oct. 2: Taiwan's domestic COVID-19 cases continue to surge
OCt. 2: More than 141,000 free flu shots administered on first day of rollout
Oct. 1: Free flu vaccination program begins; 6.3 million doses available
Sept. 28: Taiwan to expand new Moderna vaccine eligibility
Sept. 24: Taipei starts rollout of second-generation Moderna vaccine
Sept. 22: Taiwan receives second batch of Novavax vaccine
Sept. 20: CECC cautions of dual threat from COVID-19, flu this winter
Recent cases
Oct. 2: Taiwan reports 43,307 new COVID-19 cases, 62 deaths
Oct. 1: Taiwan reports 43,085 new COVID-19 cases, 48 deaths
Sept. 30: Taiwan reports 43,505 new COVID-19 cases, 50 deaths
Sept. 29: Taiwan reports 44,880 new COVID-19 cases, 53 deaths
Sept. 28: Taiwan reports 48,613 new COVID-19 cases, 38 deaths
Sept. 27: Taiwan reports 45,850 new COVID-19 cases, 28 deaths
Sept. 26: Taiwan reports 28,785 new COVID-19 cases, 56 deaths
View All