CORONAVIRUS
/
Taiwan eyeing late September for rollout of updated COVID vaccines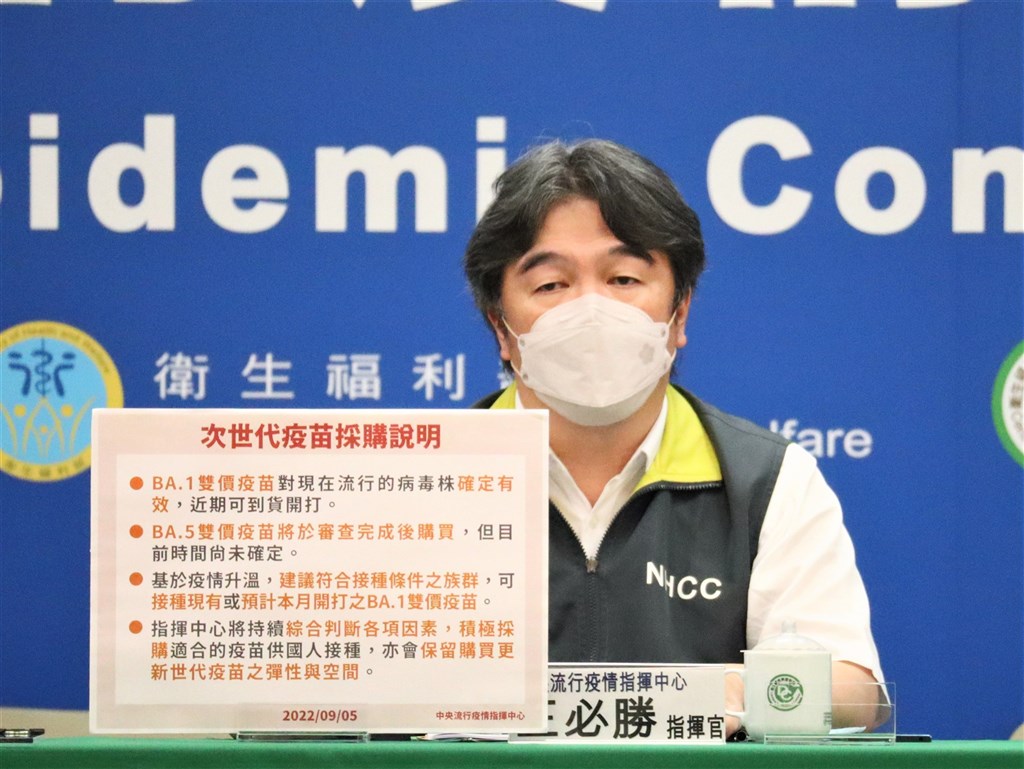 Taipei, Sept. 7 (CNA) Taiwan expects to receive 3 million doses of Moderna's second-generation COVID-19 vaccine in the coming weeks and begin administering them by late September, the Central Epidemic Command Center (CECC) said Wednesday.
At a press briefing, CECC head Victor Wang (王必勝) said the vaccine's manufacturer had agreed to expedite the shipment of sample doses, which will speed up the inspection process and likely allow the shots to be rolled out in late September.
Wang encouraged people to get the updated vaccine when they become eligible, saying the shot, which targets both the original version of the virus and the Omicron variant BA.1, is also effective against the BA.5 variant now spreading in Taiwan.
According to the CECC, the second-generation Moderna vaccines Taiwan has purchased will be offered for use as first, second or third booster shots.
Planned rollout
Initially, they will be reserved for use by vulnerable population groups, including seniors aged 65 and above and adults aged 18 and above with compromised immune systems.
Eligibility will later be expanded to include individuals aged 50-64, those aged 18 and above who need to travel overseas, and people whose work places them at a higher risk of COVID-19 infection, such as front-line medical workers and airport and port employees.
The CECC has recently been encouraging older adults and children to get vaccinated or boosted amid an uptick in BA.5 variant infections. Taiwan reported over 40,000 new cases on Wednesday for the first time since June 29.
As of Sept. 6, 93 percent of those eligible in Taiwan had received at least one COVID-19 vaccine shot, while 86.9 percent had received two shots and 72.5 percent had received a first booster shot.
Some 9.7 percent of the population has received a second booster shot, including 38.4 percent of those aged 65 and above, CECC statistics showed.
Related News
Sept. 6: Updated Moderna vaccine sole option for third booster shot: CECC 
Sept. 2: Taiwan grants EUA for 2nd-generation Moderna COVID-19 vaccine
Aug. 28: Taiwan begins rollout of Pfizer-BNT vaccines for young children
Aug. 24: Omicron subvariant-induced outbreak forecast to peak earlier: CECC
Aug. 21: Taiwan rolls out Moderna second shots for young children
Recent cases
Sept. 7: Taiwan reports 41,296 new COVID-19 cases, 26 deaths
Sept. 6: Taiwan reports 36,707 new COVID-19 cases, 21 deaths
Sept. 5: Taiwan reports 24,103 new COVID-19 cases, 31 deaths
Sept. 4: Taiwan reports 34,358 new COVID-19 cases, 35 deaths
Sept. 3: Taiwan surpasses 10,000 COVID-19 deaths
New COVID-19 rules
Sept. 5: Taiwan to resume visa-free entry for multiple countries from Sept. 12
Sept. 1: Taiwan's new COVID-19 policies taking effect Sept. 1
Sept. 1: Taiwan's new COVID-19 screening rules for hospital admission
View All