CORONAVIRUS
/
Taiwan reports 21,989 new COVID-19 cases, 31 deaths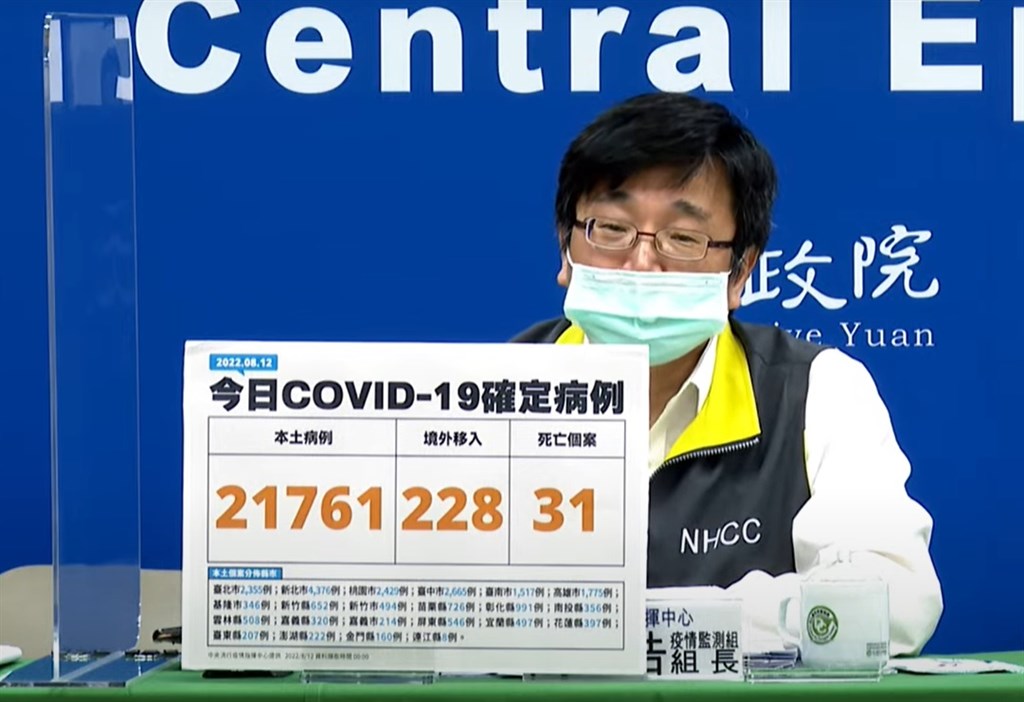 Taipei, Aug. 12 (CNA) Taiwan on Friday reported 21,989 new cases of COVID-19 and 31 deaths from the disease, according to the Central Epidemic Command Center (CECC).
The deceased ranged in age from their 30s to 90s. All but one suffered from chronic illnesses or other severe diseases, and 18 were unvaccinated against COVID-19, the CECC said at a press conference.
Also on Friday, the CECC reported 27 new severe COVID-19 cases and 62 moderate infections.
Among the severe cases were three children aged 1, 2 and 5, who were diagnosed with multisystem inflammatory syndrome in children (MIS-C), said Lo Yi-chun (羅一鈞), deputy head of the CECC's medical response division.
None of the children have chronic illnesses, and their situations are so far under control, Lo said.
Of the 4,787,319 domestic cases reported in Taiwan this year, 9,877 have been classified as severe infections and 12,241 as moderate, accounting for 0.21 percent and 0.25 percent of the total, respectively, according to CECC data as of Aug. 11.
Regional breakdown
Regionally, New Taipei recorded the highest number of new cases on Friday, with 4,376, followed by Taichung with 2,665 and Taoyuan with 2,429.
Taipei had 2,355 new cases, Kaohsiung 1,775, Tainan 1,517, Changhua 991, Miaoli 726, Hsinchu County 652, Pingtung 546, Yunlin 508, Yilan 497, Hsinchu City 494, Hualien 397 and Nantou 356.
Keelung reported 346, Chiayi County 320, Penghu 222, Chiayi City 214, Taitung 207, Kinmen 160, and the Matsu Islands 8, the CECC said.
To date, Taiwan has recorded 4,846,501 COVID-19 cases since the pandemic began in early 2020, including 4,823,647 domestic infections.
With the 31 deaths reported Friday, the number of confirmed COVID-19 fatalities in the country rose to 9,373.
Related News
Aug. 10: Taiwan to lift pre-flight PCR test requirement for all arriving travelers
Aug. 8: Taiwan eases COVID-19 rules for transit passengers at Taoyuan airport
Aug. 4: CECC to ease two policies before lifting quarantine for arrivals
Aug. 1: Taiwan grants EUA to Pfizer-BNT COVID-19 vaccine for children under 5
July 26: Revision of border rules depends on vaccination rate among kids: CECC
Recent cases
Aug. 11: Taiwan reports 22,909 new COVID-19 cases, 44 deaths
Aug. 10: Taiwan reports 23,808 new COVID-19 cases, 25 deaths
Aug. 9: Taiwan reports 23,669 new COVID-19 cases, 18 deaths
Aug. 8: Taiwan reports 15,412 new COVID-19 cases, 26 deaths
View All