CORONAVIRUS
/
Taiwan reports 48,356 new COVID-19 cases, 166 deaths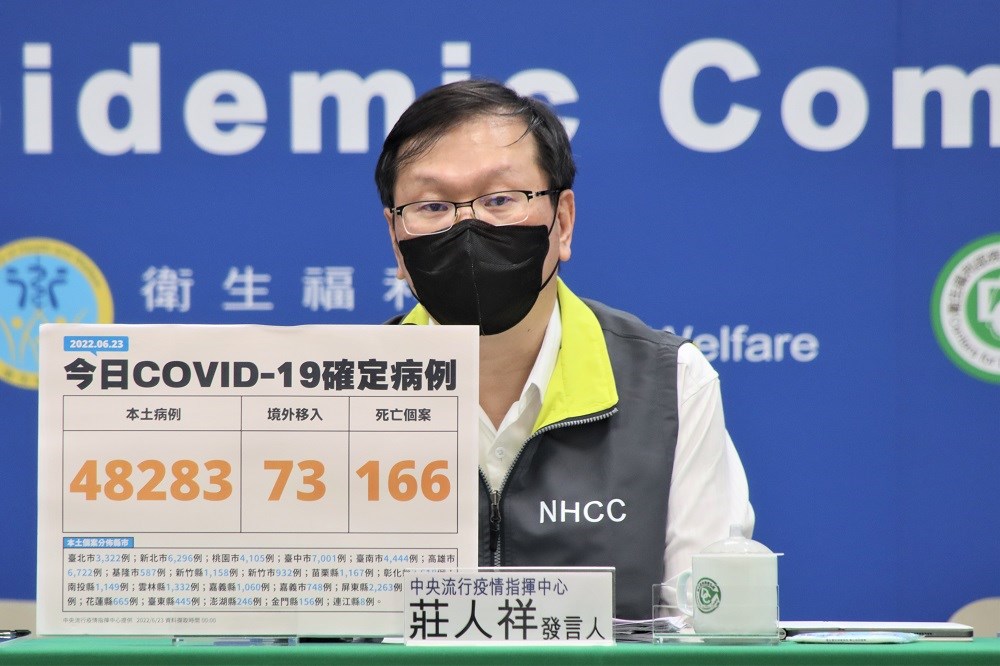 Taipei, June 23 (CNA) Taiwan reported 48,356 new COVID-19 cases Thursday, all but 73 of which were domestically transmitted, and 166 deaths from the disease, according to the Central Epidemic Command Center (CECC).
The deceased ranged in age from their 30s to their 90s. They included 150 individuals who had chronic illnesses or other severe diseases, and 118 who were unvaccinated, the CECC said.
The CECC also said that 174 previously reported COVID-19 cases had become severe, while 241 other individuals had developed moderate symptoms.
Among the new severe cases is a 1-year-old boy who has no chronic illnesses, the CECC said.
The boy, who developed a fever on June 18, tested positive for COVID-19 on June 19 and was taken to a hospital emergency room after he began to experience abnormal breath sounds and difficulty breathing.
He was put on oxygen support and diagnosed with croup, a type of infection characterized by a bark-like cough and respiratory distress. He is still receiving treatment in an intensive care unit, the CECC said.
To date, 67 children under the age of 13 have developed severe illnesses from COVID-19, of whom 19 have passed away.
Of the 3,410,665 domestic cases reported in Taiwan this year, 5,813 have been classified as severe infections and 8,012 as moderate, accounting for 0.17 percent and 0.23 percent of the total, respectively, according to CECC data as of June 22.
In all other cases, the infected individuals were either asymptomatic or had mild symptoms, the CECC said.
Of the domestic cases Thursday, Taichung reported the highest number, with 7,001, followed by Kaohsiung with 6,722, and New Taipei with 6,296.
Tainan recorded 4,444 cases, Taoyuan 4,105, Changhua County 3,618, Taipei 3,322, Pingtung County 2,263, Yunlin County 1,332, Miaoli County 1,167, Hsinchu County 1,158, Nantou County 1,149, and Chiayi County 1,060.
Hsinchu City reported 932 cases, Yilan County 859, Chiayi City 748, Hualien County 665, Keelung 587, Taitung County 445, Penghu County 246, Kinmen County 156, and the Matsu Islands eight.
To date, Taiwan has recorded 3,487,599 COVID-19 cases since the pandemic began in early 2020, including 3,473,513 domestic infections.
With the 166 deaths reported Thursday, the number of confirmed COVID-19 fatalities in the country rose to 5,817.
Recent cases
June 22 Taiwan reports 52,246 new COVID-19 cases, 171 deaths
June 21: Taiwan reports 56,404 new COVID-19 cases, 115 deaths
June 20: Taiwan reports 35,632 new COVID-19 cases, 144 deaths
June 19: Taiwan reports 50,636 new COVID-19 cases, 172 deaths
June 18: Taiwan reports 53,707 new COVID-19 cases, 181 deaths
View All