CORONAVIRUS
/
Taiwan reports 68,769 new COVID-19 cases, 19 deaths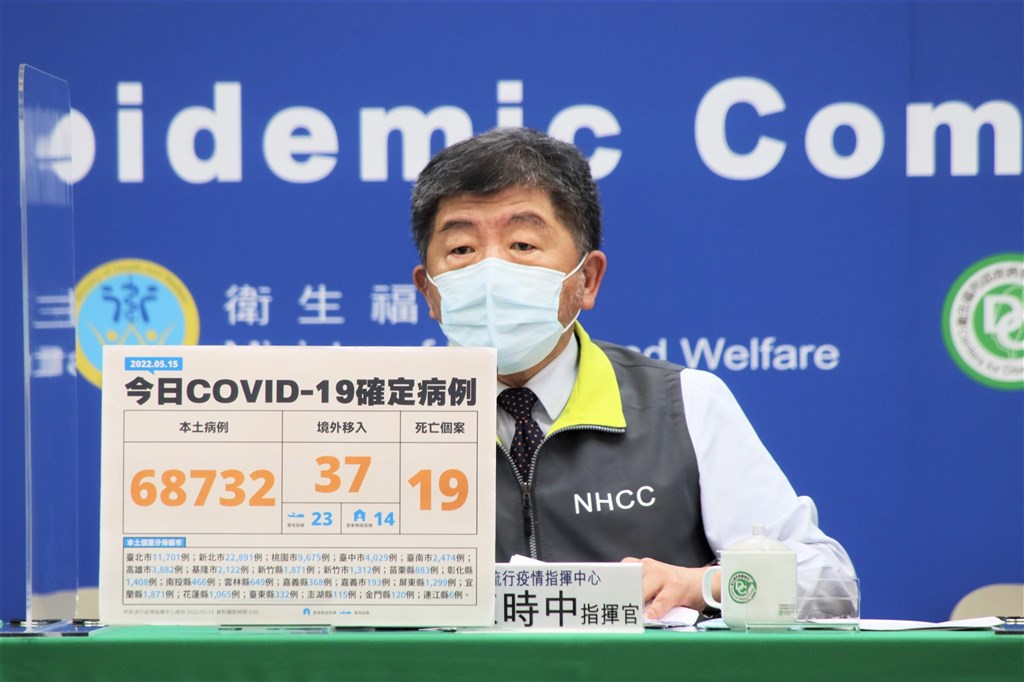 Taipei, May 15 (CNA) Taiwan saw over 60,000 daily COVID-19 cases for the fourth straight day on Sunday as it reported 68,769 new cases and 19 deaths from the disease, according to the Central Epidemic Command Center (CECC).
The new cases consisted of 68,732 domestically transmitted infections and 37 cases that were contracted abroad, the CECC said.
The 19 deaths reported Sunday were all patients in their 70s to 90s, of whom eight had not been vaccinated.
The CECC also reported Sunday that 101 people had developed moderate symptoms and 24 had developed severe symptoms.
Of the 672,998 domestic cases recorded in Taiwan from Jan. 1 to May 14, 1,151 have been classified as moderate infections and 294 as severe, accounting for 0.17 percent and 0.04 percent of the total, respectively.
All other cases are individuals with only mild symptoms or who were asymptomatic, according to the CECC.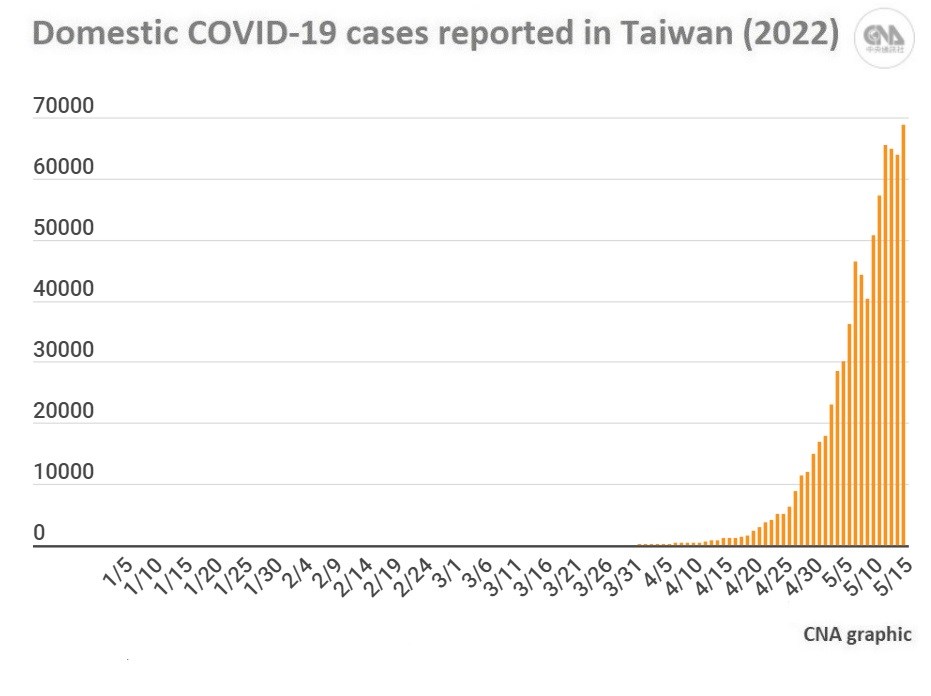 Of Sunday's new cases, New Taipei reported the highest number with 22,891, followed by Taipei with 11,701, and Taoyuan with 9,675.
Taichung reported 4,029 cases, Kaohsiung 3,882, Tainan 2,474, Keelung 2,122, Hsinchu County 1,871, Yilan County 1,871, Changhua County 1,408, Hsinchu City 1,312, and Pingtung County 1,299.
Hualien County reported 1,065 cases, Miaoli County 883, Yunlin County 649, Nantou County 466, Chiayi County 368, Taitung County 332, Chiayi City 193, Kinmen County 120, Penghu County 115, and Matsu Islands six.
Meanwhile, of the 37 new imported cases, 23 were travelers who tested positive on arrival in Taiwan, according to the CECC.
To date, Taiwan has confirmed 768,543 COVID-19 cases since the pandemic began in early 2020, including 756,283 domestically transmitted infections.
With 19 deaths reported Sunday, the number of confirmed COVID-19 fatalities in the country reached 1,068. Of these, 215 have been recorded this year.
Also on Sunday
● Taiwan COVID-19 News Brief: May 15
May 15: Two-year-old boy with COVID-19 dies of acute encephalitis
May 15: New PCR drive-through testing site to open at CKS memorial hall
May 15: Taiwan mulls loosening isolation rules for boosted people
● Q&A/What you need to know about COVID-19 telemedicine consultations
Related News
● Q&A/What to do if you or your contacts get COVID-19
May 14: Taiwan to roll out second COVID-19 booster from Monday: CECC
May 14: Taiwan FDA reviewing data on Novavax vaccine following EUA request
May 7: Quarantine cut to 7 days for mild, asymptomatic COVID-19 cases: CECC
May 7: Taiwan rolls back quarantine rules for contacts of COVID-19 patients
May 4: Taiwan adjusts hospital policy for COVID-19 patient
Recent cases
May 14: Taiwan reports 64,041 new COVID-19 cases, 40 deaths
May 13: Taiwan reports 65,011 new COVID-19 cases, 41 deaths
May 12: Taiwan reports 65,446 new COVID-19 cases, 17 deaths
May 11: Taiwan reports 57,216 new COVID-19 cases, eight deaths
View All