CORONAVIRUS
/
Taiwan sets single-day high with 1,209 new domestic COVID-19 cases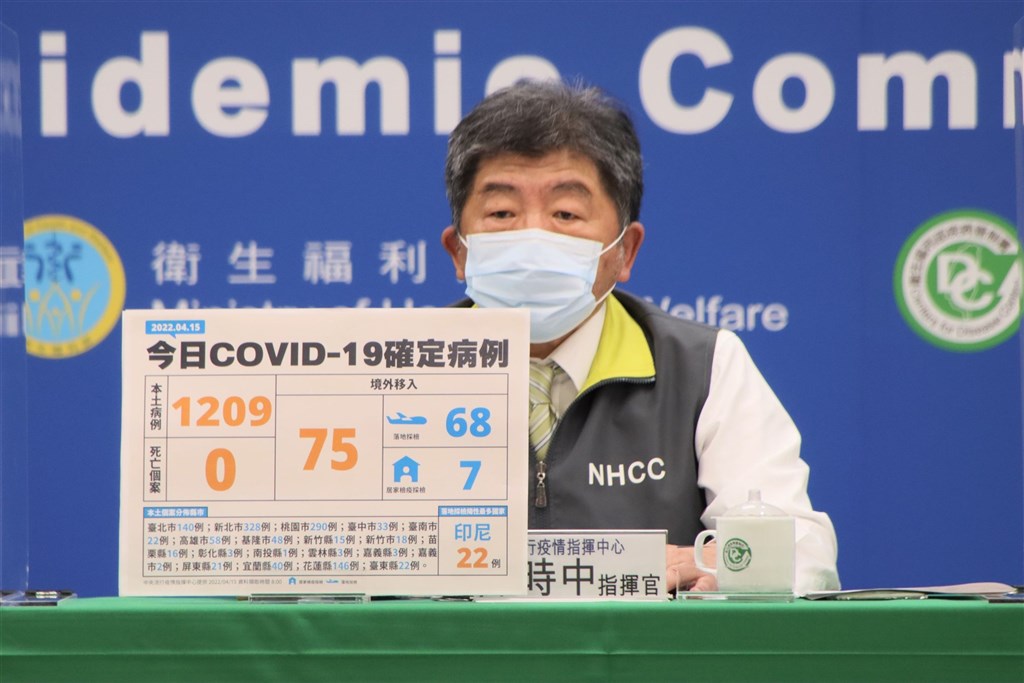 Taipei, April 15 (CNA) Taiwan on Friday reported 1,209 new domestically transmitted COVID-19 cases, breaking its single-day high for a third consecutive day, according to the Central Epidemic Command Center (CECC).
It was also the first time new domestic cases have exceeded 1,000 in a single day since the pandemic began, and the number was up nearly 40 percent from the 874 domestic cases reported a day earlier.
In addition, 10 new moderate or serious COVID-19 cases were reported Friday, bringing the total to 29 for the year to date.
The government has tried to allay fears of the disease's spread by pointing to the low number of such COVID-19 cases so far this year -- totaling 19 out of 6,543 domestic cases (about 0.3 percent) between Jan. 1 and April 14.
Of the 1,209 new domestic cases reported Friday, New Taipei reported the highest number, with 328, followed by Taoyuan with 290, Hualien with 146 and Taipei with 140, the CECC said.
Update: CECC adds Kaohsiung, Hualien to high-risk COVID-19 areas
Taiwan also reported 75 new imported cases on Friday, of which 68 were travelers who tested positive on arrival in Taiwan, according to the CECC.
To date, Taiwan has confirmed 31,857 COVID-19 cases since the pandemic began, including 22,355 domestically transmitted infections, according to CECC data.
With no deaths reported Friday, the number of confirmed COVID-19 fatalities in the country remained at 854, the data showed.
Related News
April 15: Taiwan mandates 3 COVID shots for high-risk groups, venues
April 15: Domestic COVID-19 cases could exceed 1 million: CECC
April 15: Cluster infection breaks out at Taoyuan technology factory
April 15: 4,100 courses of COVID-19 drug Paxlovid arrive in Taiwan
April 15: Taoyuan Pilots basketball team tests negative after COVID-19 scare
Recent cases
April 14: Taiwan breaks record for 2nd day with 874 new domestic COVID-19 cases
April 13: Taiwan reports record single-day high of 744 domestic COVID-19 cases
April 12: Taiwan reports 551 new domestic COVID-19 cases, highest this year
April 11: Taiwan reports 630 new COVID-19 cases, including 439 domestic
April 10: Taiwan reports 575 new COVID-19 cases, including 431 domestic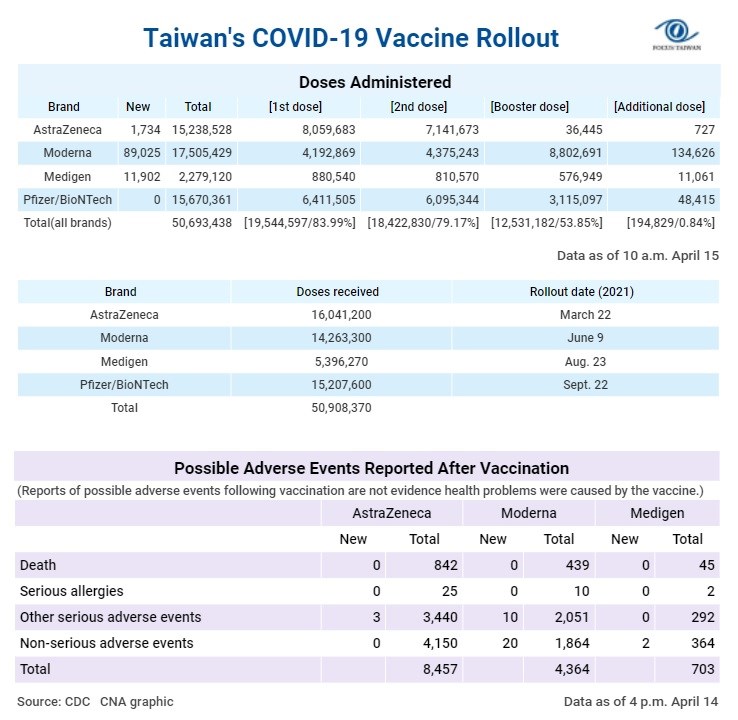 View All