CORONAVIRUS
/
Taiwan reports 65 new COVID-19 cases, including 17 domestic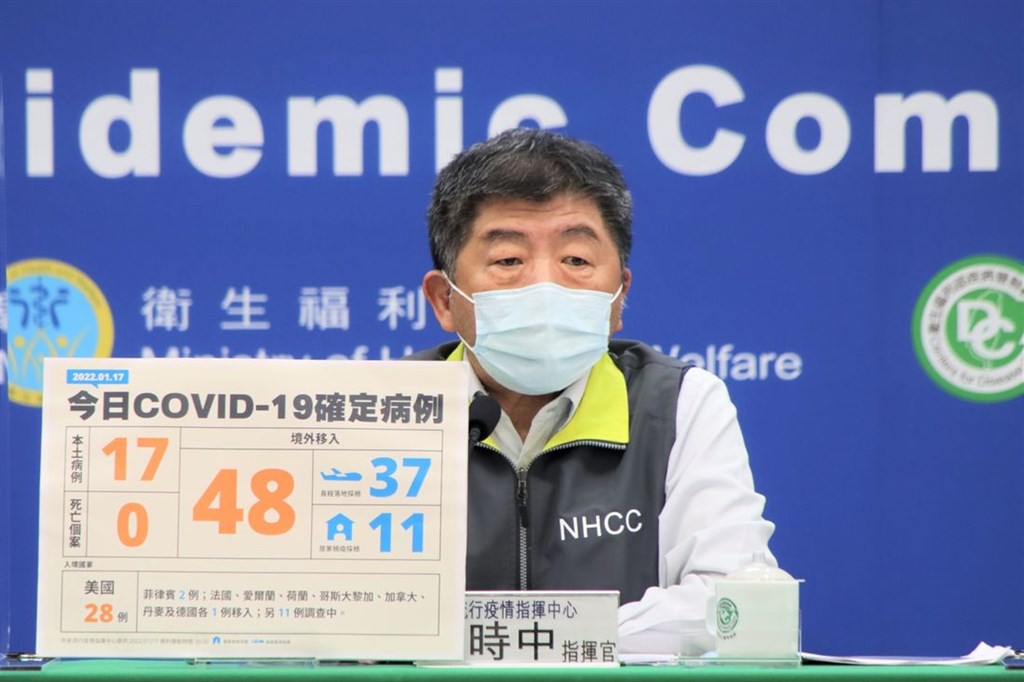 Update: 14 new COVID-19 cases in Taoyuan outbreak confirmed
Taipei, Jan. 17 (CNA) Taiwan confirmed 65 new cases of COVID-19 on Monday, consisting of 17 domestic cases and 48 imported cases, and no deaths from the disease, according to the Central Epidemic Command Center (CECC).
All but three of the new domestic cases are linked to an outbreak of COVID-19 in Taoyuan, which originated from Taoyuan International Airport, the CECC said.
Five of the 17 have been classified as breakthrough infections, while the vaccination status of five others is still under investigation. The remaining seven include four who had not received any COVID-19 vaccines, two who received only one vaccine jab, and one person who received her second vaccine dose less than two weeks before being infected.
In addition to the domestic cases, Taiwan also reported 48 imported cases on Thursday. The CECC did not release any information regarding the vaccination status of the imported cases.
To date, Taiwan has confirmed 17,885 COVID-19 cases since the pandemic began in early 2020, of which 14,709 are domestic infections.
With no deaths reported Monday, the number of confirmed COVID-19 deaths in the country remains at 851.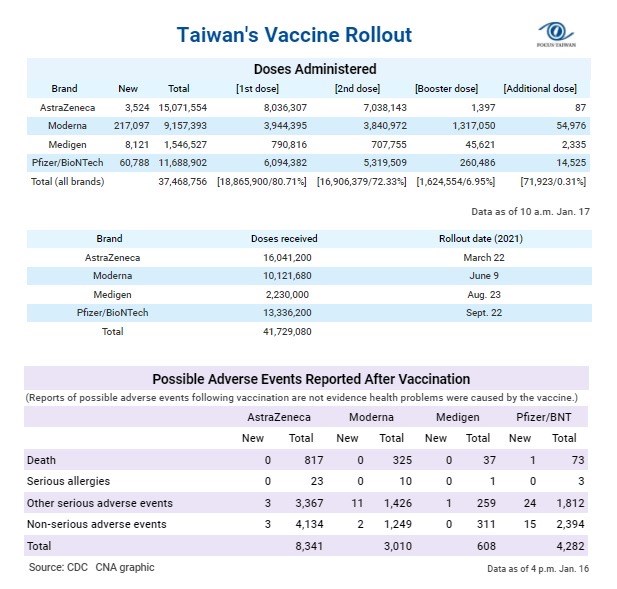 Recent cases
Jan. 16: Taiwan sees 10 new domestic cases, including 1 disease control staff
Jan. 15: Taiwan sees 6 new domestic COVID-19 infections; more Omicron cases found
Jan. 14: Taiwan reports 11 new domestic COVID-19 cases, all linked to Taoyuan
Jan. 13: Employee at Taoyuan steakhouse tests positive for COVID-19
Jan. 12: Taiwan reports 96 new COVID-19 cases, including four domestic
View All