Man detained for killing store clerk who asked him to wear face mask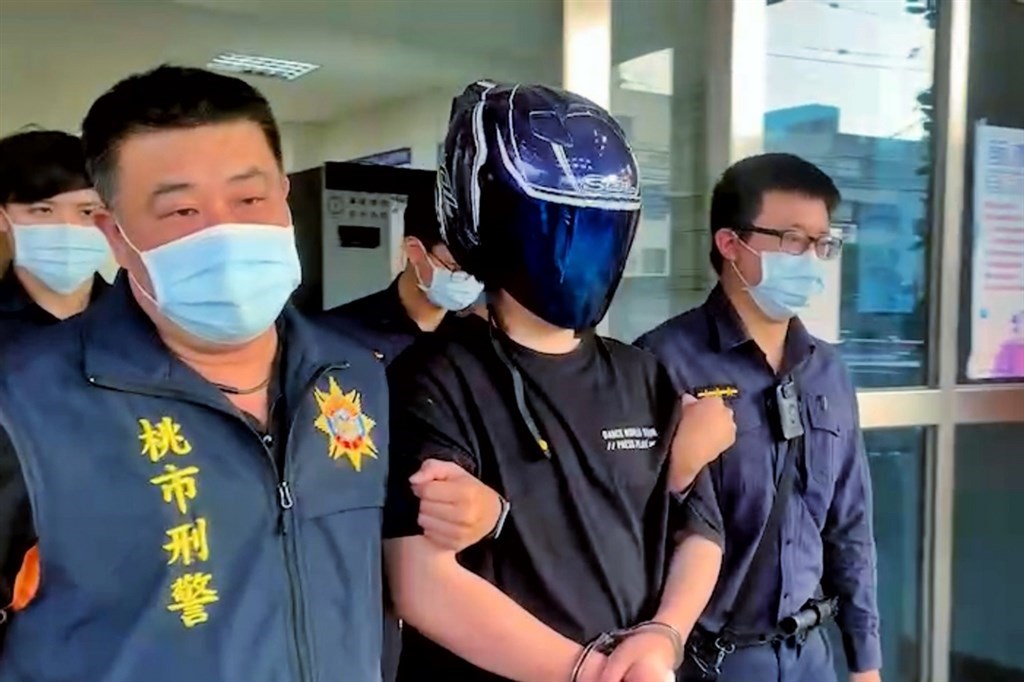 Taipei, Nov. 22 (CNA) The Taoyuan District Court issued an order late Sunday for the detention of man who allegedly stabbed a convenience store clerk to death earlier in the day simply because he was asked to wear a face mask.
The court said there was sufficient evidence to suggest the man, surnamed Chiang (蔣), was a suspect in the homicide, citing witness statements, prosecutors and police investigations, as well as footages from surveillance cameras.
As the offence of homicide is subject to a minimum punishment of 10 years in jail, the court said, it is possible for the suspect to flee and therefore, it is necessary to hold him in custody.
Guishan police station head Feng Li-tse (馮理澤) told reporters that Chiang went to a convenience store, situated in Guishan District of Taoyuan, at around 4 a.m. Sunday without wearing a face mask.
Chiang became angry and left the convenience store as he was asked by a store clerk, surnamed Tsai (蔡), to wear a face mask, Feng said.
In Taiwan, under current COVID-19 restrictions, mask wearing remains mandatory at most public venues.
Not long after he left the convenience store, the 41-year-old suspect returned to the venue, wearing a face mask but entered into a quarrel with the store clerk, throwing his face mask at the 30-year-old Tsai, and then left, Feng said.
Chiang returned to the convenience store at around 5:25 a.m. for a third time, and asked to see Tsai before he stabbed the store clerk several times in the chest with a knife he brought with him, according to prosecutors.
After wrestling the knife from Chiang, Tsai fell to the ground outside the store, according to Feng.
Police and a paramedic staff received a call from people who were on the crime scene, reporting the attack at 5:47 a.m.
Tsai was found by paramedics to have suffered three knife wounds on the left side of his chest and fell into a coma. His heart stopped beating as he was being rushed to hospital, Feng said.
Tsai was later pronounced dead at the hospital at around 7:18 a.m. after efforts to resuscitate him failed, according to the court.
According to Feng, the suspect was sent to the Taoyuan District Prosecutors Office Sunday afternoon for an investigation before prosecutors sought a court order to detain him.
Despite the detention order, the court said Chiang has been allowed to meet visitors since he did the killing on his own without worries that he will collude with others in making false confessions.
After being informed of his son's death by police, Tsai's father said he was really sad, emphasizing his son was a good person. "I cannot understand why he lost his life simply because he went to work," the father said. "It is completely unacceptable to me."
According to police, Tsai usually worked in a convenience store in New Taipei, which neighbors Taoyuan, but was assigned by his company to the Guishan outlet once or twice a week.
To pin down the exact cause of Tsai's death, prosecutors said an autopsy has been planned.
They said Chiang claimed he has suffered from mental disorder and sought medical attention, and could not recall he killed the store clerk.
According to prosecutors, Chiang only recalled he stabbed the store clerk as he was in the convenience store but he could not recall how he stabbed the store clerk.
Prosecutors said further probes are needed to determine whether Chiang has been mentally ill.
On his Facebook page, Mayor Cheng Wen-tsan (鄭文燦) condemned violence and instructed the city's police department to spare no effort in investigating the case and to bring justice to the victim.
Cheng said the Taoyuan Department of Social Welfare will do its best to help the victim's family to deal with the tragedy.
Update
Nov. 22: Police to up patrols after string of convenience store attacks