Magnitude 6.5, 5.4 earthquakes rock northeastern Taiwan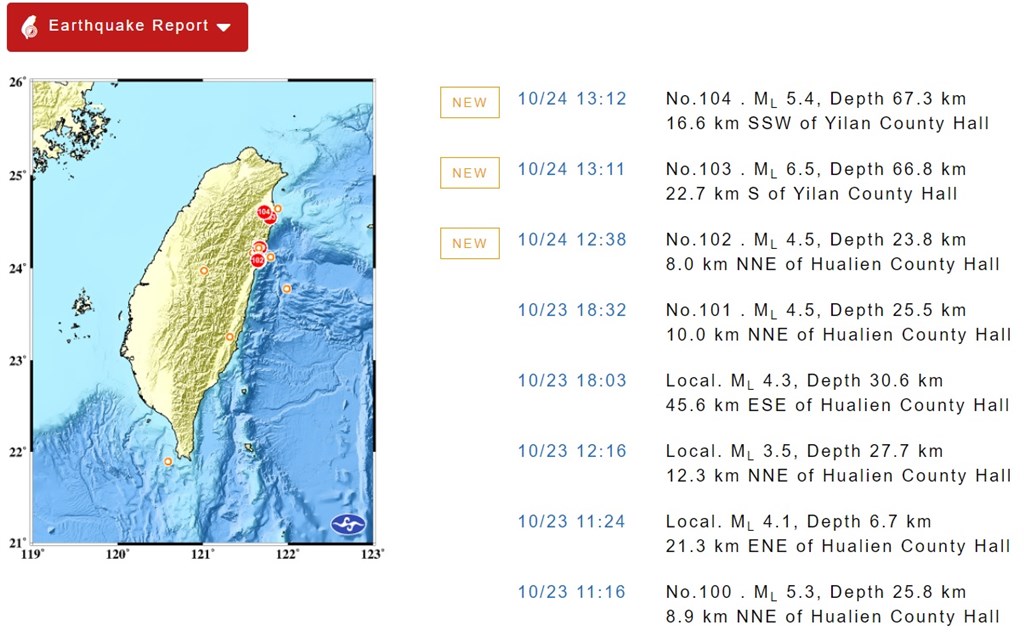 Update
*Strong quakes leave several injured, transport disrupted
*Aftershocks expected in coming days after year's strongest earthquake
Taipei, Oct. 24 (CNA) A magnitude 6.5 earthquake struck northeastern Taiwan at 1:11 p.m. Sunday, which was followed seconds later by a 5.4 quake, with no immediate reports of damage or injuries, according to the Central Weather Bureau (CWB).
The epicenter of the first quake was located in Nan'ao Township, about 22.7 kilometers south of Yilan County Hall, at a depth of 66.8 km, the CWB's Seismology Center said.
The epicenter of the second quake was also located in Yilan, in Datong Township, around 16.6 km south of the county hall, at a depth of 67.3 km.
The first earthquake's highest intensity, which gauges the actual effect of a temblor, hit 4 on Taiwan's 7-tier scale in several areas in northern and northeastern Taiwan, including Keelung, the Greater Taipei area, Taoyuan, Yilan, and the northern part of Hualien County.
The initial quake was felt in the mountainous inland areas of Hsinchu, Miaoli, Taichung, and Nantou, where it also measured 4.
Passengers on a Taipei Metro train are asked to disembark at Taipei 101 station on the Red Line shortly after the earthquakes.
The first quake also measured an intensity of 3 in Changhua, Taitung, and Chiayi, and an intensity of 2 in southern Taiwan's Tainan, Kaohsiung and Pingtung, as well as in the offshore county of Penghu in the Taiwan Strait, CWB data showed.
The second tremor was felt in Yilan, Hualien, Hsinchu, and Nantou counties, as well as in New Taipei, Taoyuan and Taichung. In all of those areas it measured 3.