CORONAVIRUS
/
Taiwan to extend interval for Moderna vaccine shots past 28 days
Taipei, July 5 (CNA) Health and Welfare Minister Chen Shih-chung (陳時中) said Monday that people in Taiwan will not receive their second dose of the Moderna COVID-19 vaccine within the recommended 28-day period because the country has limited supplies and is focusing on expanding its vaccination coverage as wide as possible.
Furthermore, Chen said, studies have shown that the Moderna vaccine is more effective if the interval between the two shots is at least six weeks.
On the question of how long people in Taiwan might have to wait for their second Moderna shots, Chen did not give a specific timeline, saying only that it will be more than the 28 days recommended by the World Health Organization (WHO).
The main goal right now is to allow more people to receive the first dose, so that "our communities can be better protected," he said.
The WHO recommends an interval of 28 days between Moderna doses but says the time can be stretched for up to 12 weeks in certain circumstances.
For countries "that have not yet achieved high vaccine coverage rates in the high-priority groups who are experiencing a high incidence of COVID-19 cases" and have supply constraints, the interval can be extended to 12 weeks, the WHO says.
Taiwan received its first batch of Moderna vaccines, consisting of 150,000 doses, on May 28 and began rollout on June 9. It received 2.74 million doses of the vaccine in June -- 240,000 purchased directly from the American manufacturer and 2.5 million donated by the United States government.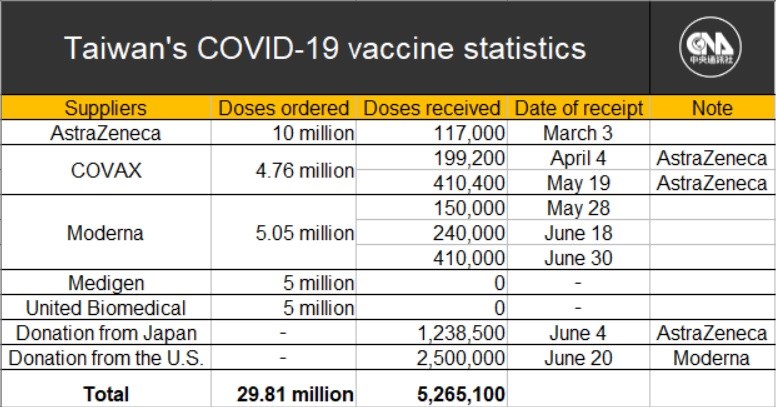 Chen said Monday that after the recent shipments of 2.74 million doses have been administered, most of the people in Taiwan deemed as high-risk for COVID-19 would have received at least one shot, and the Central Epidemic Command Center (CECC) would be able to expand eligibility to younger adults.
A second round of Moderna vaccine distribution to local governments, comprising 893,900 doses, was carried out Monday, Chen said, adding that allocation is based on the elderly population in each city and county.
Taiwan has signed contracts to purchase about 20 million vaccine doses from abroad, including 5.05 million doses of Moderna, 10 million doses of AstraZeneca, and 4.76 million of unspecified brands through the COVAX program.
Only about 1.5 million doses have been delivered to date, but Taiwan has also received donations of 2.5 million doses of Moderna from the U.S. and 1.24 million doses of AstraZeneca from Japan.
The government has also signed contracts to buy 10 million doses of vaccines from two Taiwanese manufacturers.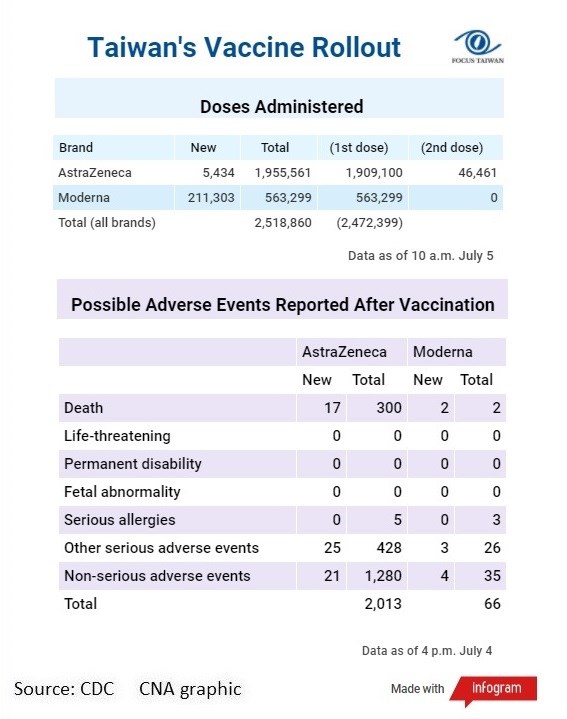 As of 10 a.m. Monday, around 2.47 million people in Taiwan, or 10.5 percent of its 23.5 million population, had received at least one shot of a COVID-19 vaccine.
Only 46,461 people, accounting for about 0.2 percent of the population, have been fully vaccinated, CECC data shows.
View All