CORONAVIRUS
/
Vaccination expanded in 2 Pingtung villages to stop variant virus
Taipei, June 27 (CNA) The Pingtung County government on Sunday is expanding its COVID-19 vaccination program in two villages in Fangshan Township that have seen six cases of the highly infectious Delta variant of COVID-19 to stop the virus from spreading.
Adults over the age of 17 who are registered residents of Shanyu and Fenggang villages and test negative for the disease are eligible to be vaccinated, the county government said, and inoculations began Sunday.
The emergency measure came after Pingtung received 1,200 additional vaccine doses from the central government to carry out the measure.
County Magistrate Pan Meng-an (潘孟安) said vaccination is the best way to protect the community and cut off the virus transmission chain. He expressed the hope that all eligible village residents could get their first vaccine dose in the next three days.
Apart from the vaccination, nearly 2,000 residents of Shanyu and Fenggang villages will all be tested, according to the local government.
It said that as of Saturday, 913 people had been tested. One of them had a positive rapid test result but negative PCR test result.
Of the others, 468 people had not yet received their PCR results and 444 had negative PCR results, according to local government data.
The Central Epidemic Command Center (CECC) first confirmed two of the six Delta variant cases on Friday, involving a woman in her 50s and her grandson, both of whom returned from Peru on June 6.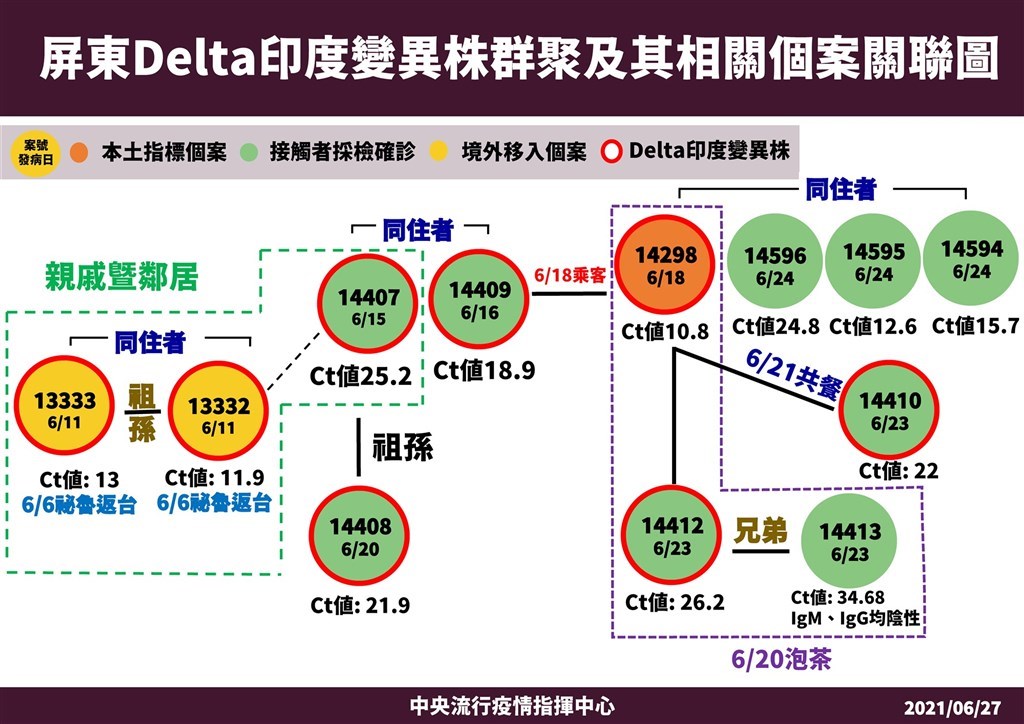 A 71-year-old woman identified as the third case of the Delta COVID variant is believed to have briefly come in contact with the woman who was back from Peru during the latter's home isolation period, according to the CECC.
The other three Delta variant cases involve a 63-year-old unlicensed taxi driver and two people who live with the 71-year-old woman. One of those two people got a ride from the taxi driver, possibly infecting him.
After the county government confirmed the infection of the driver on June 23, it then discovered the possible chain of infections connecting the people who returned from Peru and the driver.
Some the six moved between Shanyu and Fenggang villages, raising concerns in both places.
As of Saturday, another six people who came into contact with the driver or his contacts had also tested positive for the virus, but the CECC was not yet able to confirm which variant they were infected with.
View All