Water supply to be cut 2 days per week in parts of central Taiwan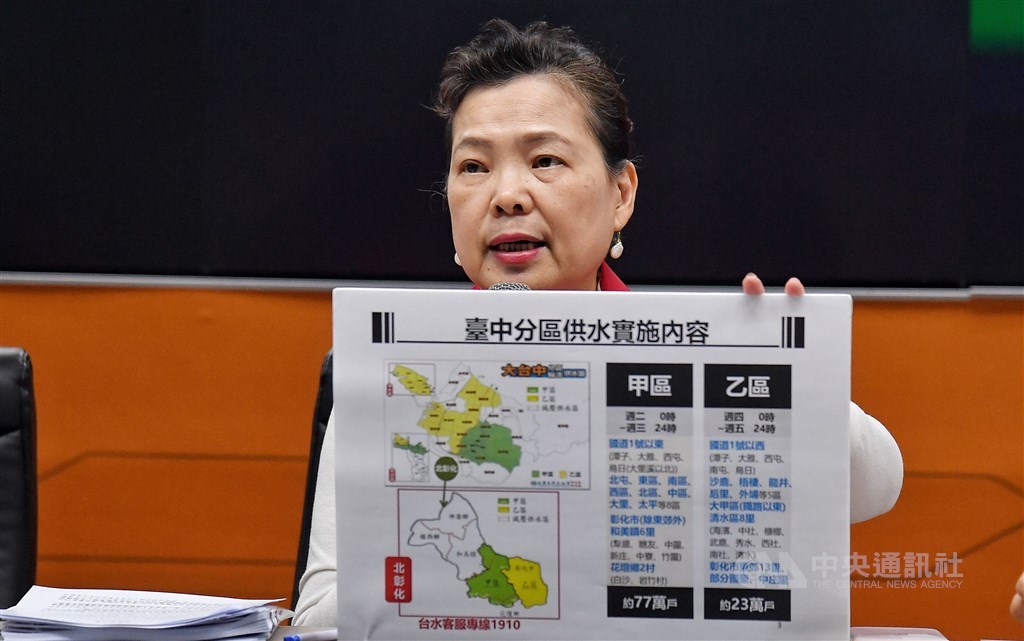 Taipei, March 24 (CNA) Starting April 6, some areas of Taichung, Miaoli, and Changhua will see a suspension of water supply for two days each week, in a government effort to deal with a severe drought in central Taiwan, Minister of Economic Affairs Wang Mei-hua (王美花) said Wednesday.
The water rationing measure will affect an estimated 1,064,000 customers in the three municipalities, Wang said after an emergency response meeting with officials from the Water Resources Agency (WRA).
The weekly suspension of the water supply in certain areas of Taichung, Miaoli and Changhua will reduce consumption by 15 percent in the drought-stricken regions, Wang said.
In both Taichung and Miaoli, the targeted areas will be divided into two zones, with each zone subject to a two-day suspension of water supply each week, on a rotational basis, she said.
Parts of Changhua closest to the border of Taichung will be included in the rotation, Wang said.
Meanwhile, some science parks and other industrial sites, which have access to groundwater or a specially allocated supply in Taichung and Miaoli, will be required to reduce their consumption by 15 percent but will not be included in the two-day suspension, Wang said.
As of Wednesday evening, the water levels in reservoirs that supply central and southern Taiwan were still mostly below 15 percent of capacity, according to WRA data.
The level at Yongheshan Dam in Miaoli was 8.5 percent, at Techi Dam in Taichung 5.9 percent, and at Liyutan Dam, which straddles Miaoli and Taichung, 11.6 percent, the data showed.
When the new water rationing measure begins on April 6, the supply will be suspended Tuesdays and Wednesdays in areas of Taichung east of National Highway No. 1, including Beitun, East, South, West, North and Central districts, according to the WRA.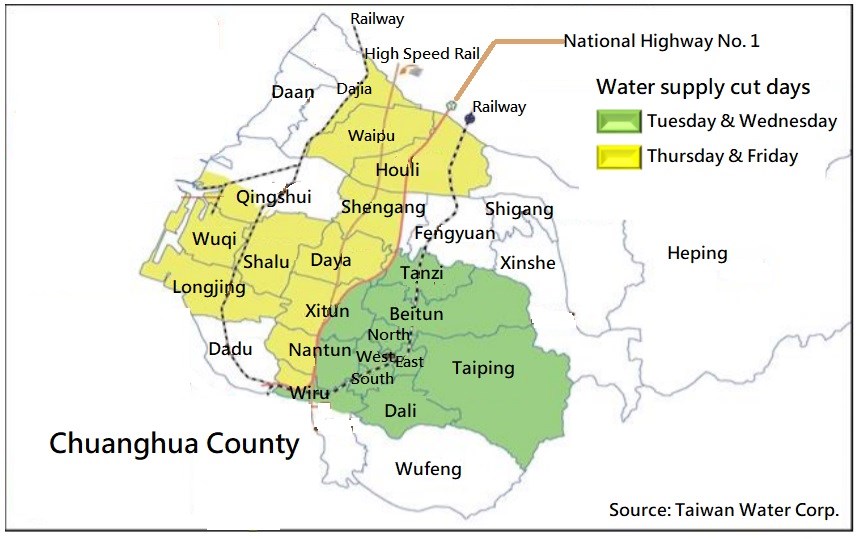 All areas of Changhua City, apart from its eastern suburbs, will also see a cut in water supply on those two days, the agency said.
On Thursdays and Fridays, the other zone in Taichung will be areas west of National Highway No. 1, including Shalu, Wuqi, Longjing, Houli and Waipu districts, and parts of Dajia and Qingshui districts.
The eastern suburbs of Changhua City will be included in that zone, the WRA added.
In Miaoli, meanwhile, the water supply will be suspended on Tuesdays and Wednesdays in most of Toufen City, and at the Zhunan and Guangyuan science parks, while a small area of Hsinchu City -- Xiangshan District -- will also be included, the WRA said.
On Thursdays and Fridays, Zhunan Township and Toufen Industrial Park in Miaoli will see a suspension of water supply, the agency said.
According to Wang, it would require least 300 millimeters of rainfall in the area of Taichung, Miaoli and Changhua before May 1 in order for the water suspension measure to be lifted.
In recent weeks, Taiwan has been dealing with a historic water shortage, mainly concentrated in the middle third of the country, which resulted from low rainfall totals in 2020, when, for the first time in 56 years, no typhoons made landfall on the island.
On Wednesday, the WRA said that while reservoirs across Taiwan had collected a total 11.5 million cubic meters of water during the rainfall over the past few days, that volume was equivalent to only three days of consumption in Taichung.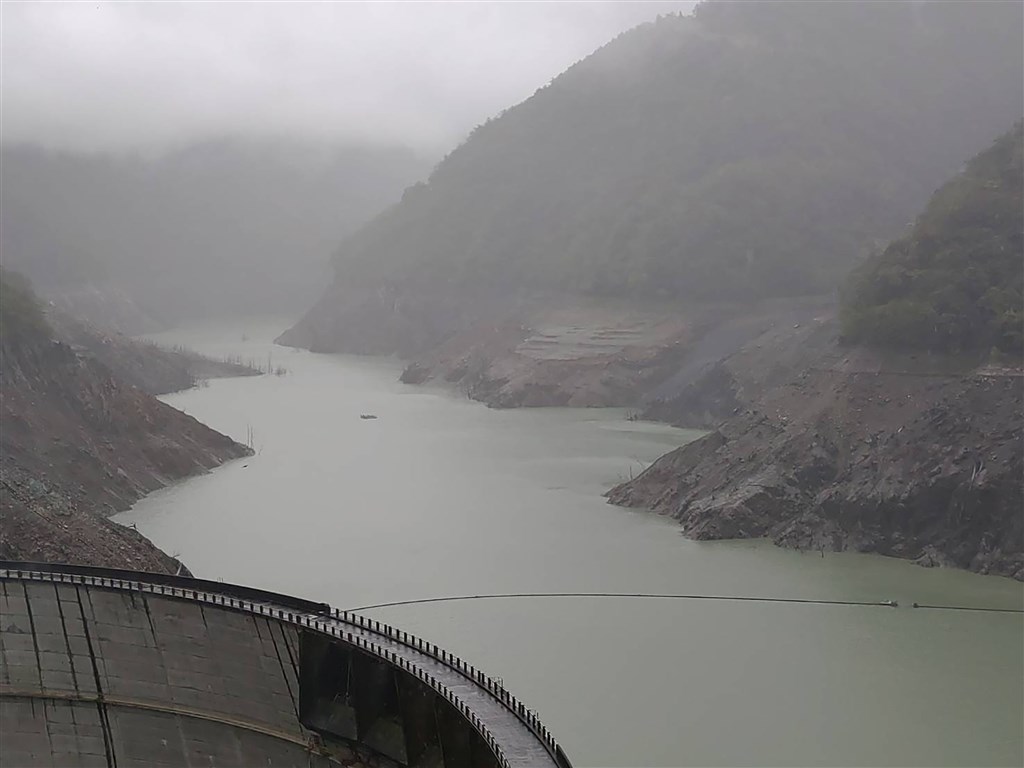 Due to the water shortage, Zhaowu and Xuanguang piers at Sun Moon Lake, a popular tourist attraction in Nantou County, will be temporarily closed with effect from April 1, the managers said. Currently, the water level at the reservoir in the area is at 39.1 percent of capacity, they said.
The government's latest water rationing decision, which will affect mainly households, is likely to stir political debates, as it has come under heavy criticism in some quarters for excluding large businesses from the cuts.
Earlier this month, the centrist Taiwan People's Party (TPP) criticized the government's water allocation priorities, saying that the top 5 percent of Taiwan Water Corp. customers were responsible for 41 percent the total water consumption. Furthermore, the charge per unit for corporate customers is only marginally higher than for households, the TPP said.
Last week, the government said it was considering a surcharge on 1,817 heavy industrial users that consume more than 10,000 cubic meters of water per month, but Wang said even if that was decided, it would not be implemented before 2022.