CORONAVIRUS
/
Taiwan records two new imported case of COVID-19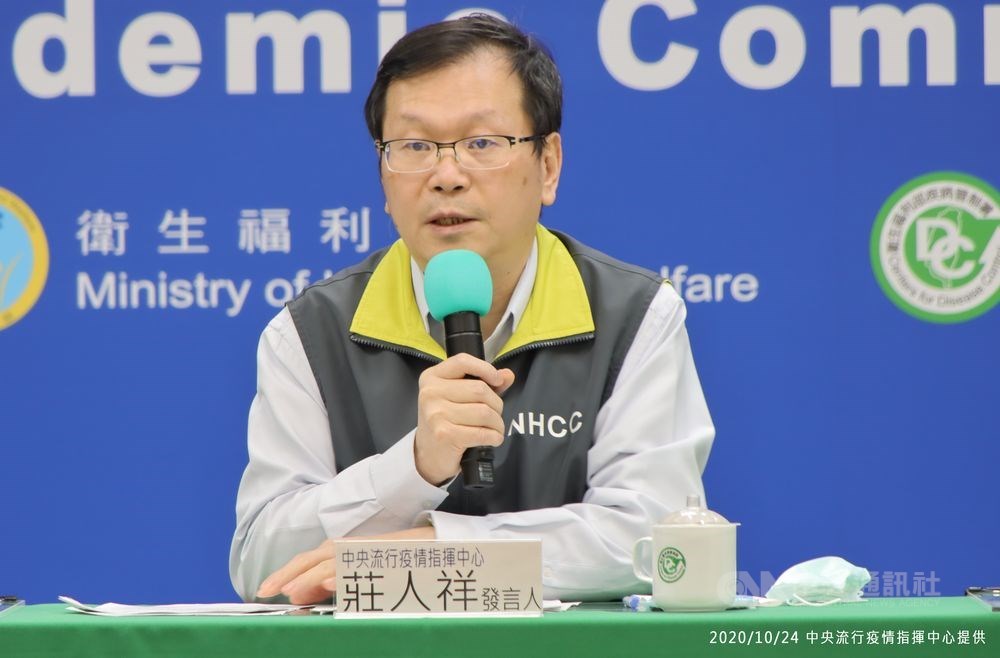 Taipei, Oct. 24 (CNA) Taiwan confirmed two new imported cases of COVID-19 on Saturday, bringing the total number in the country to 550 since the outbreak began at the end of last year, the Central Epidemic Command Center (CECC) said.
One of the new patients is a Filipina in her 20s who entered Taiwan on Sept. 30 for work reasons and tested negative in the Philippines three days before her arrival, CECC spokesman Chuang Jen-hsiang (莊人祥) said at a press briefing in Taipei.
She displayed no symptoms upon arrival and during her quarantine, and tested negative at the end of her 14-day quarantine on Oct. 13, Chuang said.
People entering Taiwan from the Philippines are no longer required to take a test for COVID-19 when they arrive but do have to take one at the end of their 14-day quarantine period.
After her mandatory quarantine the woman was taken to another quarantine facility by her manpower agency before she took another test Oct. 22 where the results came back positive Saturday, Chuang said, adding that the patient is now hospitalized.
Chuang told CNA that the woman, who works in the manufacturing sector, had her own room and did not go out or interact with anybody else during her time at the quarantine facility provided by her broker.
When asked why she took another test Oct. 22 if she did not display any symptoms, Chuang said her workplace required newly arriving employees to take a COVID-19 test before starting work.
Despite what appears to be at least a 22-day incubation period for the disease if it were imported, the CECC decided to classify the case as imported because the woman was in quarantine and not interacting with people during her time in Taiwan.
It did not provide any further explanation or evidence, as it has in past cases using antibody testing, to explain its decision.
A total of 12 people have been identified who came in contact with the patient, including six colleagues who came in contact with her while getting the test and have been asked to self-isolate.
Three other colleagues and three drivers have been asked to simply follow self-health management protocols, as they were wearing masks during their time of contact, the CECC said in a statement.
The other case, a Taiwanese man in his 30s who returned to Taiwan on Oct. 18 after leaving for the United States on Oct. 2 developed symptoms during quarantine on Oct. 21 and tested positive, Chuang said, and the man is now hospitalized.
"The man did not go to America for leisure, he was there preparing some visa work for his plans to work in the country in the future," Chuang said.
No one has been identified for contact tracing because the man was in quarantine two days prior to developing symptoms, Chuang said.
"He was in home quarantine for two days prior to his symptoms and did not have any contact with anyone else, so we didn't identify anyone else while looking for contacts," Chuang said.
Chuang told CNA it is believed a person is less infectious two days prior to starting symptoms and seven to 10 days after developing symptoms.
To date, Taiwan has recorded 550 cases of COVID-19, with 458 classified as imported. Of the total, 502 have recovered, seven have died and 41 are in hospital, according to CECC data.
View All