CORONAVIRUS
/
How to protect against COVID-19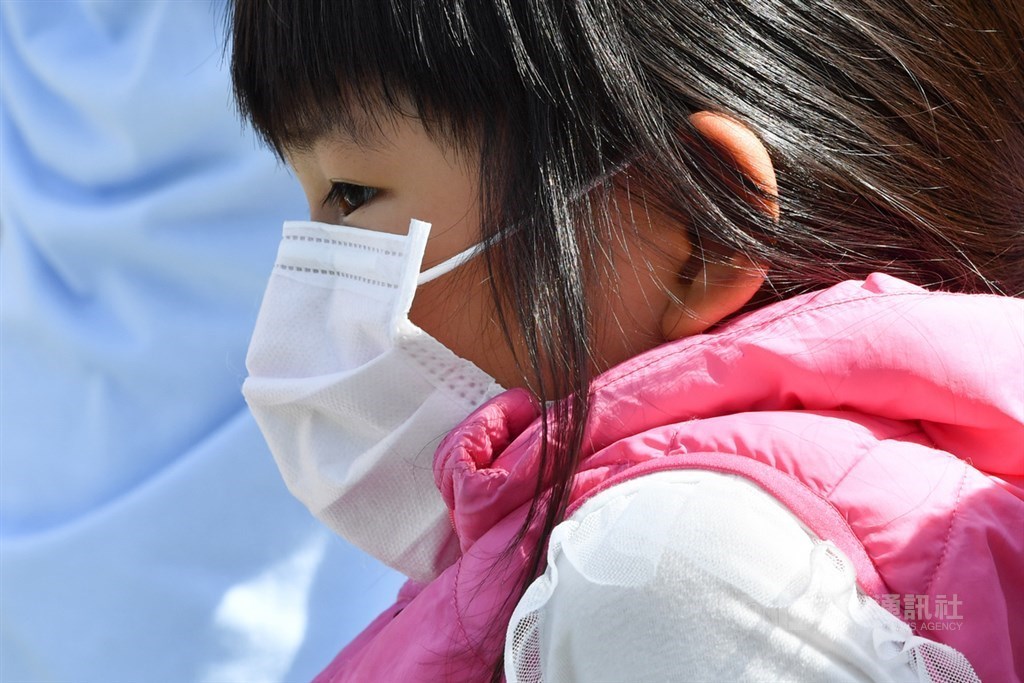 Editor's note: For readers' reference, Focus Taiwan compiled useful information of COVID-19 prevention and measures Taiwan has taken to stem outbreak
What is COVID-19?
According to the World Health Organization (WHO), the coronavirus disease that originated in Wuhan, China, is caused by a new strain of coronavirus that was discovered in 2019 and has not been previously identified in humans. The virus is now called severe acute respiratory syndrome coronavirus 2 (SARS-CoV-2), and the disease it causes is called COVID-19.
Coronaviruses (CoV) are a large family of viruses that cause illnesses ranging from the common cold to more severe diseases such as Middle East Respiratory Syndrome (MERS-CoV) and Severe Acute Respiratory Syndrome (SARS-CoV).
Common signs of infection include respiratory symptoms, fever, coughing, shortness of breath and breathing difficulties. In more severe cases, infection can cause pneumonia, severe acute respiratory syndrome, kidney failure and even death.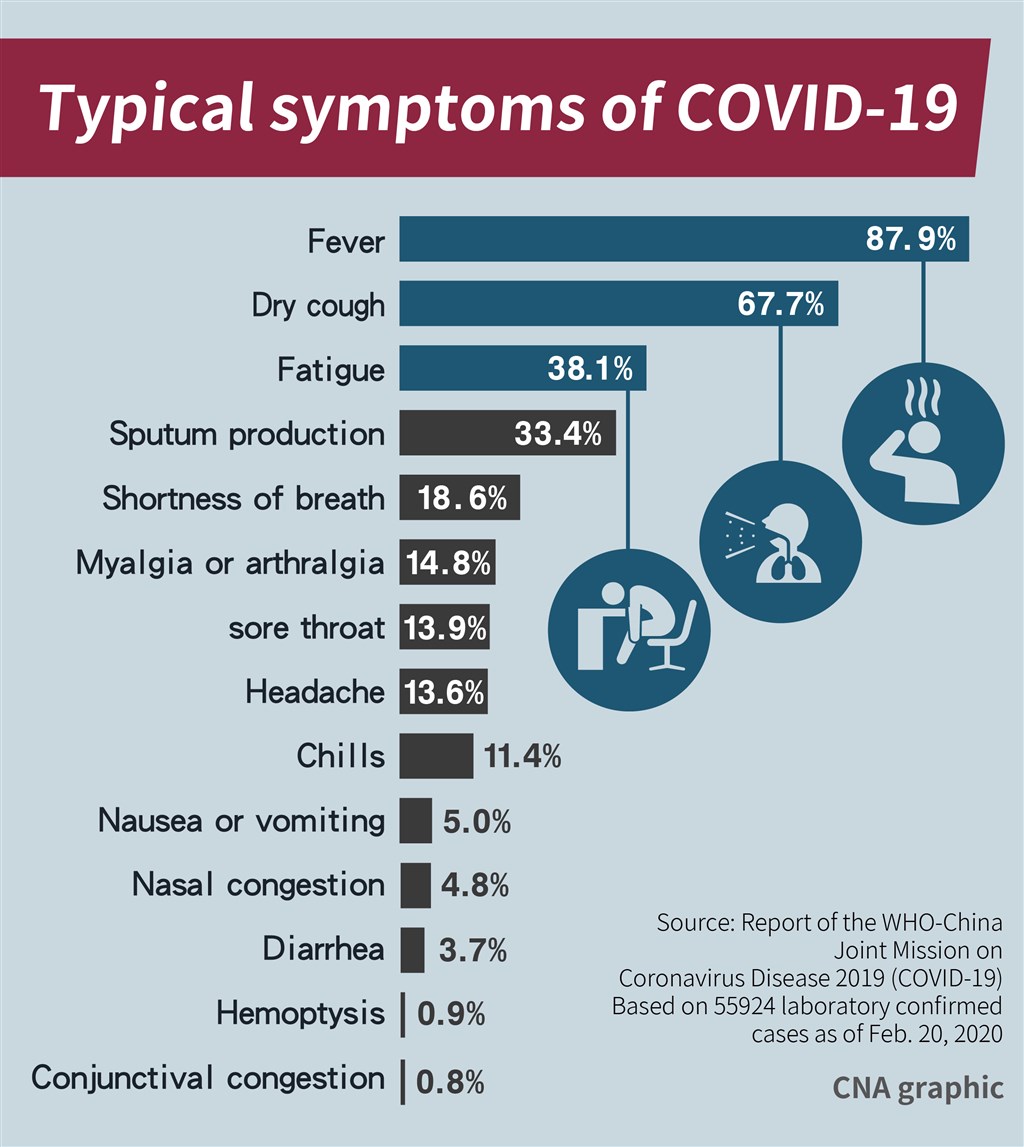 Most patients will recover, but some with a history of diseases, such as diabetes, chronic liver and kidney diseases and cardiovascular disease, may die, according to information from China's public health departments.
The WHO declared COVID-19 outbreak a pandemic on March 11.
How to protect oneself from COVID-19
The WHO Recommends: 
*Standard recommendations to prevent the spread of the infection include washing hands regularly, covering one's mouth and nose when coughing and sneezing, and thoroughly cooking meat and eggs. Avoid close contact with anyone showing symptoms of respiratory illness such as coughing and sneezing.
Taiwan's Centers for Disease Control (CDC) Recommends:
*Wash your hands thoroughly with soap
*Wear surgical masks when coughing or sneezing
*Avoid crowded places, including hospitals
*Avoid unnecessary overseas travel 
Attention: Wearing a surgical mask is a must when:  
Visiting medical treatment facilities; presenting symptoms of fever or respiratory problems; having chronic diseases; or being in a confined space where contact with people is unavoidable, such as in an airplane.
Washing hands or using an alcohol-based hand sanitizer is often more important than wearing masks because the new coronavirus can survive on the surface of objects for as long as five days during droplet transmission, meaning that keeping one's hands clean is a must.
The following are images taken from CDC's official website about how to wash hands properly in Indonesian, Thai and Vietnamese: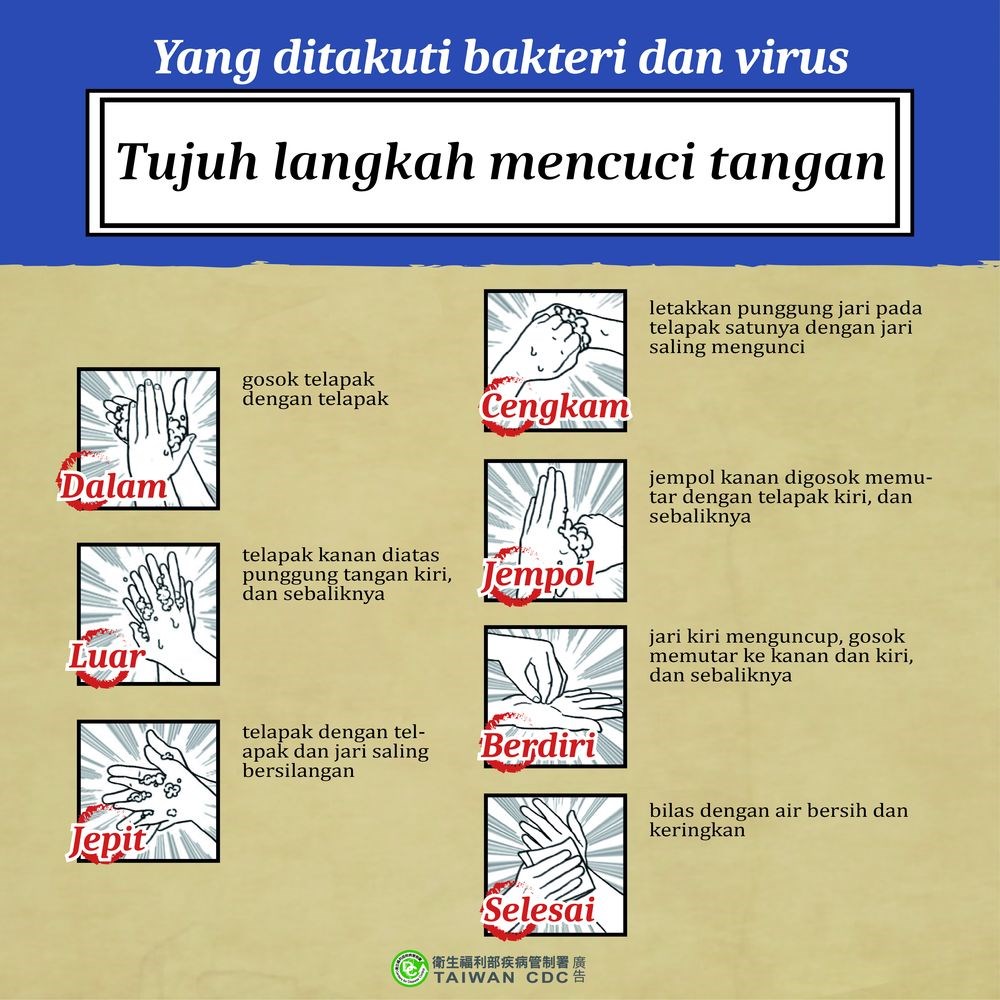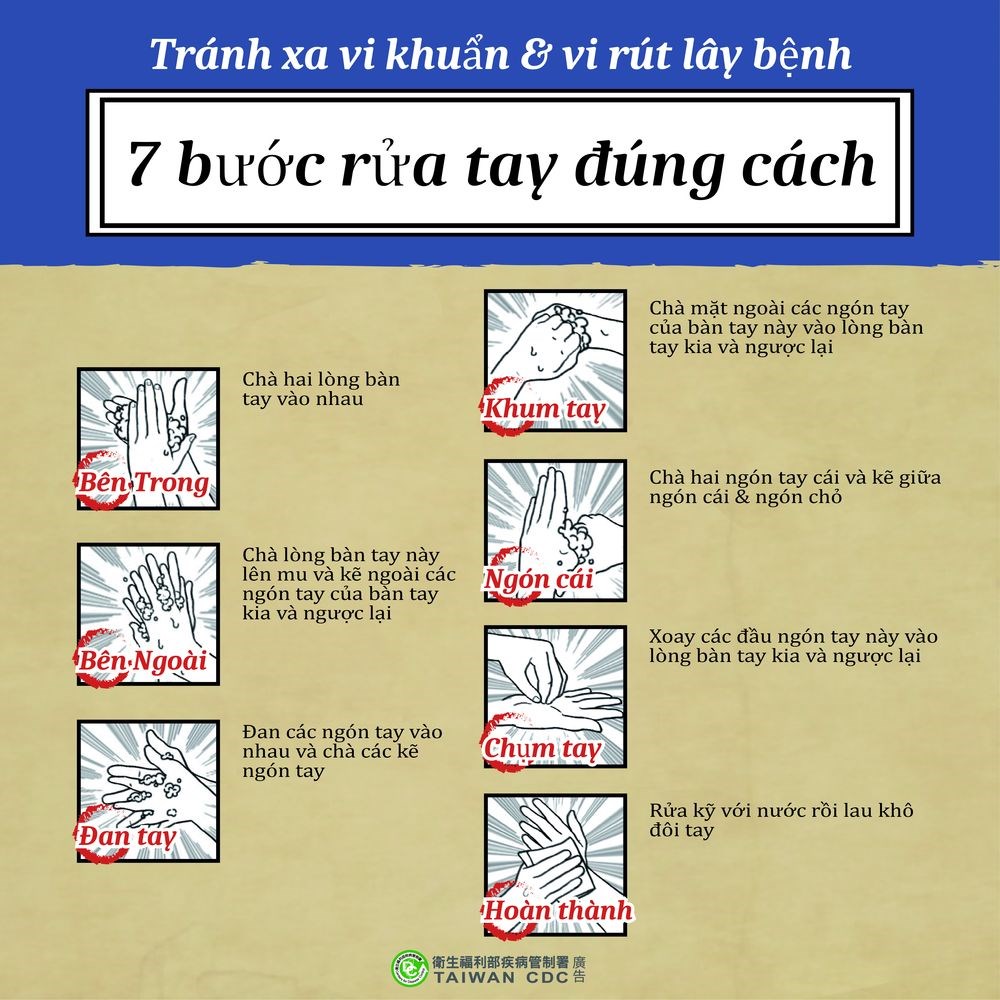 @ Malay Version: https://www.youtube.com/watch?time_continue=3&v=QoDuUzBEpvc&feature=emb_logo
@Burmese Version: https://www.youtube.com/watch?time_continue=1&v=tZZ1OJoSxec&feature=emb_logo 
Public health experts, meanwhile, advise people to keep a distance of at least 1 meter away
Disinfect the surface of objects people touch often with diluted bleach (1 portion bleach to 100 portion water) or 75% alcohol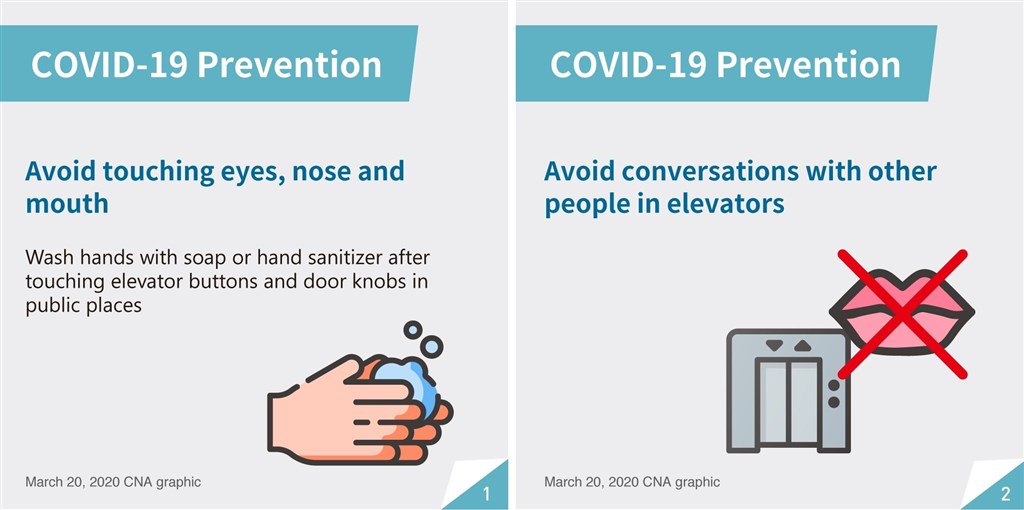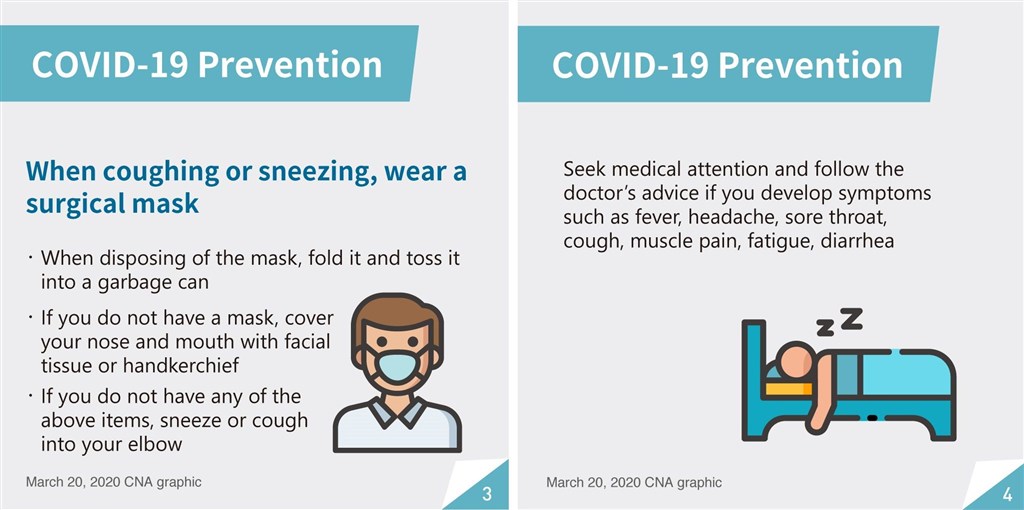 Quarantine hotline
To get help if you develop a fever and a cough after returning from COVID-19-circulating countries and areas within 14 days, or have contact with a COVID-19 patient within the period, please call the 1922 hotline.
Migrant workers can call the 1955 hotline set up by the Ministry of Labor for relevant information and assistance in Chinese, English, Thai, Indonesian and Vietnamese.
Wear surgical masks if you have a fever or other respiratory symptoms, and contact local health authorities by calling the hotlines for assistance. Inform doctors of travel history and possible exposure to the virus, such as for example, being in places where others had symptoms.
Where to buy masks?
Since Feb. 6, Taiwan has rationed the sale of face masks. At present, people can buy 3 masks for adults or 5 masks for children every 7 days for NT$5 per mask at designated drugstores and pharmacies by presenting their national health insurance (NHI) card.
While sales are open to everyone on Sunday, they are limited based on the last digit of the ID number on the buyer's NHI card on other days of the week – those with odd ID numbers can buy masks on Monday, Wednesday and Friday, and those with even numbers can buy masks on Tuesday, Thursday and Saturday.
This restriction only applies to sales of adult masks. Children's masks can be purchased any day of the week, but purchases are still limited to five masks every seven days. 
Starting April 9, residents will have access to 9 masks for adults every 14 days, up from three per week at present, while the quota for children's masks will remain at 10 every two weeks.
Also, consumers will be able to buy all nine adult masks or all 10 children's masks in one purchase on any day of the week so that they won't have to line up for the masks once a week on specific days depending on whether a person's ID number on their NHI card is odd or even.
Moreover, starting April 9, people can send up to 30 masks every two months by mail to their first- or second-degree relatives living in foreign countries.
Foreign nationals in Taiwan will not be allowed to do this, however, because the government has no way of confirming who their relatives within a second-degree are. The only exception would be if the relative was a Taiwan national. 
A government-built masks supply platform at https://mask.pdis.nat.gov.tw/ allows people to search for close-by pharmacies for mask purchases. However, the information is currently only in Chinese.
Link to real-time mask map https://mask.goodideas-studio.com/
In mid-March, an online system for mask purchases (still limiting purchases to three masks per person every seven days) was launched on a trial basis. Orders can be placed via the government website https://emask.taiwan.gov.tw/msk/index.jsp, or through a National Health Insurance Administration (NHIA) mobile app called 健保快易通 in Chinese.
To use the online ordering system, consumers either must have access to a card reader or need to download the NHIA app.
After logging onto the website, consumers with a card reader linked to their computers will be required to insert either their National Health Insurance (NHI) or Citizen Digital Certificate card to place their order for three masks, the maximum purchase. Each mask is still sold for NT$5 online, but a NT$7 transportation fee will be added to each order.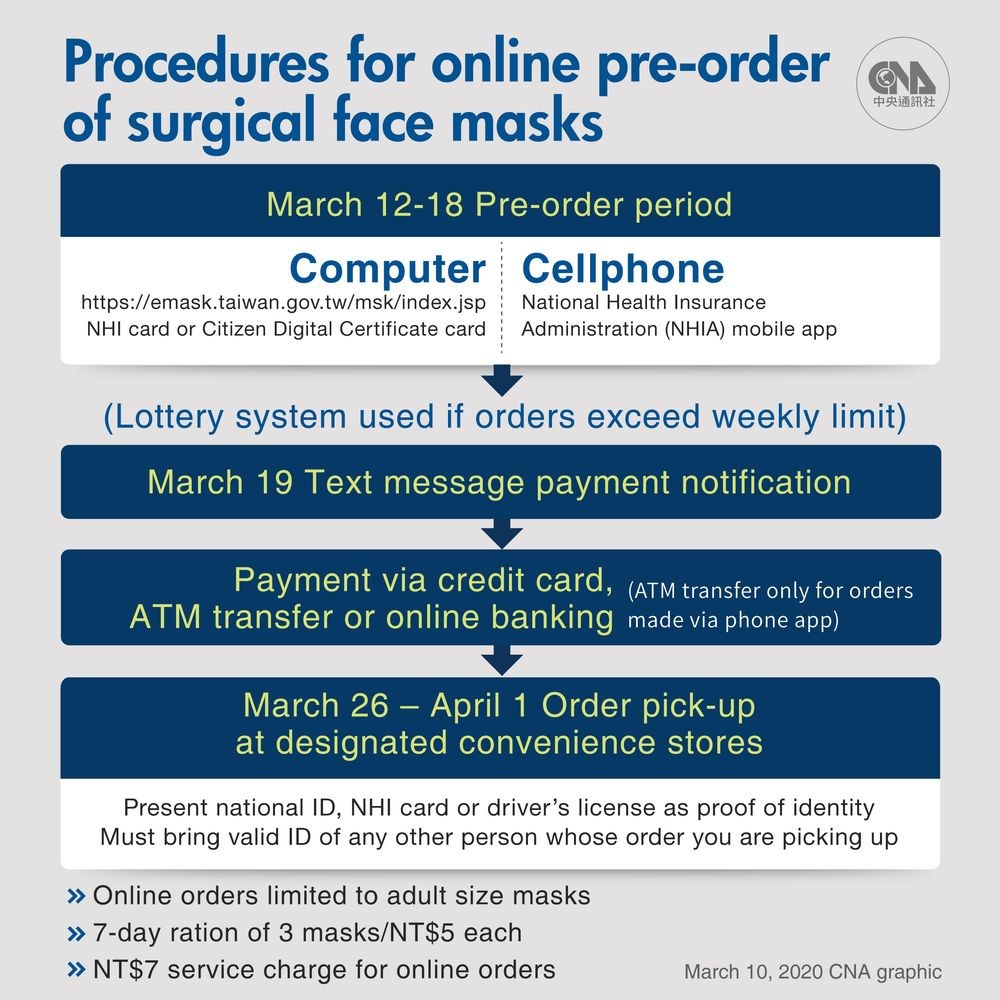 Masks are also being sold at duty-free stores in five airports around Taiwan. Three adult masks or five children's masks are available for NT$50 or US$2. The sale still counts toward Taiwan's mask rationing system, which allows all residents to buy three masks every seven days.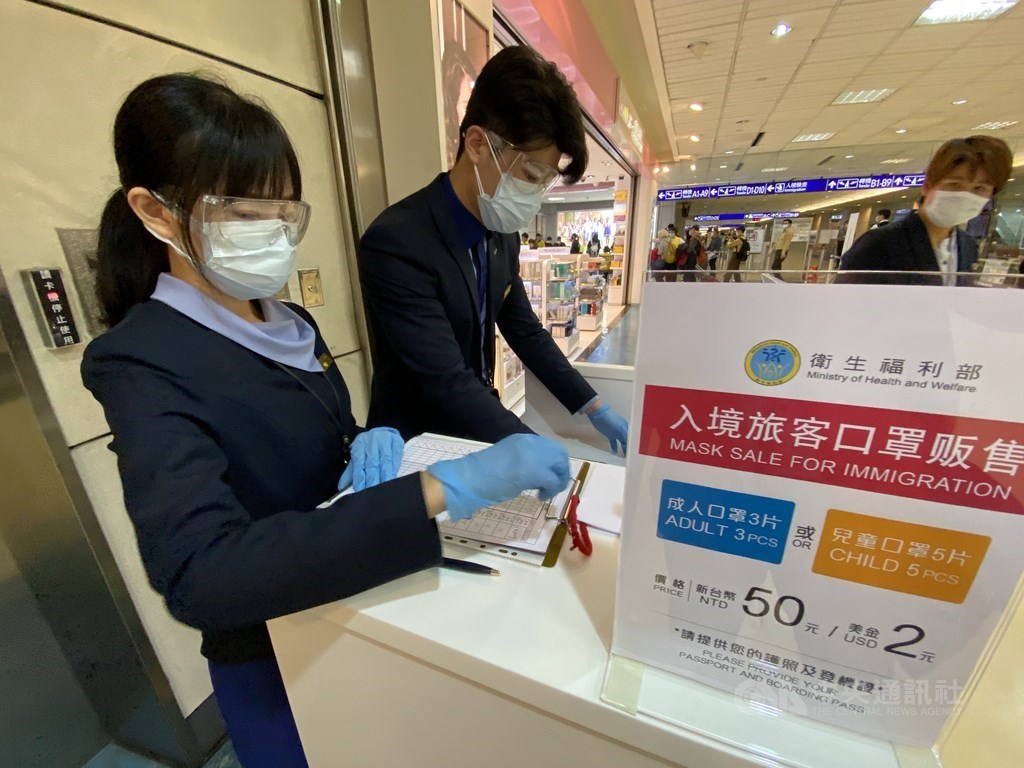 Clarifying Rumors
News about the new coronavirus that emerged in Wuhan, China in December 2019 is being circulated everywhere. While there is plenty of useful and reliable information online, there is also a lot of misinformation.
False information includes an online message that encourages people to hoard food and basic household items -- toilet paper the preferred item -- after Taiwan surpassed 100 cases of the new coronavirus March 18.
No supply shortage of toilet paper in Taiwan, the government declares. Actions have been taken to crack down on the spread of misinformation on the Internet.
The following are a number of false and misleading posts on social media that Robert H. Shmerling, faculty editor of Harvard Health Publishing, singled out in his article, titled "Be careful where you get your news about coronavirus," on the website https://www.health.harvard.edu/blog/be-careful-where-you-get-your-news-about-coronavirus-2020020118801
@"Oregano Oil Proves Effective Against Coronavirus," an unfounded claim
@ a hoax stating that the U.S. government had created and patented a vaccine for coronavirus years ago, shared with nearly 5,000 Facebook users
@ a false claim that "coronavirus is a human-made virus in the laboratory"
@ sales of unproven "nonmedical immune boosters" to help people ward off 2019-nCoV
@ unfounded recommendations to prevent infection by taking vitamin C and avoiding spicy foods
@ dangerous suggestions that drinking bleach and snorting cocaine can cure coronavirus infection
@ a video with useless advice about preventing infection with the new coronavirus by modifying your diet (for example, by avoiding cold drinks, milkshakes, or ice cream). This video, which demonstrates the removal of a parasitic worm from a person's lip, is many years old and has nothing to do with the current virus.
Border Controls
Starting March 19, Taiwan implemented a ban on the entry of most foreign nationals.
The only foreign nationals allowed entry are those who hold Alien Resident Certificates (ARCs), or documents proving they are in Taiwan for diplomatic or other official purposes, or to fulfill business contracts, as well as those who have received special permits.
All arrivals from overseas — whether they are Taiwanese or foreign nationals — are subject to home quarantine for 14 days. Compensation of NT$1,000 per day will be offered to those who take the initiative to report their travel history.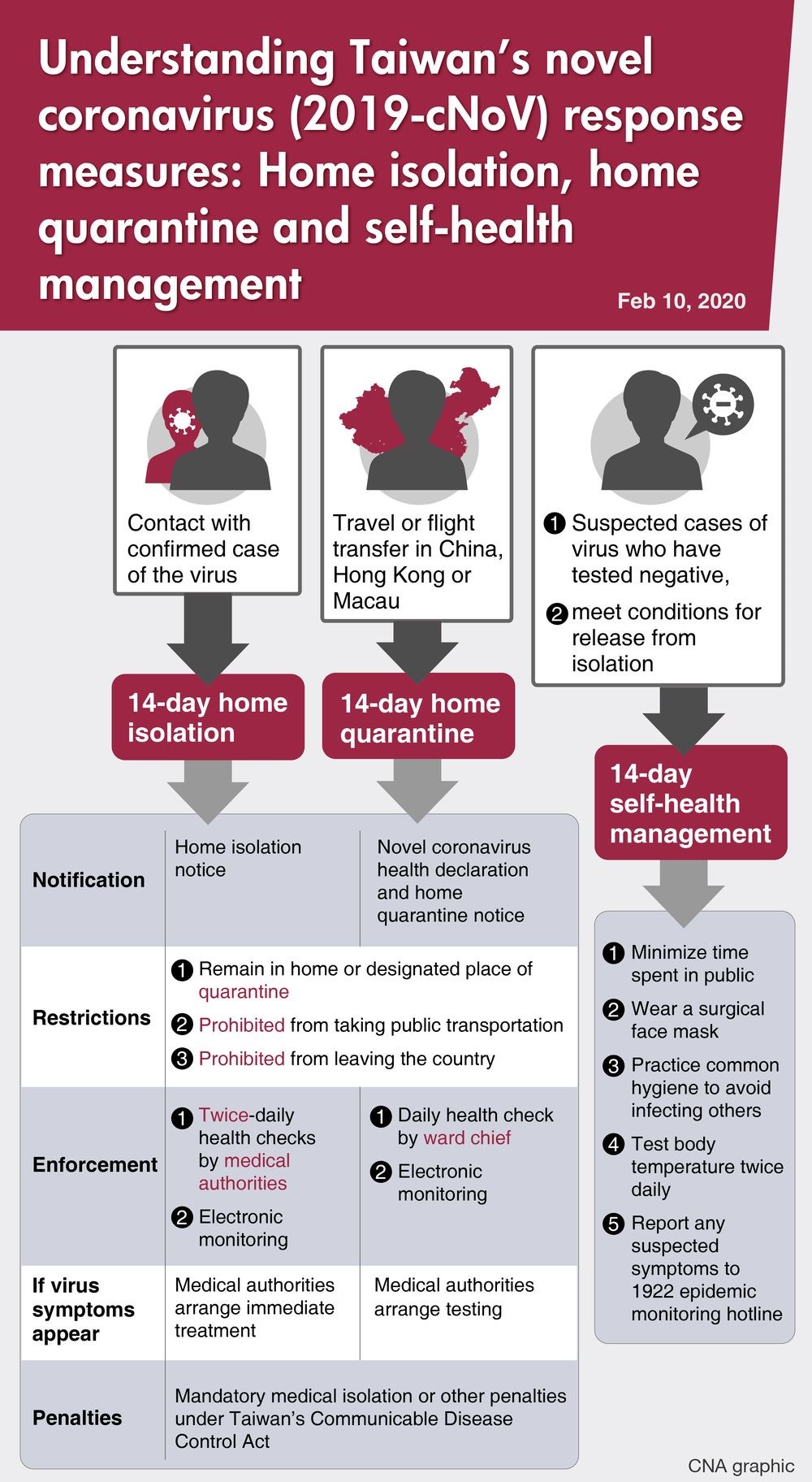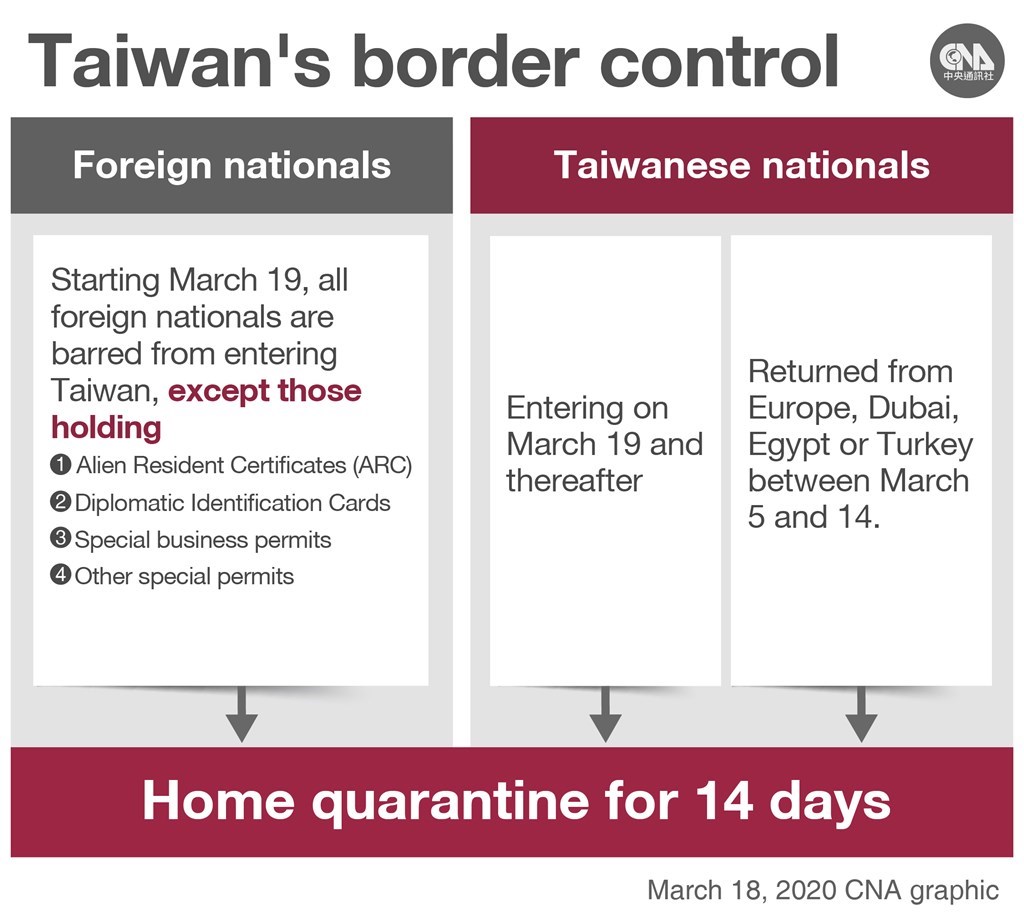 Meanwhile, a three-month amnesty program, TO BE EXPIRED ON JUNE 30, is available for foreign nationals who have overstayed their visas, allowing them to pay smaller fines should they decide to report to the immigration authorities during the grace period.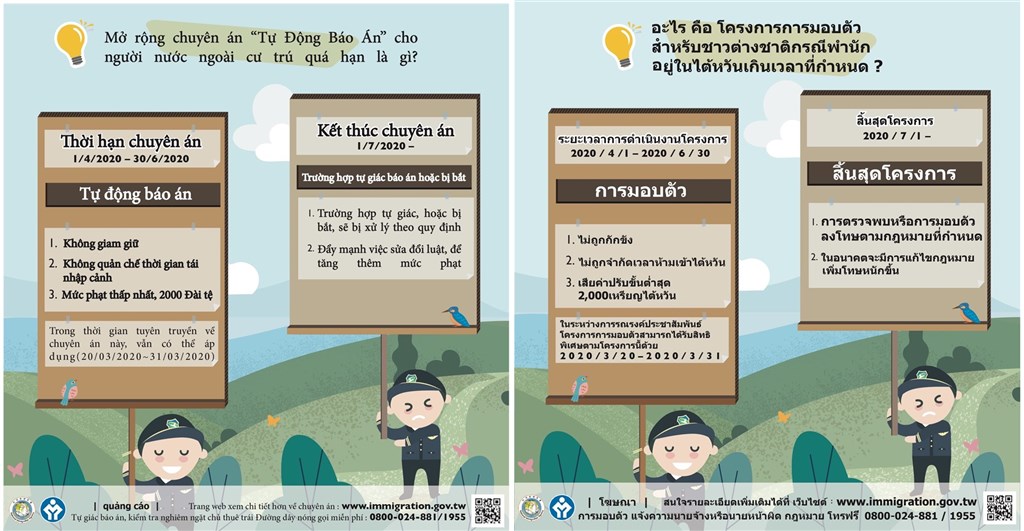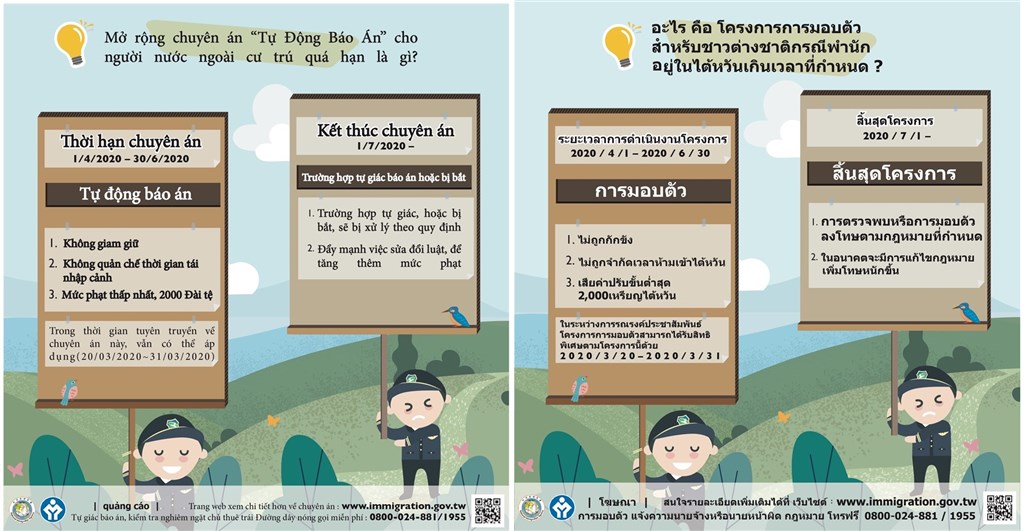 Travel alert 
Taiwan imposed highest travel warning on all overseas destinations on March 20, discouraging all non-essential travel to foreign countries.
Quarantine Hotels
In Taipei, New Taipei and Keelung, "quarantine hotels" are open to individuals who are required to undergo quarantine but do not have a place to stay in Taiwan or do not want to stay in their own homes. For information of the service, one can contact health and tourism offices of local governments.
View All