Athlete who sparked 'lucky cap' craze visits Changhua temple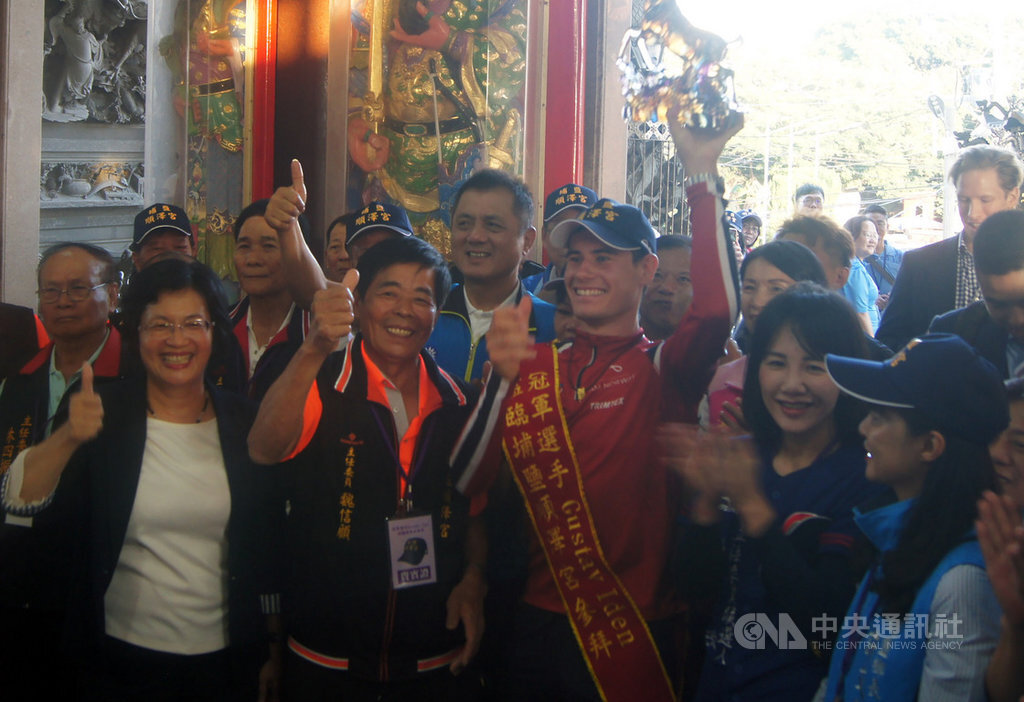 Taipei, Nov. 9 (CNA) A Norwegian triathlete who set off a trend in Taiwan for a "lucky" baseball cap visited Shun Tse Temple in Changhua County on Saturday, shortly after he arrived in Taiwan on a three-day trip.
Gustav Iden, 23, prayed at the temple and said he will return to thank the deity there if he realizes his dream of winning a gold medal at the 2020 Tokyo Olympics.
Upon arrival at the temple, Iden was greeted by hundreds of fans who came to see him wearing the "lucky cap" that he wore during the 2019 Half Ironman 70.3-kilometer World Championship in France in September.
The Norwegian was wearing the cap bearing the name of Shun Tse Temple when he crossed the finish line first in the French triathlon. A photo of his victory was soon picked up on social media, where he quickly became a sensation among Taiwanese netizens.
Since then, the temple has been flooded with thousands of orders for the "lucky cap," which it has been handing out free of cost.
Iden told reporters Saturday that he found the cap on the roadside in a rural area of Japan earlier this year. He was not aware of what the Chinese characters on the cap meant, but he started wearing the cap because he thought it "looked cool," he said.
Changhua Magistrate Wang Hui-mei (王惠美), who had invited Iden to visit, was at Taiwan Taoyuan International Airport to greet him on his arrival earlier in the day.
She said Iden's three-day itinerary in Taiwan included participating in Changhua's Tianzhong Marathon, which she will also join on Sunday.
On the last day of Iden's visit, he will attend a dairy festival in Changhua and also a press event to help promote the county's beef and mutton products in an upcoming festival, Wang said.