LGBTIQ activists encourage inclusivity as referendum looms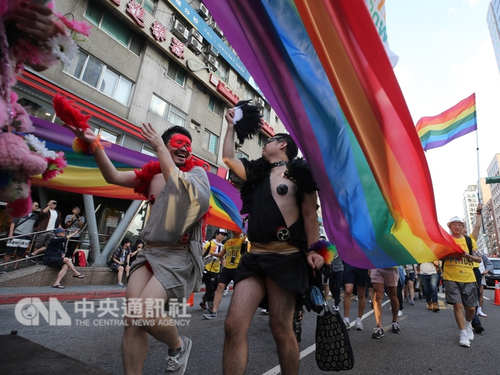 Taipei, Oct. 27 (CNA) Tens of thousands of people took to the streets in Taipei Saturday to celebrate gender diversity and inclusivity in Asia's largest gay pride parade, at a time when progress in advancing marriage equality in Taiwan faces an uncertain future with an upcoming referendum.
Now in its 16th year, the annual pride parade this year was themed "Tell Your Story, Vote for Equality" and urged people to vote "yes" on the two referendum proposals -- numbers 14 and 15 -- on election day, Nov.24.
One proposal asks if people agree that the marriage regulations in the Civil Code should be used to guarantee the right of same-sex couples to get married.
The other proposal asks if the Gender Equity Education Act should stipulate that gender equality education covering courses on inclusive sexuality education be included in the basic education curriculum.
"After the march, the big challenge ahead is the referendum," one of the organizers, who gave his name as Hsiao Pai, said at a press conference.
Hsiao Pai said that the organizers would like to remind all young people that they can vote in the referendum as long as they are 18. "Please do go to vote to safeguard the rainbow (symbolizing marriage equality)," he said.
Chi Chia-wei (祁家威), a Taiwanese human rights icon for lesbian, gay, bisexual, transgender, intersex and queer (LGBTIQ) people, told CNA that the two referendum proposals were submitted to counter those opposing gay marriage.
"It's a carnival parade today" as in the past, Chi said, "but we are also here to make people more aware of what the referendum means for gay rights."
Chi Chia-wei
The activists did not initially seek a referendum because they believe the rights of LGBTIQ people are human rights that should not be subject to a popular vote, but they were forced to do so after anti-gay marriage groups sought to put these issues to a referendum.
Opponents do not agree with the 2017 Constitutional Court ruling in favor of legalizing same-sex marriage and are "using the referendum to derail efforts to legalize same-sex marriage," Chi said.
According to the organizers, the march saw a record attendance of 130,000, including foreign diplomats, international LGBTIQ rights advocates and individuals who came to Taiwan for the event.
Deputy Director of the American Institute in Taiwan (AIT) Raymond Greene also led a group of AIT colleagues and their families at the parade.
Respect for diversity and human rights are just two of the many values shared by the peoples of the United States and Taiwan. AIT supports the LGBTIQ community and thanks the organizers for coordinating another successful event, the AIT said in a Facebook post.
"It is my 4th parade since I came to Taipei. Love being here. It is the greatest party ever," EU Representative to Taiwan Madeleine Majorenko said.
Commenting on the referendum, Majorenko said she hopes all young people in Taiwan go and vote for the 14th and 15th proposals because it is so important.
"Make your voice heard. Make sure that the spirit that we have here today lives on for the future in Taiwan. We are very proud of Taiwanese and Taiwan," she said.
It was the first time at the parade for Swedish Representative Hakan Jevrell and German Representative Thomas Prinz, both of whom assumed their posts only recently.
"This is such a great event that stands for the values we share. For us it's a very great opportunity to be part of this," Jevrell said. "This is the biggest parade in the whole of Asia. Who could miss that?"
"What you see here is already a symbol of a free and democratic society where the rights of minorities are protected and that's why I'm here," Prinz said. "The fact that the parade is the biggest in Asia shows that Taiwan has gone a long way."
Thomas Prinz
In 2017, the Constitutional Court struck down the definition of marriage in the Civil Code and ordered that the law be amended within two years. Despite the landmark ruling, the process of legalizing same-sex marriage has stalled.
Christof Wittig, founder and CEO of U.S.-based gay dating app Hornet, said that Taiwan has already achieved much with respect to same-sex marriage and equality, "but we are not where we should be."
The ruling has paved the way for Taiwan to become the first country in Asia to legalize same-sex marriage, but "now it's very disappointing because we are being set back into a referendum situation with a very uncertain outcome."
As a big fan of Taiwan, Wittig said, "we are still hoping that Taiwan will be the first in Asia to have full equal rights for love, inclusive and same sex marriage."
Christof Wittig
Asia in general is not a friendly place for LGBTIQ people, Larry Hughsam, a Canadian tourist from Toronto, said.
"In Canada, we've had same-sex marriage for 10 years and it's amazing. It's time for Taiwan to have same-sex marriage also. It might set a tone so that other countries in Asia can follow," Hughsam said.
Larry Hughsam (left)
Three referendum proposals sponsored by anti-gay marriage groups will also be voted on in the referendum, numbered 10, 11 and 12.
The first asks if people agree that marriage should be restricted to heterosexual unions as described under the Civil Code.
The second asks if people agree that homosexual education should not be taught to students in elementary and junior high schools as currently stipulated under the enforcement rules of the Gender Equity Education Act.
The third question asks if the protection of rights of same-sex couples should be provided for in ways other than those stated in the marriage regulations in the Civil Code.