68 aftershocks recorded after major earthquake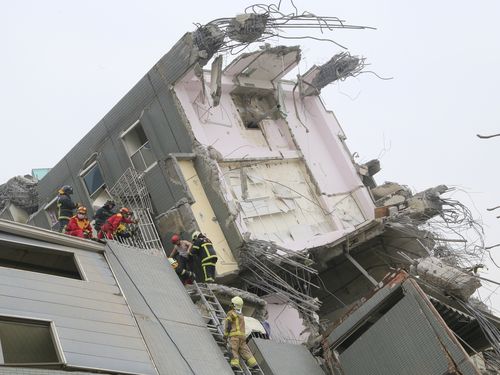 Taipei, Feb. 8 (CNA) A total of 68 aftershocks, including four on Monday, have been recorded since early Saturday when a magnitude 6.4 major earthquake rocked southern Taiwan, according to the Central Weather Bureau's Seismological Center.
Monday's four aftershocks ranging in magnitude from 3.5 to 4.3 were centered in Nansi District in Tainan, Liugui District in Kaohsiung and the town of Taibao and Fanlu Township in Chiayi County, the center said.
Of the aftershocks, 54 could not be felt by people, the center said.
Saying more aftershocks may come in the next two weeks, the center advised the public to be aware of the possibility but not to panic if aftershocks occur.
The 6.4 magnitude quake has so far left 38 people dead and 500 injured, but the death toll is likely to rise because more than 100 people believed to be trapped in a collapsed apartment building remain unaccounted for.
The Tainan City government decided Monday evening to use heavy machinery to expedite the rescue effort because time is running out to save any of the people who remain trapped and might still be alive.