Taoyuan airport keeps high level of security amid ISIS terror fears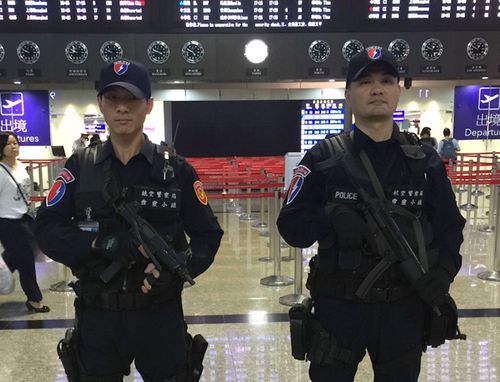 Taipei, Nov. 25 (CNA) The Taiwan Taoyuan International Airport has kept security at a high level after a Republic of China flag appeared in a newly released video by the Islamic State, the militant group also known as ISIS or ISIL, the airport police said Wednesday.
The airport has stepped up security measures following a series of deadly terrorist attacks that killed at least 127 people in Paris on Nov. 13, with armed SWAT teams patrolling the airport intensively for security checks, according to the Aviation Police Bureau.
The security measures have been maintained at a high level without any changes amid public fears that Taiwan could become a target of ISIS, the bureau said.
In an ISIS video released Tuesday titled "No Respite," Taiwan's national flag is displayed next to the United States flag among more than 80 flags.
The video surfaced after U.S. President Barack Obama said earlier this week that Taiwan is one of the Asia-Pacific countries in a coalition against the Islamic State of Iraq and the Levant (ISIL) when he attended the Association of Southeast Asian Nations (ASEAN) East Asia summit in the Malaysian capital of Kuala Lumpur.
Asked to comment on the ISIS video showing Taiwan's flag, most travelers at the Taoyuan airport said they remain confident in Taiwan's security measures.
Some of the travelers said the government should be more vigilant about potential terror attacks given the fact that Taiwan's national flag has been listed in the ISIS video, while others believe that ISIS is just bluffing.
(By Chiu Chun-ching and Jeffrey Wu)ENDITEM/ke
Related:●Defense ministry aware of ISIS video showing Taiwan's flag (update)●Ma urges people to stay calm over ROC flag shown in ISIS video●Taiwan's envoy to U.S. attends anti-IS coalition meeting●DPP urges government to be vigilant in wake of Islamic State threat