84.1-meter Taiwania tree confirmed as Taiwan's tallest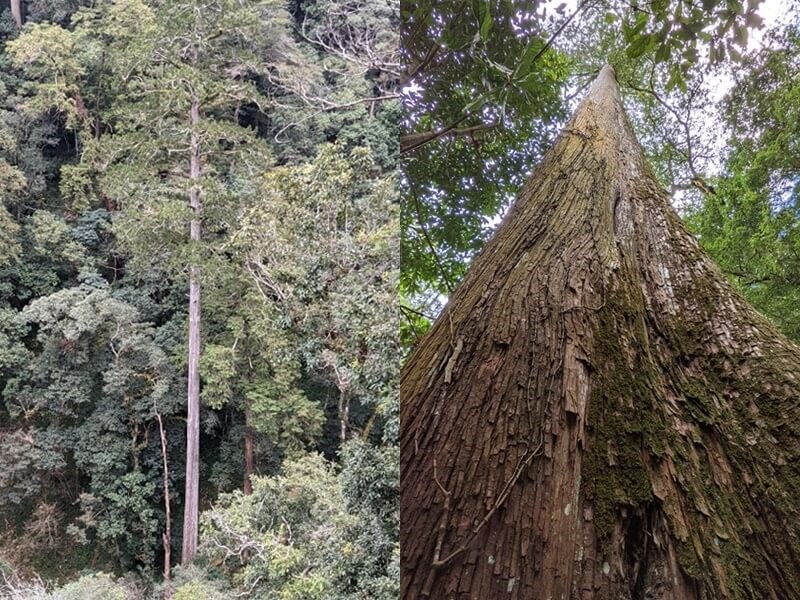 Taipei, Jan. 30 (CNA) A Taiwania tree near the upper course of the Da'an River in north-central Taiwan has been found to be 84.1 meters high, making it the tallest known tree not only in Taiwan but in all of East Asia, according to the Taiwan Forestry Research Institute (TFRI).
Last December, a team of researchers published an interactive map of 941 trees in Taiwan standing 65 meters and taller, many of which were located along the country's Central, Xueshan and Alishan mountain ranges.
The project, led by National Cheng Kung University professor Wang Chi-kuei (王驥魁) and TFRI assistant researcher Rebecca Hsu (徐嘉君), located the trees using a combination of raw data from the Ministry of the Interior and techniques such as airborne light detection.
In an interview on Monday, Hsu said she and her colleagues had long had their eye on a tree with the identification number 55214, which remote sensing technology indicated could be above 80 meters tall.
During the recent Lunar New Year holiday, she said, a team of around 20 researchers traveled to the tree to take official measurements -- an undertaking that involved hiking to its location at an elevation above 2,000 meters with temperatures hovering around 0 degrees Celsius.
Source: "Taiwan champion trees"
After reaching the site, four or five climbers ascended the tree on ropes and measured it in stages, Hsu said, "because their measuring tape was only 50 meters long."
Moreover, because of the strong winds that day, "the tree was constantly rocking," forcing the climbers to wait for the wind to die down when they were just seven or eight meters from the tree's highest point -- around 30 stories above ground, she said.
Despite the difficulties, the team was ultimately able to confirm the tree's official height of 84.1 meters and girth of 8.5 meters, which made it not only the tallest known tree in Taiwan, but in all of East Asia, according to Hsu.
Hsu said the tree and those in its vicinity appeared to be in good health despite its estimated age of 700-800 years.
Its location near a riverbed, rather than along a ridge, also meant that it was less likely to be damaged by wind or a lightning strike, she said.
Meanwhile, Hsu said her team also went to photograph a 79.1-meter Taiwania tree in Shei-Pa National Park in December that was previously thought to be Taiwan's tallest, and it plans to make their photos public next month.