First Taiwan-built offshore wind installation vessel launched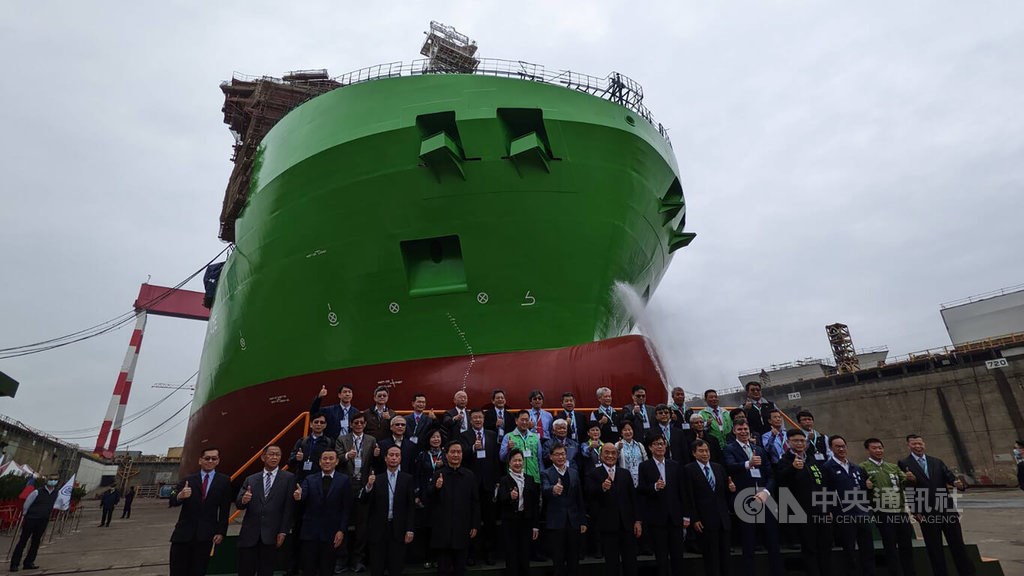 Kaohsiung, April 3 (CNA) A launching ceremony was held in Kaohsiung on Sunday for the "Green Jade," Taiwan's first indigenously built floating, heavy lift and installation vessel for offshore wind facilities, setting a milestone for the local shipbuilding industry.
The ceremony marked the transfer of the Green Jade to water for the first time, and Cheng Wen-lon (鄭文隆), chairman of the company that built the vessel, CSBC Shipbuilding Corp., said the ship was expected to be fully operational by the spring of 2023.
Cheng said the ship was the first to be engineered, designed and built in Taiwan capable of transporting and installing huge, multi-megawatt offshore wind power turbines and other components, and it will serve the Hai Long and Zhong Neng offshore wind projects.
The vessel was commissioned by the CSBC-DEME Wind Engineering (CDWE) joint venture between CSBC Corporation and Belgium-based Dredging, Environmental and Marine Engineering NV (DEME Offshore).
CDWE said the 216.5-meter long ship, with a 4,000 metric ton capacity crane and DP3 (dynamic positioning) capability, was named after Taiwan's highest peak, Yushan (Jade Mountain) to reflect the Green Jade's projected contributions to bring clean, green energy to Taiwan.
At Sunday's ceremony, Premier Su Tseng-chang (蘇貞昌) called the launching of the Green Jade a "milestone" for Taiwan's ability to develop a green energy industry.
Su said that with 16 of the world's 20 most ideal wind sites in the Taiwan Strait, Taiwan will benefit from the advancements that will come with the Green Jade to help move the country toward its 2050 net-zero emissions pledge.
According to the Global Offshore Wind Speeds Ranking, the top six offhsore wind sites either under development or in use with the fastest wind speeds are in the Atlantic Ocean off the coast of northwestern Africa.
Fifteen of the next 20 top wind speeds, however, are in the Taiwan Strait.
Also speaking at the ceremony, CDWE Project Director Marco Kanaar said there were barely a handful of ships whose specifications could match those of the Green Jade, and they tend to be docked in Europe before being deployed around the world.
Given those circumstances, creating an indigenous Taiwanese vessel was an important achievement because it could serve other Asian countries in the future, Kanaar said.