TANG PRIZE
/
Drug developed by Tang Prize laureate plays role in COVID-19 treatment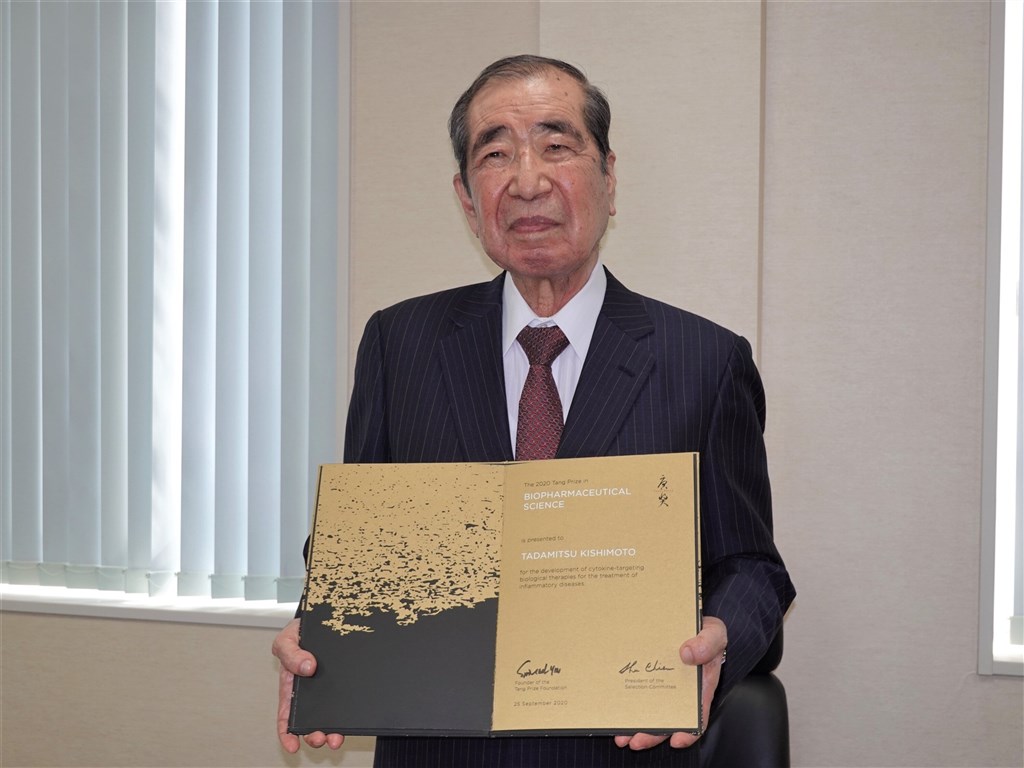 Tokyo, Nov. 25 (CNA) Japanese immunologist Tadamitsu Kishimoto never expected that a drug he and his research team at Osaka University developed to treat rheumatoid arthritis (RA) would one day play a role in the fight against a global pandemic.
However, when the COVID-19 pandemic swept the world in 2020, they soon discovered that the drug, called Actemra on the market, could reduce the risk of COVID patients being placed on ventilators or dying.
What lies behind the life-saving drug is Kishimoto's studies on a small protein called interleukin-6 (IL-6) that he began back in the 1980s and it is because of that research that Kishimoto was named a 2020 Tang Prize laureate in biopharmaceutical science.
"I appreciate very much that my life work on interleukin-6 was evaluated and chosen for this very prestigious award," Kishimoto said in his recorded acceptance speech.
Kishimoto and his team discovered that too much IL-6 in the body can lead to inflammatory diseases such as RA, juvenile idiopathic arthritis, Castleman disease and giant cell arteritis. They later developed Actemra to block the effects of IL-6 and hence alleviate the symptoms of inflammatory diseases.
The drug has been used to treat approximately 1 million patients suffering from RA and other inflammatory diseases across the world for more than a decade, Kishimoto said in a recent interview with CNA.
In the case of COVID-19, Kishimoto said he and his team discovered that COVID-19 patients might suffer severe symptoms because of "cytokine storm syndrome," which occurs when pro-inflammatory proteins, such as IL-6, increase acutely.
Their study in 2020 also found that seven patients with severe to critical COVID-19 symptoms improved after being treated with Actemra.
In June, the United States Food and Drug Administration (FDA) issued an emergency use authorization for use of Actemra in COVID-19 treatment after reviewing four clinical trials involving more than 5,000 hospitalized COVID-19 patients.
Similarly, the World Heath Organization (WHO) officially recommended using Actemra in the treatment of severe COVID-19 cases, saying the drug "can play a key role in decreasing mortality and reducing need for invasive mechanical ventilation among severely ill patients, when delivered alongside oxygen and corticosteroids."
Kishimoto said he is pleased that Actemra has been recognized by both the FDA and WHO. "I am very glad that our very basic study over almost half a century [came in] useful to medicine and saved many patients in the world."
Looking forward, the 82-year-old told CNA he will continue with his IL-6 research and working to fostering talent in the field of immunology.
"Although I do not have children, I have many excellent students, and I have nurtured a lot of students," Kishimoto said, adding that the most important thing is to help them achieve their full potential.
Based on decades of experience, Kishimoto also stressed the importance of fundamental research.
"As long as one works toward mastering basic research, he or she may find a way to treat diseases," said Kishimoto, adding: "Persistence brings about creation."
View All