CORONAVIRUS
/
Medigen vaccine data 'good' but questions remain: Experts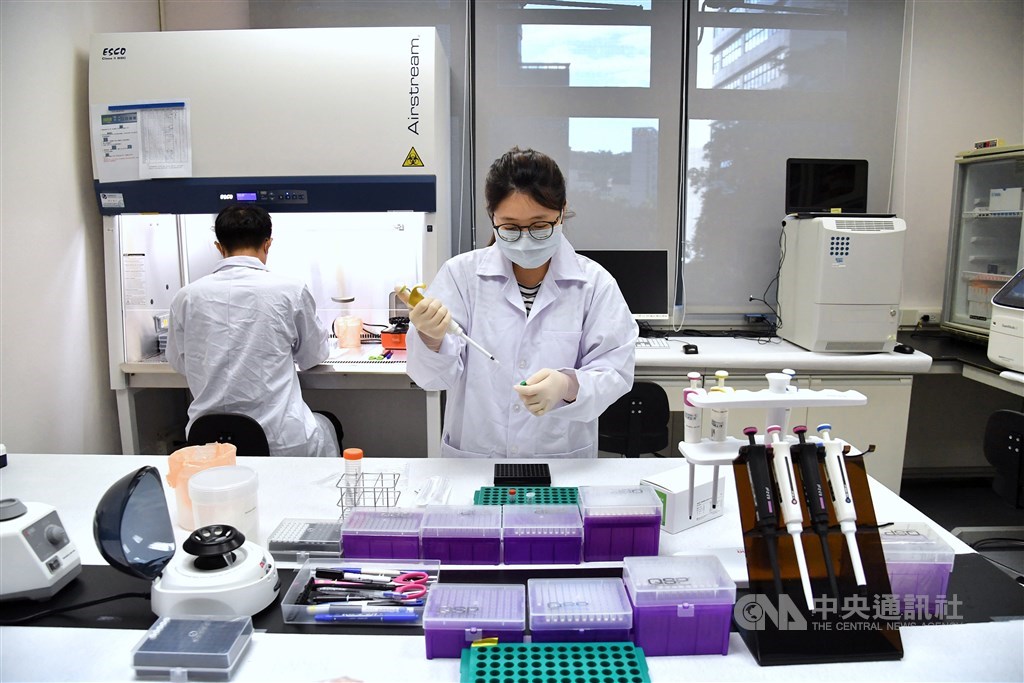 Taipei, June 11 (CNA) The Phase 2 clinical trial results of a COVID-19 vaccine developed by Taiwan-based Medigen Vaccine Biologics Corp. generated good data, experts have said, but they cautioned there was still no way to know how effectively it will protect people against getting the disease.
"Data looks quite good," Academia Sinica academician Michael M.C. Lai (賴明詔), a reputed virologist and coronavirus researcher, told CNA on Thursday after Medigen announced that its vaccine candidate had shown no major safety concerns.
Lai said the published data showed the vaccine was able to produce sufficient neutralizing antibodies, and as long as there were antibodies, there should be protection, while also noting that its toxicity was low.
The Medigen vaccine has achieved the goals of creating sufficient neutralizing antibodies and low toxicity, Lai said, but only Phase 3 trials could determine if it actually does protect its users.
According to Lai, there are many ways to produce vaccines, including protein subunit vaccines such as the one Medigen is working on.
The most traditional way is to use the virus to produce a vaccine with several different proteins that the immune system recognize should not be there. It therefore triggers reactions by the immune system to the proteins, but can also have a certain level of toxicity.
In contrast, a protein subunit vaccine is made of merely one protein, the spike protein. "It is purer but could trigger a weaker immunoreaction," Lai said.
"Different vaccine production methods have different advantages and disadvantages. One cannot be compared with another," he said.
Lai also backed the requirement set by Taiwan's Food and Drug Administration (FDA) that domestic COVID-19 vaccines must have a neutralizing antibody potency level equal to or higher than that of the AstraZeneca COVID-19 vaccine to be considered for an Emergency Use Authorization (EUA).
There must also be valid data from at least 3,000 participants in clinical trials to ensure that the vaccine is safe.
It could take several years for a domestic vaccine to go through Phase 3 trials, and in Taiwan's current situation, "it should opt for second best," Lai contended, even though major vaccines have obtained enough efficacy data in Phase 3 trials in a matter of months to get EUA approval.
He was suggesting that it would be acceptable for Medigen to apply for an EUA with merely the results of Phase 2 clinical trials.
Echoing Lai, Academia Sinica epidemiologist Ho Mei-shang (何美鄉) said in a Facebook post Thursday that criteria for EUA verification varies in different countries.
"If Taiwan continues to see delays in vaccine shipments and a continuous rise in COVID-19 outbreaks, why not opt for the domestic vaccine when its geometric mean titer (GMT, which refers to antibody concentration) looks to be no worse than AZ's?" Ho argued.
At Friday's press conference, Medigen said participants of all ages in its study had a seroconversion rate (which refers to potency of response) of 99.8 percent, meaning antibodies were produced in the bodies of almost all participants.
In addition, the participants had an average GMT of 662, and an increase in titers -- known as the geometric mean fold rise -- of 163 against a baseline that Medigen did not identify. Among participants aged 20-64, the GMT roste to 733, the geometric mean fold rise was 180, and the seroconversion rate was 99.9 percent, the company said.
According to experts, a GMT of between 600 and 700 is a relatively good result, but for the FDA safety evaluation, the data has to be compared with that of the AZ vaccine, which Taiwan has relied on almost exclusively to date for its vaccine rollout.
In terms of adverse reactions, none of the trial's participants had severe reactions, according to Medigen.
But 0.7 percent developed fevers, 36 percent experienced fatigue, 27.6 percent had muscle pain, 22.2 percent had headaches, 15.1 percent had diarrhea, 7.7 percent felt nauseous, and 71.2 percent felt pain at the injection site, it said.
Lu Chun-yi (呂俊毅), a resident pediatrician at National Taiwan University Hospital and the secretary-general of the Taiwan Immunization Vision and Strategy (TIVS) organization, was another of the experts who said the Medigen data was "good."
Almost every participant had antibodies after being inoculated, and the figures of antibody concentration showed promising results, he said.
Lu noted, however, that there is no international consensus on how high the GMT level has to be to indicate a level of protection.
Moreover, no uniform, globally-accepted method for verifying antibody concentrations exists, meaning that existing vaccines have a wide range of GMTs from as low as just over 100 to above 3,000.
Different laboratories may conduct trials with different materials and using different methods, resulting in results that vary across different labs, Lu said.
Lu's opinion was same as that of TIVS President Lee Ping-ing (李秉穎), who is a member of a specialist advisory panel at the Central Epidemic Command Center, and Shih Shin-ru (施信如), who heads the Research Center for Emerging Viral Infections at Chang Gung University.
Shih also cautioned that it was still too early to say whether Medigen had successfully developed a COVID-19 vaccine based on the trial results released Friday because nobody knows how high the neutralizing antibody concentration needs to be for the Medigen vaccine to be effective, she said.
Medigen said it will seek an EUA from Taiwan's FDA for its vaccine candidate as soon as possible now that the Phase 2 clinical trials showed promising results.
It will also apply to the European Medicines Agency and other international health authorities to begin Phase 3 clinical trials as soon as possible, the company said.
View All