Taiwan plays critical role in OCP development (update)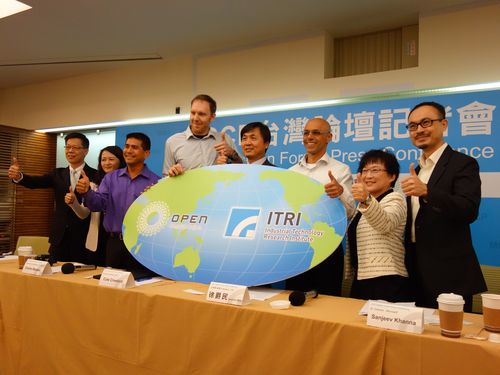 Taipei, March 4 (CNA) Taiwan plays a very important role in developing the Facebook Inc.-led Open Compute Project (OCP), an initiative aimed at openly sharing designs of data center products, experts and members of the project said Tuesday.
Speaking at a Taipei press conference, OCP executive director Cole Crawford praised Taiwan's Industrial Technology Research Institute (ITRI) as "one of the tidal forces" lifting up the ships in the industry.
"ITRI was not only a pioneer, an innovator, but also one of the founding members of the initiative," he said.
ITRI President Shyu Jyuo-min, also at the conference, said, "The OCP is a global trend and standard, and we are glad that Taiwanese companies already play important roles in the growing ecosystem."
"With the OCP certification laboratory set up by ITRI, we aim to promote adoption of OCP solutions in the age of cloud computing," he said.
Representatives from Quanta QCT and Wiwynn also expressed confidence that the initiative will give Taiwan a chance to grab commercial opportunities in the cloud computing field.
OCP can help reduce energy consumption by 30-38 percent and save 20-24 percent in material costs over conventional data centers, the experts said.
Facebook said it has saved more than US$1.2 billion over the last three years by using such designs to streamline data centers and servers.
Sanjeev Khanna, a senior director at Microsoft Corp., also said at the press conference that OCP solutions showed improvements over traditional server designs, with up to 40 percent server cost savings, 15 percent power efficiency gains and 50 percent lower operational costs.
Eyeing the rapid growth in the Asia-Pacific region, the OCP Foundation plans to collaborate with Beijing's Tsinghua University to set up a chapter in China.
The group said it has also been discussing collaborating with Chinese service providers such as search engine Baidu and e-commerce giant Alibaba.
Earlier Tuesday, OCP Taiwan and its counterpart in Japan signed a memorandum of understanding to extend cooperation on energy-efficient and open source data center products and designs.
The signing ceremony was followed by a day-long forum attended by representatives from local information and communication technology companies and OCP chapters in the Philippines and South Korea.
A day earlier, an OCP-approved certification laboratory, the first of its kind in the world, was formally opened in Hsinchu to coincide with the technology forum.
The lab, which actually began operations back on Dec. 27, 2013, will certify submissions from data centers around the world by testing whether the applicants' hardware, software and operating systems meet the standards of Facebook's server designs.
Launched in April 2011 by a small team of Facebook engineers, the non-profit Open Compute Project Foundation aims to spark a collaborative dialogue among partners to develop the most efficient computing infrastructure.
(By James Lee)ENDITEM/ls/WH