ELECTION 2024
/
Nuclear an option to meet energy needs: KMT presidential candidate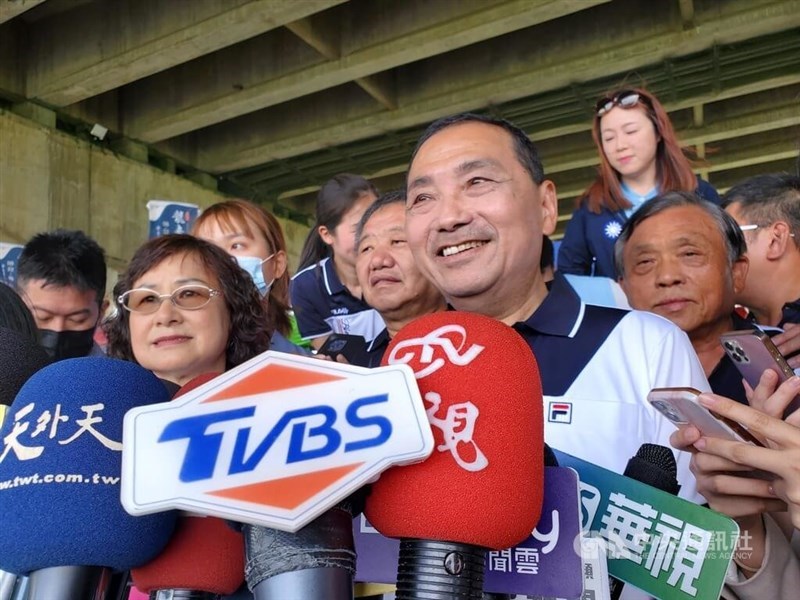 Taipei, May 30 (CNA) Kuomintang (KMT) presidential candidate Hou Yu-ih (侯友宜) on Tuesday said he will unveil his energy policy platform, which could include nuclear power, in July, arguing that the goal of making Taiwan a nuclear-free country by 2025 was unattainable.
The Democratic Progressive Party (DPP) government of President Tsai Ing-wen (蔡英文) has insisted on making Taiwan a nuclear-free country by 2025, by which time the 40-year operating licenses of all six of Taiwan's operable nuclear reactors will have expired.
Hou said he will consult with experts on how much of Taiwan's electricity should be generated by nuclear power before he presents his policy position in July, reaffirming his statement Monday that nuclear power remained an option to meet Taiwan's energy needs.
On Monday, Hou said keeping nuclear power as a potential source of power generation was to ensure that Taiwan would not experience power shortages, adding it was in line with global trends, without elaborating.
Hou was responding to comments by Vice President Lai Ching-te (賴清德), who will represent the DPP in the 2024 presidential race, in which he said Taiwan's nuclear reactors might be reactivated in an emergency situation.
At a forum with National Taiwan University students on Sunday, Lai said government agencies were studying the feasibility of maintaining shut reactors so they could be restarted if needed for emergency use, which would seem contradictory to the DPP's nuclear-free policy.
Following Lai's remarks, however, Executive Yuan spokesperson Lin Tze-luen (林子倫) said that the government's policy of creating a "nuclear-free homeland" remained unchanged.
Neither Lai nor Hou went into much detail on their nuclear power approaches, though Hou said nuclear waste "will be managed properly."
DPP spokesperson Michelle Lin (林楚茵) on Tuesday demanded that Hou provide a long-term solution for storing radioactive waste.
Hou is the mayor of New Taipei where the first and second nuclear plants are located, and he should know that high-level radioactive waste from the two facilities is being temporarily stored inside the plants since they were decommissioned, Lin said.
The DPP government has used nuclear power since taking office in 2016 but did not offer a long-term solution for storing nuclear waste of its own.
Orchid Island is home to Taiwan's only nuclear waste storage facility.
The storage site was built there under a former KMT government without the knowledge or consent of the Indigenous Tao people, and it received a total of 97,672 drums of low-level radioactive waste from 1982 to 1996, according to Taipower, the state-owned utility and operator of Taiwan's power plants.
Taipower had pledged to remove the waste from Orchid Island by the end of 2002, but has never delivered on the promise because residents living in areas of potential permanent repositories for the waste, including in Kinmen and Taitung counties, opposed the plans.
Taiwan currently has only one nuclear power plant still producing power, the third nuclear power plant near the southern tip of the island. It is scheduled to be shut down by 2025 and be decommissioned.
A fourth nuclear plant in Gongliao in northeastern Taiwan was nearly completed but never operated.
Still, nuclear power accounted for 9.5 percent of Taiwan's total electricity generation in the first three months of 2023, while fossil fuels accounted for 80.5 percent and renewables for 8.8 percent.
The two generators in the third nuclear power plant have been used to generate about 5.4 percent of Taiwan's electricity in recent days.
View All