ELECTION 2024
/
KMT New Taipei Mayor Hou comments on possible presidential run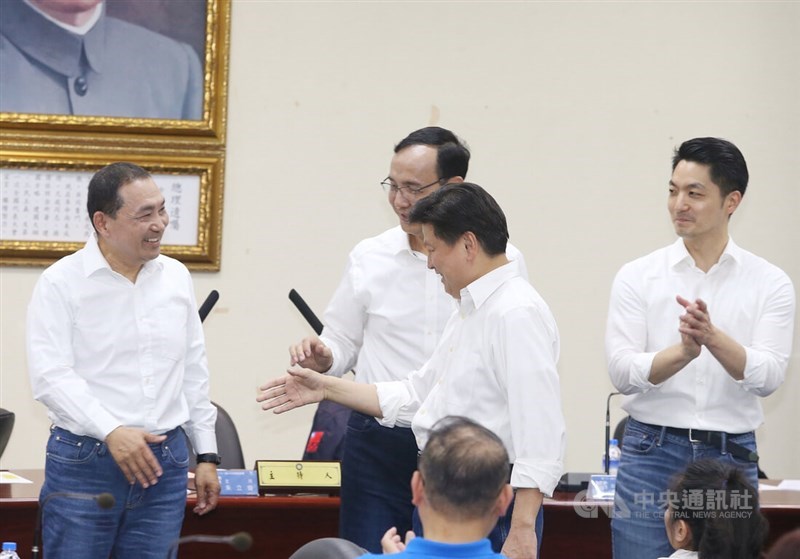 Taipei, April 12 (CNA) New Taipei Mayor Hou Yu-ih (侯友宜), widely seen as one of the Kuomintang's (KMT) best shots at winning the presidency in 2024, said Wednesday that he is ready to take on any challenges that come his way.
"One thing about me, I have always prepared myself to face all kinds of challenges so I can readily tackle them when I am called up," Hou said when asked by reporters whether he was ready to accept the KMT's nomination for the 2024 presidential election.
However, as with previous remarks, Hou remained evasive about whether his reply to the question was in reference to the presidential election to be held in concert with a legislative election, in January 2024.
In all 15 of the jobs he has held, Hou said he prepared for the challenges that came with the position and never shied away from difficulties, so as to better dedicate himself to benefiting the nation and the people.
Hou was reelected mayor of New Taipei in November 2022, with a record high vote of over 1.16 million, or 62.42 percent of the total, a win that further boosted his position as a potential presidential candidate.
However, the victory also made it harder for Hou to run for president in 2024 because he would have to either step down from office to run or take time out of his municipal schedule for the campaign, not even halfway through his second four-year tenure.
In a move to address those concerns the KMT decided on March 22 that it would "draft" whoever has the best chance to defeat the Democratic Progressive Party (DPP) as its candidate, rather than holding a primary that would require Hou to declare his candidacy at an earlier date.
When the DPP's Central Executive Committee on Wednesday officially nominated Vice President and party Chairman Lai Ching-te (賴清德) as its candidate for the 2024 presidential race, Hou was attending a meeting of the KMT's weekly Central Standing Committee, which he rarely attends.
Speaking to the meeting, KMT Chairman Eric Chu (朱立倫) warned about the dire consequences for cross-strait relations under a possible DPP government headed by Lai, whom he described as a hardcore supporter of Taiwan independence.
Chu vowed to rally the party and other opposition forces to defeat the DPP in the 2024 race.
The KMT will decide on its nominee no later than June 18 after the rules for nomination are completed in late April, KMT spokesperson Hung Mong-kai (洪孟楷) said Wednesday.
Earlier this month, Terry Gou (郭台銘), founder of the world's biggest contract manufacturing company Hon Hai Precision Industry Co., expressed his intent to seek the presidential nomination of the KMT in the 2024 presidential election, despite the fact that he is not currently a member of the party.
View All