ELECTION 2024
/
VP Lai picked as DPP's candidate for 2024 presidential election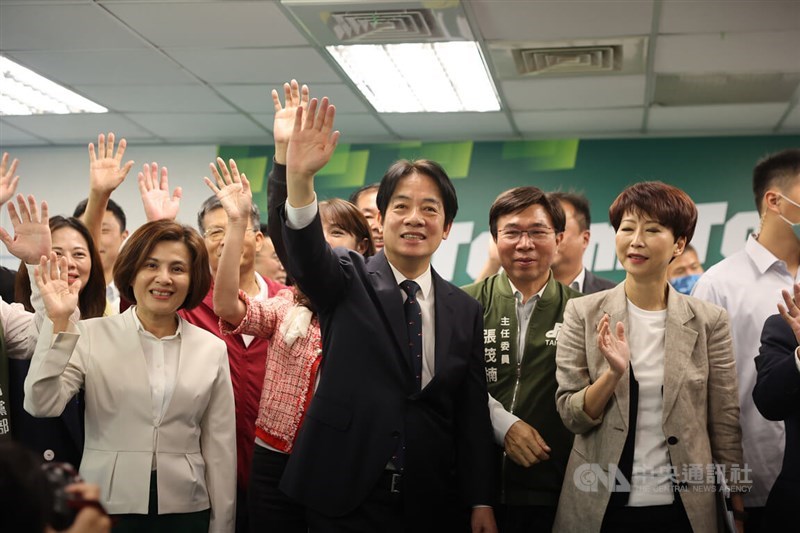 Taipei, April 12 (CNA) Taiwan's ruling Democratic Progressive Party (DPP) on Wednesday officially selected Vice President Lai Ching-te (賴清德) as its candidate for the 2024 presidential election.
"The 2024 election will decide Taiwan's direction, in terms of the continuity of its democratic system, the happiness of its future generations, and the peace and stability of the Indo-Pacific," Lai, who concurrently serves as DPP chairman, said at a press conference at the party's headquarters in Taipei.
The DPP's Central Executive Committee approved Lai's nomination around one month after the vice president registered as the sole candidate for the party's primary selection process.
"In reality, Taiwan is already a sovereign, independent country, and does not need to otherwise declare independence," said Lai, who has served as vice president since May 2020.
In Taiwan's mainstream public opinion, he said, there is no question of unification and independence, but only a broad consensus in support of democracy.
For that reason, "continuing to strengthen the Republic of China (Taiwan), and protecting the status quo of democracy and freedom, is the only correct path" for Taiwan, Lai said.
Local media has speculated that Lai will pick Hsiao Bi-khim (蕭美琴), Taiwan's top envoy to the United States and a former legislator, as his running mate for the presidential election, slated to take place on Jan. 13, 2024.
With Lai making a bid for the country's top job, his cross-strait policies and stance on Taiwanese independence will likely come under closer scrutiny, especially given Taiwan's increasingly fraught relations with China.
On more than one occasion, Lai has described himself as a "pragmatic Taiwan independence worker," including during legislative hearings when he served as the premier from 2017-2019.
In recent years, however, Lai has sought to align himself with President Tsai Ing-wen's (蔡英文) policy of maintaining the cross-strait status quo.
The Tsai administration has repeatedly proposed engaging in dialogue with China's leader Xi Jinping (習近平) to facilitate mutual understanding and avoid miscalculations.
Tsai insists that the Republic of China (ROC), Taiwan's official name, and the People's Republic of China do not belong to one another, and has also pledged to defend Taiwan's sovereignty and preserve its democratic and constitutional system.
However, the main opposition Kuomintang (KMT) has criticized Tsai for rejecting the so-called "1992 consensus," a tacit understanding reached in 1992 between the KMT government and the Chinese government.
The consensus has been consistently interpretated by the KMT as both sides of the Taiwan Strait acknowledging there is only "one China," with each side having its own interpretation of what China means.
However, Beijing has never publicly recognized the second part of the KMT interpretation.
The agreement's supposed use as a political foundation for exchanges between Taiwan and China during former KMT President Ma Ying-jeou's (馬英九) time in office from 2008-2016 coincided with a period of less contentious relations with Beijing.
However, the DPP has argued that Beijing does not acknowledge the existence of the ROC, and that agreeing to the "1992 consensus" implies the acceptance of China's claims over Taiwan.
In the presidential race, Lai is expected to face Taiwan People's Party Chairman Ko Wen-je (柯文哲) and a candidate to be nominated by the KMT in the coming months.
Meanwhile, Hon Hai Precision Industry Co. founder Terry Gou (郭台銘) has expressed his intention to seek the KMT's nomination for president, with New Taipei Mayor Hou Yu-ih (侯友宜) and KMT Chairman Eric Chu (朱立倫) both reportedly eyeing for the slot.
View All