Hondurans in Taiwan reckon with future after diplomatic split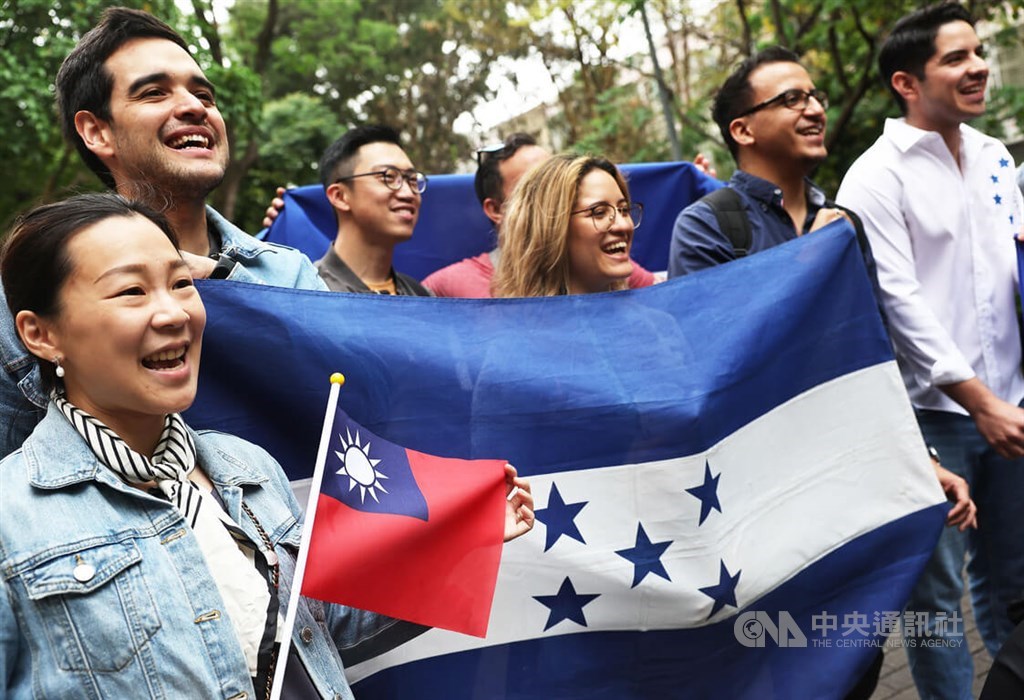 Taipei, March 26 (CNA) Hondurans in Taiwan on Sunday expressed a mixture of gratitude and apprehension following the severing of diplomatic relations between Taipei and Tegucigalpa earlier in the day.
Honduras announced on Sunday that it had formally cut ties with the Republic of China (ROC, Taiwan's formal name), more than a week after the country's President Xiomara Castro said her administration was seeking diplomatic relations with Beijing.
In the wake of the announcement, the Honduran Association in Taiwan issued a statement in English and Spanish expressing gratitude to Taiwan for an "amazing education and friendship."
"As an association, we will stand, and we welcome every Honduran living in Taiwan to maintain our friendship alive and stay united as a community," the statement read.
According to Taiwan's Ministry of Education (MOE), a total of 359 Honduran students are currently studying at colleges and universities in Taiwan. Among them, 104 are on Taiwan government scholarships.
As it has been standard practice in recent years for the MOE to revoke scholarships given to students from countries that sever ties with Taiwan, many Hondurans now fear they will be unable to finish their studies due to a lack of funding.
Before Sunday's announcement, the association said in a previous statement on behalf of Honduran students in Taiwan that most of them wanted to finish their education and graduate.
"This is not about money, it is about the friendship we developed here in Taiwan. The Taiwanese government offers education and cultural values that are an example to guide the future of Honduras," it added.
One of the students left in limbo told CNA Sunday that despite the government in Tegucigalpa pledging in the press to perform a case-by-case review before offering assistance, she had not heard anything from Honduras' embassy in Taipei.
The student, speaking on the condition of anonymity, added that she was extremely worried because her school had also not provided any advice.
According to Taiwan-based journalist Fernando Ramos, although the Honduran embassy promised to make arrangements for students in Taiwan, it was his understanding Ambassador Harold Burgos had "abruptly" left the country on Saturday.
"They [Honduran government officials] have expressed a willingness [to help] but we have not received confirmation," Ramos said.
"No one knew this is coming, no one has been asked about their opinion [on the decision]," Ramos said, noting that some of those left in the lurch were as young as 17.
Ramos, who also serves as an adviser to the Honduran Association in Taiwan, appealed to Taiwan's government to cover Honduran students' scholarships until the end of the semester, which runs until June, so that they can find alternatives to support and finish their education.
On the Facebook page for Taiwan's embassy in Tegucigalpa, hundreds left messages following Sunday's diplomatic split, with many expressing thanks for Taipei's support and friendship over the years.
"For more than 80 years, ROC Taiwan has supported our country in infrastructure, education and health," one post said.
"I am deeply grateful for that and want to stress that the government does not represent the feeling of most Hondurans to Taiwan," said another.
Meanwhile, former Honduran Ambassador to Taiwan Rafael Sierra also thanked Taiwan people for its support and friendship in a social media post.
He said that he knew that what Taiwan had done for Honduras was "worth more than US$2.5 billion," in an apparent reference to claims made by Foreign Minister Joseph Wu (吳釗燮) of "bribe-like" demands for debt restructuring and aid from Tegucigalpa.
"The majority of the Honduran people do value their friendship and they will always be in our hearts," he said.
Sierra served as ambassador during previous President Juan Orlando Hernandez's administration from 2015 to 2019.
Losing Honduras means there are now only 13 states that maintain diplomatic relations with Taiwan.
Honduras is also the ninth diplomatic ally, and fifth in Latin America, Taipei has lost to Beijing since President Tsai Ing-wen (蔡英文) took office in May 2016.
Related News
March 26: 'No more dollar diplomacy,' says Tsai as Honduras cuts ties
March 26: Different motives seen behind Beijing's poaching of Honduras
March 26: Taiwan's FM describes Honduran financial demands as akin to bribery
March 26: MAC condemns Beijing after Honduras cuts ties with Taiwan
March 26: Taiwan FM suspects timing of Honduran ties cut linked to president's US trip
March 26: U.S. backs engagement with Taiwan, warns of China's empty promises
March 25: Hondurans gather in Taipei to highlight long 'friendship' with Taiwan
March 25: Taiwan has tried its best to aid Honduras: MOFA
March 21: Tsai to depart for tour of Guatemala, Belize on March 29
March 20: Ex-President Ma Ying-jeou to make landmark visit to China