Taiwan thanks Biden for support in meeting with Xi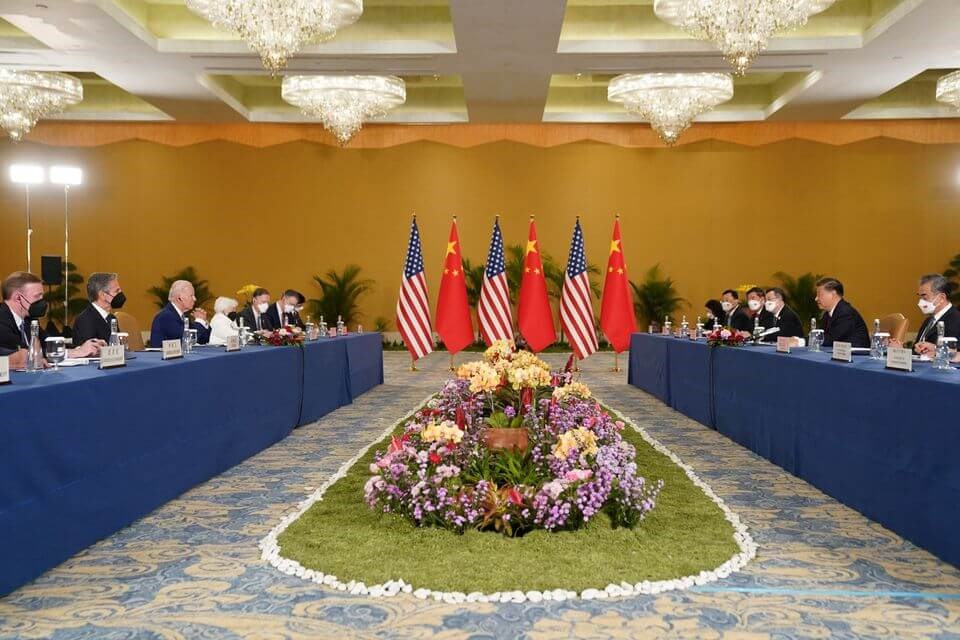 Taipei, Nov. 15 (CNA) Taiwan's government on Monday thanked United States President Joe Biden for reiterating Washington's commitment to Taipei in a meeting with Chinese President Xi Jinping (習近平) on the island of Bali ahead of a G20 summit.
Taiwan's Presidential Office Spokesman Xavier Chang (張淳涵) expressed gratitude to Biden for reaffirming the U.S.' longstanding support of Taiwan and its opposition to unilateral efforts to change the status quo or undermine peace and stability across the Taiwan Strait.
This showed that a peaceful and stable Taiwan Strait is a shared expectation in the international community, Chang said Tuesday.
Taiwan's government will continue to safeguard the country's sovereignty while stressing that armed confrontation is not an option for the two sides, according to Chang.
"Upholding peace and stability in the Taiwan Strait is the joint responsibility of both sides," he said.
A State Department readout on Monday's Biden-Xi meeting indicated that Taiwan was an important part of the conversation, with the U.S. president reiterating many of Washington's common stances on the issue.
Biden "laid out in detail that our one-China policy has not changed, the United States opposes any unilateral changes to the status quo by either side, and the world has an interest in the maintenance of peace and stability in the Taiwan Strait," the readout said.
He also raised U.S. objections to China's "coercive and increasingly aggressive actions toward Taiwan, which undermine peace and stability across the Taiwan Strait and in the broader region, and jeopardize economic practices."
Meanwhile, a readout from China's Foreign Ministry said Xi reiterated China's position on Taiwan's importance to Beijing.
"The Taiwan question is at the very core of China's core interests ... and the first red line that must not be crossed in China-U.S. relations," it said.
"Anyone that seeks to split Taiwan from China will be violating the fundamental interests of the Chinese nation; the Chinese people will absolutely not let that happen."
Joanne Ou (歐江安), spokeswoman for Taiwan's Ministry of Foreign Affairs (MOFA), also thanked Biden on Tuesday for reaffirming Washington's "rock-solid" support toward Taiwan's security and for raising concerns about China's actions in the region.
As China has escalated its "unprovoked military actions in and around the Taiwan Strait," the Biden administration has shown high regard for peace and stability across the Taiwan Strait and a consistent commitment to maintaining the status quo, Ou said.
Faced with China's military expansion and provocations, Taiwan will strengthen its defense capabilities, deepen its security partnership with the U.S., and boost cooperation with other like-minded nations to ensure security across the Taiwan Strait and a free, open, peaceful and stable Indo-Pacific, she said.
Related News
Nov. 15: Xi's Taiwan claims do not match the facts: MAC
Nov. 14: Biden does not see 'imminent attempt' by China to invade Taiwan