In Taiwan's 2023 defense budget, biggest chunk to go to personnel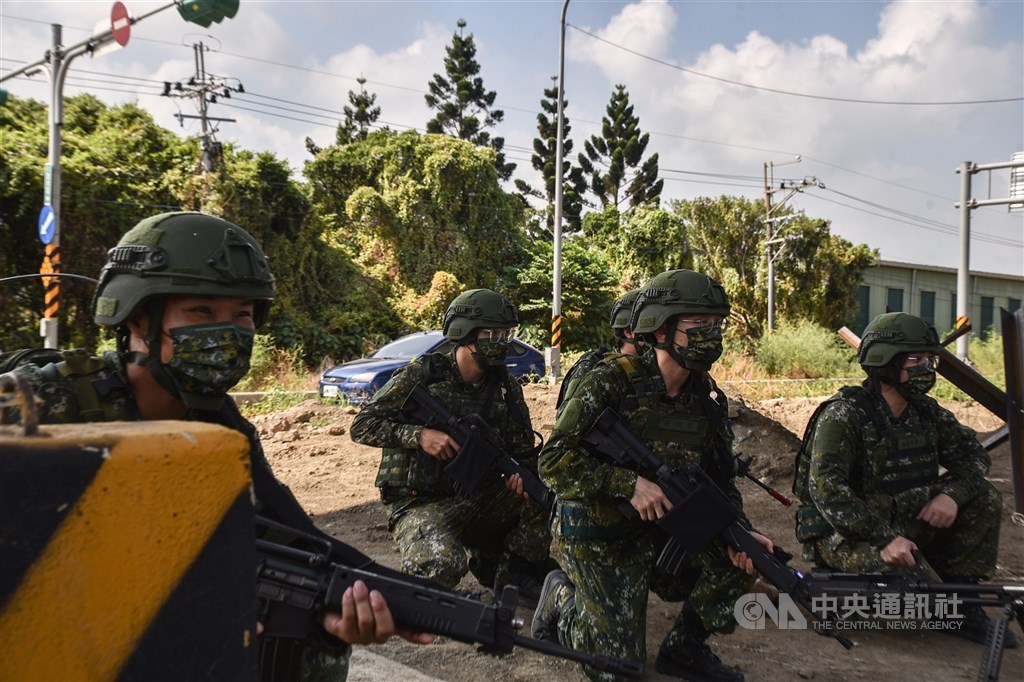 Taipei, Oct. 17 (CNA) The Ministry of National Defense (MND) has proposed a 13.9 percent hike in defense spending in 2023 to beef up Taiwan's defense capabilities, with the largest chunks going to personnel and logistics.
According to the MND's plan submitted to lawmakers for review Monday, the 2023 defense budget would rise to a record NT$586.3 billion, (US$18.31 billion), accounting for roughly 2.4 percent of Taiwan's gross domestic product (GDP), up 0.2 percentage points from 2022.
About NT$181 billion, or 30.7 percent of the total, would be allocated to salary, benefits and pensions for military personnel and to the cultivation and retention of talent in the Armed Forces, the MND said.
The second largest category would be for logistics and maintenance at NT$89.8 billion and would be mainly earmarked to pay for spare parts, fuel, ammunition, and the maintenance of military equipment and facility maintenance.
The MND said maintenance is now playing a bigger role in Taiwan's military because of the People's Liberation Army's near-daily incursions of warships and warplanes into Taiwan's air defense identification zone in the recent past.
Chieh Chung (揭仲), an associate research fellow with the Taipei think tank the National Policy Foundation, argued that the amount budgeted for fuel will be insufficient because of the significant rise in fuel and energy prices.
According to Chieh, the military allocated NT$2.7 billion in 2022 to buy JP8, a kind of jet fuel widely used by Air Force fighters, and the 2023 budget proposal increased that by 170 percent to NT$4.6 billion.
But because the price for JP8 has doubled this year from a year ago, the military can only buy 35.51 million gallons of jet fuel with the budgeted funds, less than the 45.03 million gallons bought in 2022, he warned, urging the military to rethink its decision.
In terms of weapons purchases, the military is set to spend NT$24 billion on long precision advanced rocket systems, Harpoon Coastal Defense Systems, and F-16s, from the United States.
As part of its ongoing reserve system reform, the military is also scheduled to spend NT$15.5 billion to create a more reliable backup force for the country's regular troops, amid China's growing military threats.
The money will be spent to set up new boot camps, reserve brigades and training centers in the coming years to beef up reservist training capacity and provide more intensive and specialized training for trainees, it said.
The budget proposal will be reviewed by the Legislature's Foreign and National Defense Committee on Wednesday.
Related News
Oct. 17: China unlikely to realize unification with Taiwan in 5 years: Analysis
Oct. 13: Troops authorized to decide how to counter PLA 'first strike': Defense ministry
Oct. 7: Taiwan has sufficient food stocks in the event of war: Premier
Oct. 4: Premier presents NT$2.71 trillion 2023 government budget
Oct. 4: Taiwan vice defense chief calls for global efforts to contain China
Oct. 2: Taiwan's military recruitment pool shrinking due to low birth rate: report
Sept. 1: Central government budget plan to be main focus in new legislative term