Taiwan honors European Commission ex-vice president with diplomacy medal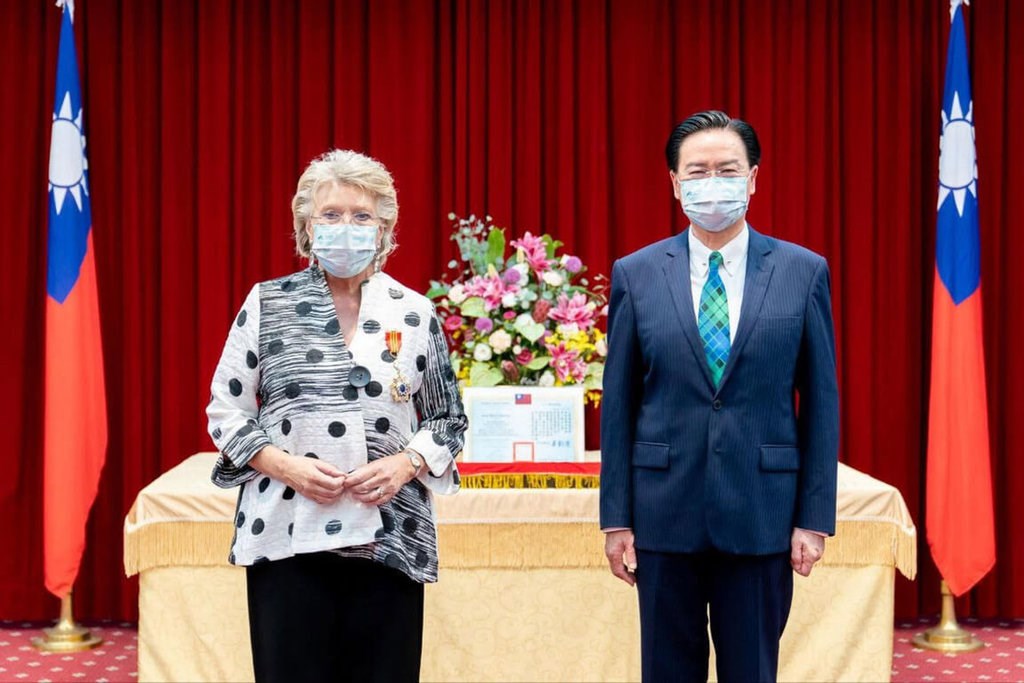 Taipei, Oct. 6 (CNA) Former vice president of the European Commission Luxembourg native Viviane Reding received Taiwan's Grand Medal of Diplomacy on Thursday in recognition of her efforts to advance the relationships between Taiwan and the European Union as well as Taiwan and Luxembourg.
Presenting the medal to Reding at the official ceremony, Taiwan's Foreign Minister Joseph Wu (吳釗燮) expressed gratitude on behalf of the government and people of Taiwan, for her outstanding contribution in helping to promote Taiwan's international participation, the ministry said in a press release.
Reding was the first chair of the European Parliament's Taiwan Friendship Group in the 1990s and during her tenure the parliament adopted multiple resolutions in favor of Taiwan, laying a solid foundation for the nation's further engagement with the body, Wu said.
When Reding served as vice president of the European Commission from 2010 to 2014, she brought the relationship between Taiwan and the EU to a new level, especially through its inclusion in the EU's visa-free program for the Schengen Area since 2011, which greatly facilitated further cooperation between the two sides, Wu said.
The relationship between Taiwan and Luxembourg continued to deepen when Reding sat in her country's parliament, during which the two sides signed agreements to establish a working holiday scheme and cooperated in the fields of education and transportation, the ministry said.
Reding is in Taiwan to attend the Yushan Forum, an annual regional dialogue organized by the government-affiliated Taiwan-Asia Exchange Foundation, which starts Friday.
In her remarks, Reding said she felt honored to receive the medal and was deeply touched, adding that she has been delighted to see democracy flourish in Taiwan in the decades since she first visited in 1979, and will continue to support the country.