U.S.' China envoy pick decries 'unjust' bullying of Taiwan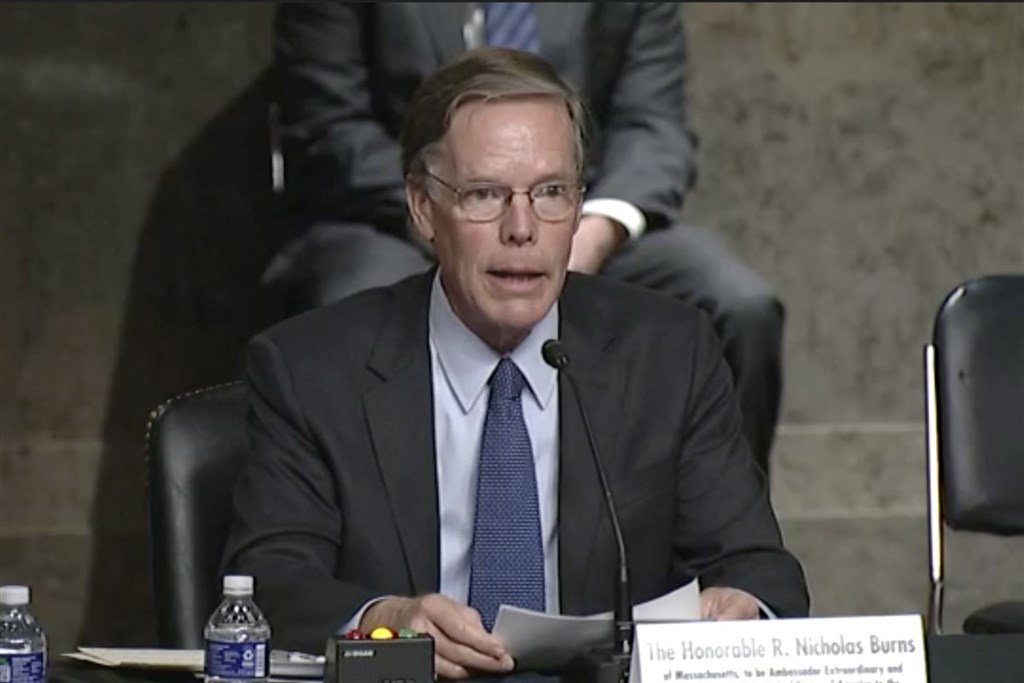 Washington, Oct. 20 (CNA) The U.S.' presumptive ambassador to China said his government has "every right" to expand arms provisions to Taiwan in the face of military intimidation from Beijing.
Ambassadorial nominee Nicholas Burns took a tough line on Beijing at his Senate confirmation hearing Wednesday, stating that recent actions against Taiwan were "especially objectionable."
The 65-year-old Burns was likely referring to the recent People's Liberation Army (PLA) aircraft sorties, with data from Taiwan's Ministry of National Defense showing the PLA made 150 incursions into Taiwan's air defense identification zone from Oct. 1-5.
Burns said the U.S. government and Congress should help Taiwan "maintain a sufficient self-defense capability" as stipulated in the Taiwan Relations Act.
He said this would "make Taiwan a tough nut to crack."
"I think the Congress and the executive branch have every right to continue to deepen our security cooperation, to expand our arms provisions to Taiwan."
"The PRC's genocide in Xinjiang and abuses in Tibet, its smothering of Hong Kong's autonomy and freedoms, and its bullying of Taiwan are unjust, and must stop."
Burns said Beijing had not lived up to its commitments to the people of Hong Kong made under the Sino-British Joint Declaration, which had promised 50 years of autonomy and certain civil liberties using the "one country, two systems" framework.
But critics have said that Hong Kong's freedoms have been seriously stifled in the wake of pro-democracy protests in 2019 and the passing of the National Security Law in 2020.
Given that Beijing has vowed to integrate Taiwan using the same framework, Burns said: "We obviously cannot trust China to meet the commitments it's made on the Taiwan issue."
He added: "We have to be aware of their rhetoric, aware of it, and the rhetoric of its leader and many other Chinese leaders in recent months has been that they intend to take back Taiwan."
The U.S.' former ambassador to NATO and Greece also criticized Beijing for being "an aggressor" in the Indo-Pacific region, as well as for launching intimidation campaigns against Australia and Lithuania.
Burns said that every country had its own right to define its relationship with Taiwan and should not be "bludgeoned and bullied by the Chinese leadership."
He also vowed to uphold long-standing U.S. commitments to Taiwan under the Taiwan Relations Act, "Three Communiqués" and "Six Assurances."
"The smartest and [most] effective way for us to help curb aggressive actions by China across the Taiwan Strait will be to stay with a policy that's been in place ... They're time-tested."
Under the Taiwan Relations Act, the U.S. has provided US$30 billion worth of defense assistance to Taiwan since 2009, according to Burns.
The legislation also called on the U.S. to continue to provide the strongest possible deterrent in the region in the face of Chinese aggression, Burns said.
"We ought to be asking and we are asking our allies to show a real commitment to Taiwan, and we're seeing that from Japan and other allies."
Burns' nomination to fill the vacant U.S. ambassadorship to China, which has been left unfilled since October 2020, is still awaiting Senate approval.