Three U.S. senators to visit Taiwan on Sunday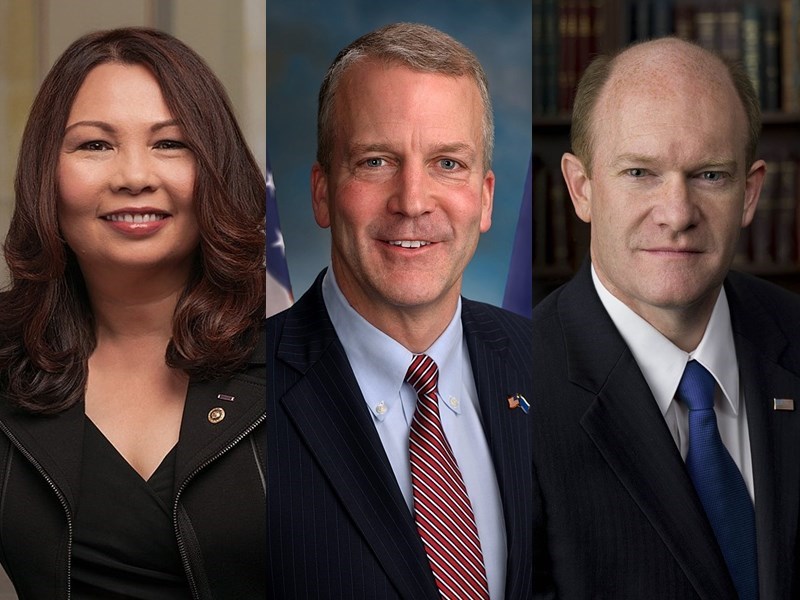 Taipei, June 5 (CNA) United States senators Tammy Duckworth, Dan Sullivan and Christopher Coons will travel to Taiwan on Sunday, according to the American Institute in Taiwan (AIT), the de facto U.S. embassy in Taiwan.
In a statement issued Saturday, the AIT said the senators' visit is part of a larger visit to the Indo-Pacific region.
"The bipartisan congressional delegation will meet with senior Taiwan leaders to discuss U.S.-Taiwan relations, regional security, and other significant issues of mutual interest," the AIT said, without giving more details.
Presidential Office spokesperson Xavier Chang (張惇涵) said President Tsai Ing-wen (蔡英文) will meet with the senators at 8:30 a.m. on Sunday at the Air Force Songshan Command, one hour after their expected landing time.
In a separate statement, Taiwan's Ministry of Foreign Affairs (MOFA) confirmed the visit and welcomed the senators, who will also have seven staff members with them.
All three of the senators are strong supporters of Taiwan.
"Duckworth and Sullivan have voted in favor of pro-Taiwan bills several times while Coons was one of the co-sponsors of the Taiwan Assurance Act and the TAIPEI Act," MOFA said.
Duckworth and Sullivan are members of the Senate Armed Services Committee and Coons is a member of the Senate Foreign Relations Committee.
"The inclusion of Taiwan in the list of countries the delegation is visiting shows the bipartisan support in the U.S. Congress for Taiwan-U.S. relations," the MOFA said.
It did not provide any other details on how long the senators will stay in Taiwan or their itinerary.