KMT policy forum exchanges views ahead of party chairman election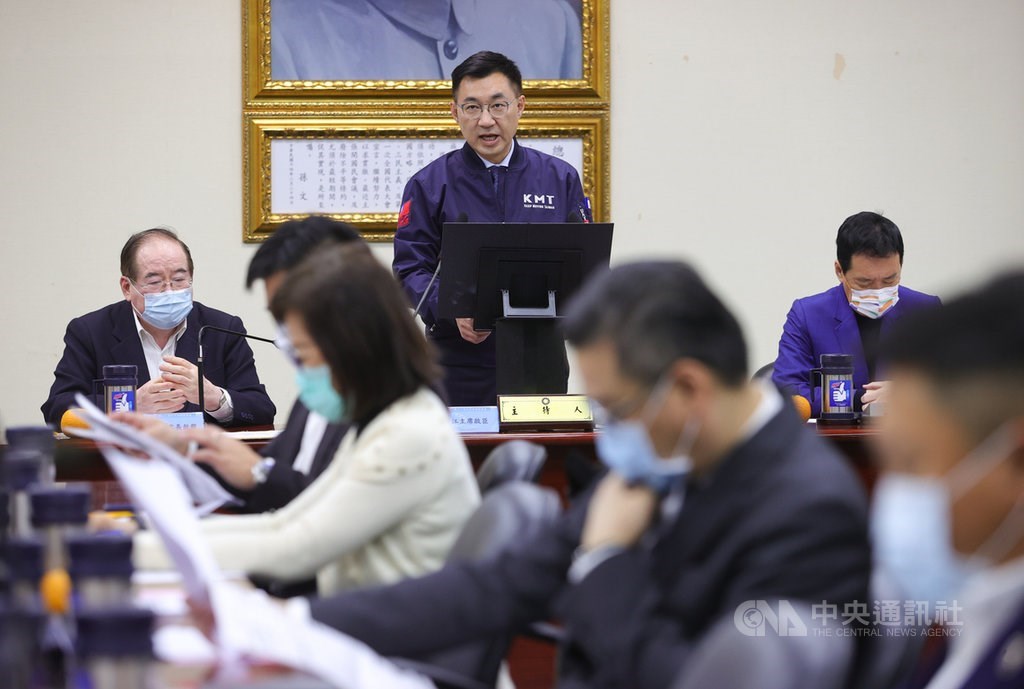 Taipei, March 28 (CNA) Maintaining cross-strait peace remains the ultimate goal of the Kuomintang (KMT), said former New Taipei City Mayor Eric Chu (朱立倫) and media personality Jaw Shaw-kong (趙少康) during a forum in Taipei Saturday.
Former KMT Chairwoman Hung Hsiu-chu (洪秀柱) hosted the event, which she described as offering a platform for those interested in running for the position of party chairperson to lay out their policy visions.
The KMT is planning to hold an election for party chairperson in July.
The Republic of China (ROC) Constitution and the KMT charter should be the basis for the party's cross-strait policy, said Chu, who has not yet confirmed whether he intends to run for the party leadership. He added that dialogue and exchange are needed to maintain peace between Taiwan and China.
The 59-year-old, who served as KMT chair from 2015-2016, said democracy and freedom cherished in Taiwan are non-negotiable, and that he is not afraid of angering Beijing by upholding those values.
"We insist on democracy and freedom, and oppose authoritarianism," stressed Chu, acknowledging that different political systems and values remain the biggest differences between Taiwan and China.
Chu said he rejected the "One Country, Two Systems" formula for Taiwan, a political arrangement that has been imposed on Hong Kong since 1997.
The former mayor, who acquired a PhD in America and once taught there, also endorsed deepening Taiwan's relationship with the United States, noting that most Taiwanese are more supportive of Washington than Beijing. He called for a consensus among party members on seeking closer ties with the U.S. while pursuing peace with China.
Meanwhile, Jaw, who currently chairs the Broadcasting Corporation of China (BCC), a radio station in Taiwan, maintained that the country should seek balanced relationships with both the U.S. and China.
Jaw, who has also not confirmed his bid to be party chairman, asserted that Taiwan is the next target after Beijing increased its grip on Xinjiang and Hong Kong.
He said it is important for Taiwan to maintain peace and be pragmatic when it comes to dealing with Beijing, as the gap in military power between the two sides grows ever larger.
According to Jaw, the priority must be the economy. He said Taiwan should "make money from the world with China, and also make money from the mainland."
Taiwan should not consider Beijing "an enemy," said Jaw. Instead, it should deepen its economic ties with China while lowering military tensions, he added.
Jaw also proposed the KMT demand Beijing promise to denounce the use of force against the island on the condition that Taiwan does not seek formal independence.
Incumbent Chairman Johnny Chiang (江啟臣), who was absent from the event due to overlapping schedules, said via Facebook earlier Saturday that the KMT will not follow its cross-strait policy or seek interactions with the Chinese authorities at the cost of freedom, democracy, human rights and prosperity.
"Peace and prosperity are the foundation stones of KMT cross-strait policy," said Chiang. Peace will bring stability, which then paves the way for mutual trust and negotiations, he added.
(By Liu Kuan-ting and Teng Pei-ju)
Endterm/AW