Taiwan an exceptional partner to Solomon Islands: U.S. ambassador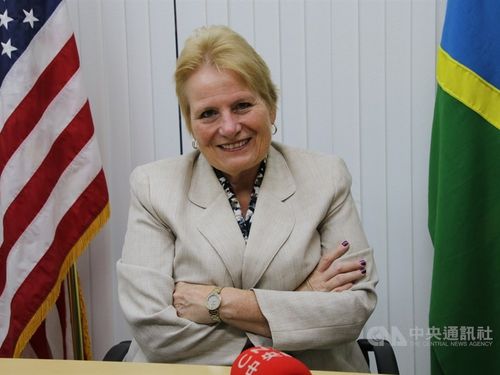 Honiara, Sept. 11 (CNA) Taiwan has been an exceptional partner to the Solomon Islands, and the United States supports the continuation of diplomatic relations between the two countries, the American ambassador to the Solomon Islands said Wednesday.
In an interview with CNA, Catherine Ebert-Gray, the U.S. Ambassador to Papua New Guinea, the Solomon Islands and Vanuatu, talked about the issue of the Solomon Islands' considering a shift in diplomatic ties from Taiwan to China.
Ebert-Gray said that in meeting with Solomon Islands Prime Minister Manasseh Sogavare on Tuesday, she expressed the view that there would be challenges ahead if his country switched diplomatic recognition.
"And of course we enforce our support for the good relationship with Taiwan," Ebert-Gray said she told Sogavare during the meeting.
Since it became clear that the Solomon Islands was weighing the merits of a diplomatic switch from Taiwan to China, the U.S. government has been expressing the hope that the Pacific country will maintain the status quo.
When asked why the U.S. backs Taiwan on that issue, she said the U.S. has a very strong relationship with Taiwan and similar democratic values.
"In this position, we feel that Taiwan has been an exceptional partner to the Solomon Islands," she added.
Taiwan and the U.S. also share the goals of helping to develop infrastructure and raise human capacity in the Solomon Islands, she said.
"From our perspective, you have been a really good partner for the Solomon Islands and other countries too," Ebert-Gray said. "The U.S. embraces that, and we are always willing to support Taiwan's activities around the world."
In light of the fact China is using foreign aid to exert influence in the Pacific, U.S. Vice President Mike Pence and Secretary of State Mike Pompeo have warned tiny Pacific island nations of the danger of falling into China's "debt trap" diplomacy, she said.
Ebert-Gray said China needs to be transparent about the details of the public investment projects it has financed in the Pacific countries.
The decision on whether to recognize China diplomatically, however, is a sovereign matter for the Solomon Islands, and is also a very difficult one, she said.
"It's part of their own decision," the ambassador said. "That isn't something that the U.S. is going to weigh in on."