Tsai, U.S. senator go on walk through birthplace of Taiwan democracy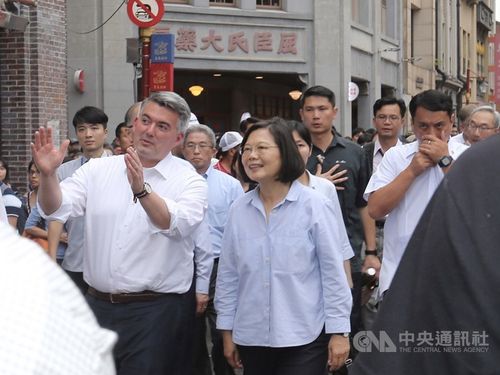 Taipei, June 2 (CNA) President Tsai Ing-wen (蔡英文) on Sunday praised U.S. Senator Cory Gardner for his long-term support for the country as they two walked through Taipei's Dadaocheng area, the birthplace of Taiwan's earliest democratic movement.
Tsai told the senator that the area was home to Taiwan's earliest social and democratic movements in the 1920s under Japanese rule.
It is a perfect place to show the U.S. senator, a long-time friend of Taiwan, who has for years supported Taiwan's democracy, Tsai said.
Tsai noted that Gardner is one of four U.S. senators who reintroduced a draft bill last week to ensure Taiwan's international recognition, amid increased efforts by China to limit Taipei's international participation and poach its diplomatic allies.
The legislation is called the Taiwan Allies International Protection and Enhancement Initiative Act, or the TAIPEI Act, which will require the U.S. government to engage with governments all over the world in a bid to support Taiwan's diplomatic recognition and strengthen unofficial ties with the country.
At a press event following the visit to Dadaocheng, Gardner said he enjoyed the walk as it allowed him to not only take a closer look at Taiwan, but also talk about the U.S.-Taiwan trade and security relationship.
An advocate of Taiwan for many years, Gardner said he will continue to lead efforts in the U.S. Congress to ensure that Taiwan's voice is represented at international organizations, to pursue high level visits to Taiwan, and to continue to show the importance of Taiwan leadership around the globe.
Asked about the ongoing U.S-China trade war and trilateral relations between Taipei, Washington and Beijing, he reiterated U.S. concerns over the behavior of China "as it relates to fair trade practices, human rights and the devaluation of the voices of the dissidents in and across China."
"And of course, the United States would like to see our relationship improve with China. And I hope that it can. But I think all nations have to work together to ensure that China recognizes the dignity of our fellow people, as well as the ability to enter into trade relationships really unfairly.
"All nations around the world should also ensure that their relationships with Taiwan are not be affected by one country, namely China, trying to affect sovereignty of others," the senator said.
Gardner is in Taiwan Sunday and Monday for his fourth visit to the country as a U.S. senator.
Dadaocheng emerged as the preferred location for foreign trade over the more established port of Danshui because of its proximity to downtown Taipei during the late 19th century.
The economic boom also brought cultural and social movements to Taiwan. The area was home to Taiwanese intellectuals living under Japan colonial rule, including Chiang Wei-shui (蔣渭水), a founder of the Taiwanese Cultural Association and the Taiwanese People's Party. (Yeh Su-ping and Joseph Yeh)
Enditem/AW