Chinese dissident Wu'er Kaixi does not regret Tiananmen protests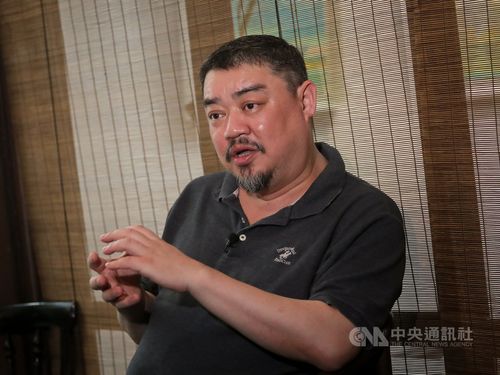 Taipei, May 23 (CNA) Chinese dissident Wu'er Kaixi (吾爾開希), who played a leading role in the 1989 Tiananmen student protests, said Thursday that while he has "absolutely no regrets" about his actions at the time, he would be hesitant to do the same again if he could go back in time, in light of the dire consequences.
Wu'er Kaixi, who now lives in Taiwan, said his destiny began unfolding right at the moment when the Chinese authorities decided to quell the student movement that was seeking political, social and economic reforms.
Born in Beijing on Feb. 17, 1968 of Uyghur heritage, Wu'er Kaixi was propelled into the spotlight as one of the student leaders of the Tiananmen protests, and was forced to flee China when the government there launched a bloody crackdown on the demonstrations and listed him as its second most wanted dissident.
With the help of a friend, Wu'er Kaixi went into exile and eventually settled in Taiwan in 1996.
In an exclusive interview with CNA recently, Wu'er Kaixi said he never regretted his actions as one the leaders of the student movement in Beijing 30 years ago.
"I have absolutely no regrets," said Wu'er Kaixi, who is now 51.
However, on the question of whether he would make the same decisions again if he could go back in time, he said he could not be sure. The consequences were unimaginable, not just for him, but also for his family, he said.
"It was impossible to foresee the disastrous consequences," Wu'er Kaixi said, his voice dropping. "It was impossible to foresee the huge casualties. It was impossible to foresee that I would not be able to see my parents again for 30 years."
His parents will never be young and healthy again, he said, his eyes clouding over.
"The incident had a big impact on them, both physically and emotionally, and it was all because of my participation in the movement."
Nonetheless, Wu'er Kaixi said, he was proud of his protest actions at a time when the Communists were taking China in the wrong direction. At the age of 21, he made the most important choice in life, he said.
"To some extent, we were fortunate to be on the right side of history."
On the subject of Taiwan, Wu'er Kaixi said every breath of free air the Taiwanese people take is as a result of the struggle waged by their foreparents to achieve democracy and the determination of those citizens who voted in every election.
"The Taiwanese people, therefore, have a kind of pride within them, and I am honored to share that pride."
In contrast, China is a troubled country that is now threatening global civilization, Wu'er Kaixi said.
"It's is not the motherland I longed for," he said. "I'm sorry for the people who live there ... it's on a path toward an uncivilized future."
Nevertheless, some people in civilized Taiwan admire China because of its rising economic power, he noted.
"Are you crazy when you say you admire China?" he said, his voice full of contempt.