Taiwan holds live-fire drill along east coast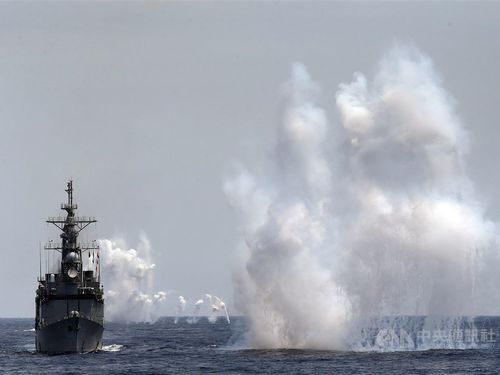 Taipei, May 22 (CNA) Taiwan's military held its largest maritime live-fire training exercise in five years along the country's east coast Wednesday at a time of heightened activity by China's military in areas around Taiwan.
The training drill involving 22 surface warships and 22 fighter jets was held ahead of the live-fire drill part of the Han Kuang exercises, Taiwan's biggest annual military drill, to be held from May 27 to 31.
Wednesday's drill was the largest at sea since the 30th edition of the Han Kuang exercises held in 2014, which were observed by then President Ma Ying-jeou (馬英九), the Ministry of National Defense (MND) said.
The drill simulated an attack by China on the naval port of Suao in Yilan County as enemy aircraft crossed the Taiwan Strait toward the northern part of Taiwan.
A warfare center in Suao subsequently issued a notice of combat readiness for the port areas based on enemy threat intelligence, and the Tsoying, a 9,525-tonne Keelung-class destroyer, then left Suao port and joined forces with other ships at the port of Hualien to counter the assault.
The drill included anti-aircraft defense exercises, joint anti-aircraft and anti-submarine warfare operations by the Air Force and the Navy, the firing of missiles against aircraft and ships, and the testing of Navy supply lines, the MND said.
China has frequently sent military aircraft and ships near Taiwan during drills in recent years amid its intensified efforts to intimidate Taiwan into unifying with China and isolate it in the international community.
Two U.S.-made Perry-class guided missile frigates, commissioned in Kaohsiung in November 2018, were deployed in Wednesday's live-fire training mission that also included MBDA Missile Systems' MICA air-to-air missiles and domestically built Sky Sword 1 (TC-1) missiles, the MND said.
The 22 surface warships included two Kidd-class Keelung (DDG-1801) destroyers, one La Fayette-class Kang Ding frigate, and three Cheng Kung-class frigates (including the two Perry-class vessels commissioned in November last year).
There were also one Knox-class Chi Yang frigate, two Ching Chiang class patrol ships, one Tuo Chiang-class corvette and 12 Kuang Hua VI-class missile boats, according to MND data.
The 22 fighter jets taking part in the military maneuvers included Mirages, Indigenous Defense Fighters (IDF), and F-16s, the mainstays of Taiwan's fighter fleet.
Wednesday's drill was open to the media, as will be Han Kuang drills to be staged on the Huatan section of National Freeway No. 1 on May 28 and at a military firing range in Pingtung County on May 30, according to the MND.