Terry Gou touts willingness to run in KMT presidential primary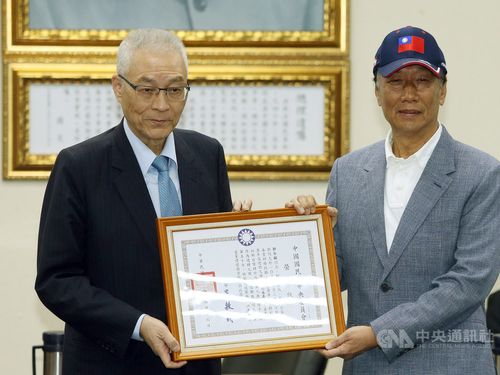 Taipei, April 17 (CNA) Taiwanese tycoon Terry Gou (郭台銘), chairman of key iPhone assembler Hon Hai Precision Industry Co. Ltd., on Wednesday confirmed his willingness to take part in the Kuomintang (KMT) primary to select its candidate for the 2020 presidential election.
Gou said he is willing to take part in the KMT primary but will not accept being drafted to run. If he wins Gou said he would run as the KMT candidate for president and if he loses, promised to support the party's primary winner.
Gou made the announcement while receiving a citation from KMT Chairman Wu Den-yih (吳敦義), honoring his contribution to the party after providing an interest-free loan of NT$45 million (US$1.46 million) in the name of his mother in 2016 when the KMT faced serious financial difficulties.
Gou also called on the KMT to establish a just, transparent and down-to-earth primary mechanism to help build trust in the party.
However, the KMT still has to resolve the issue of Gou's lapsed party membership, because despite joining the party in 1970, the tycoon reportedly failed to re-register in 2000.
In fact, Gou resumed his party membership on Tuesday, said Lee Che-hua (李哲華), director of the KMT's Organizational Development Committee.
Lee refused to comment on whether Gou is eligible to participate in the KMT primary, with party regulations stipulating that new members or those who resume membership must have been members for four months before becoming eligible to register to compete in a party primary.
There has been no discussion on this issue because the party primary has yet to start, Lee said.
A member of the KMT's Central Standing Committee said late Wednesday that a petition had been launched to waive the four month party membership rule in light of Kuo's outstanding contributions to the party.
Gou announced a day before he would make a decision "in a day or two" on a possible presidential bid, which attracted much media attention to his schedule for Wednesday.
Earlier that day, the tycoon said during a visit to Ci-Hui Templein Banqiao, New Taipei, which is consecrated to the sea goddess Mazu, that she had told him to step forward and do something for the people of Taiwan.
Talking about his connection with the temple, Gou said he grew up in Banqiao with blessings from Mazu, so if the goddess wants him to do something for the people, he is willing to take part in the KMT primary.
Gou later visited Wusheng Gong, a prominent Taoist temple in New Taipei's Tamsui District, devoted to Guan Yu, revered as "Holy Ruler Deity Guan," a famous deified general from the Three Kingdoms period, which he has often visited in recent years.
During the visit, Gou said he will uphold the spirit of loyalty and justice for which Guan Yu is renowned, adding that he wants to work for Taiwan's future, the youth and the poor.