Taiwan critical of Manila's sending of its nationals to China (update)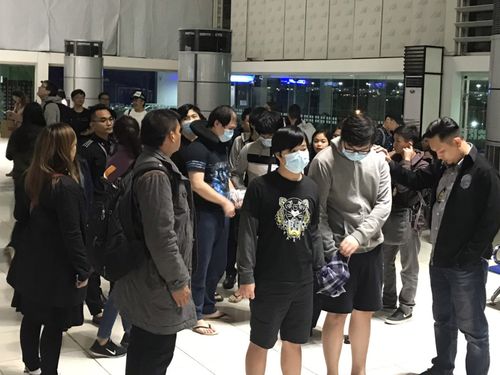 Taipei, Feb. 12 (CNA) The Ministry of Foreign Affairs (MOFA) on Tuesday expressed its grave concern and regret to the Philippines after Manila deported seven Taiwanese fraud suspects to China that morning.
It was the second time in less than a year that the Philippines had sent Taiwanese nationals to China despite urgings from Taipei not to do so.
MOFA deputy spokesperson Joanne Ou (歐江安) said Taiwan had repeatedly called on the Philippines since the suspects were arrested in October 2018 to respect their wishes and honor the nationality principle by deporting them back to Taiwan.
Under strong pressure from Beijing, however, Manila ultimately decided to deport the Taiwanese nationals to the other side of the Taiwan Strait.
The ministry has asked Taiwan's representative office in Manila to express the country's grave concern and regret over the decision to the Philippine government.
The ministry, meanwhile, urged Taiwanese citizens to not engage in illicit activates overseas, including telecommunications fraud, to avoid facing prosecution and damaging the nation's image.
According to MOFA, the seven ROC citizens are among a group of 13 Taiwanese arrested last October in Dingras in the province of Ilocos Norte.
They were apprehended along with 12 other foreign nationals by the Philippine National Police Anti-Cybercrime Group (PNP-ACG) for allegedly being part of a telecom fraud ring.
According to Taiwan's representative office in Manila, the remaining six Taiwanese suspects have other legal cases in the Philippines that are ongoing, and they will not be vulnerable to being sent to China until those cases are cleared.
Asked to comment on the latest deportation, the Manila Economic and Cultural Office (MECO), the Philippines' representative office in Taiwan, said the decision was made because most of the victims and the evidence of telecom fraud were in China.
Manila therefore deemed it necessary to send the suspects to Beijing for trial.
"We will continue to adhere to the international community's efforts to curtail crimes that transcend borders by making sure that perpetrators are effectively prosecuted and meted punishment," said MECO Chairman and Resident Representative Angelito Banayo in a statement.
MECO confirmed, meanwhile, that the six suspects still in the custody of Philippine authorities have cases pending for offenses committed in Manila and will face trials involving those cases.
A similar incident occurred on April 4, 2018, when 78 Taiwanese fraud suspects arrested in the Philippines were sent to China.
They were among 158 individuals arrested on Jan. 13 that same year for alleged involvement in fraudulent telecom activities. The deportation also drew strong protests from Taiwan's government.