Canadian MP signals support for Taiwan after China's recent threat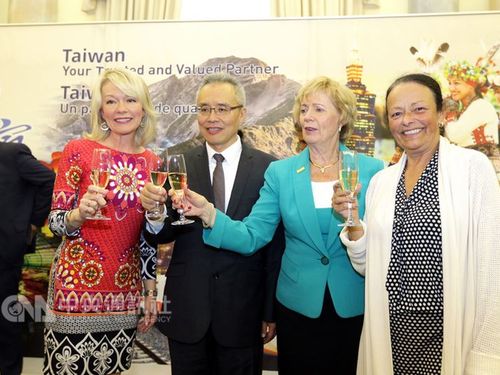 Toronto, Jan 9 (CNA) Canadian parliamentarian Judy Sgro has expressed support for Taiwan in a Facebook post and on Twitter, after China warned that unification with Taiwan is inevitable.
China seeks "peaceful unification" with Taiwan but will not rule out the option of military action, Chinese President Xi Jinping (習近平) said on Jan 2 in a speech to commemorate the 40th anniversary of China's "Message to Compatriots in Taiwan."
Sgro, a Toronto Liberal MP, reposted the link to Taiwan President Tsai Ing-wen's (蔡英文) response to Xi, in which Tsai called for international support to defend Taiwan's democracy.
"As the Chair of the Canada Taiwan Parliamentary Friendship Group I believe it's important that Taiwan's sovereignty, democratic institution, & the will of their people be respected," Sgro tweeted on Tuesday.
"Taiwan must have a voice," she said in the tweet, which received many enthusiastic responses from Taiwanese netizens.
Relations between China and Canada have been frosty since the arrest of Chinese telecoms executive Meng Wanzhou (孟晚舟) in Vancouver at the request of the United States on accusations of conspiracy to defraud banks after her company allegedly violated U.S. sanctions against Iran.
According to a recent Nanos poll conducted for the Canadian newspaper The Globe and Mail, more than 80 percent of Canadians have negative impressions of China's authoritarian government and 53 percent regard Beijing as a national security threat to Canada.
The survey, conducted between Dec. 30 and Jan. 5, also found that 56 percent of Canadians think the arrest of Meng, chief financial officer of Chinese telecom giant Huawei, was primarily "a justice issue" and 53 percent think Ottawa should bar Huawei from providing 5G equipment.
However, 29 percent of Canadians believe that Meng's arrest was politically and economically motivated and could damage Canada-China relations, while 15 percent are unsure of the reason, the poll showed.
Meng, daughter of Huawei's founder, was arrested at Vancouver Airport on Dec. 1, 2018, following a reported investigation by U.S. authorities into alleged breaches of U.S. sanctions against Iran. She currently faces extradition to the U.S.
According to the Canadian Press Global News, U.S. officials need to file a formal extradition request by the end of January 2019. After that, the Canadian Department of Justice will have 30 days to decide whether to approve the beginning of formal extradition proceedings.
If the request is allowed to proceed, Meng will appear before the British Columbia Supreme Court for an extradition hearing, the Canadian Press reported.