U.S. vessel docked in Kaohsiung delays departure for Australia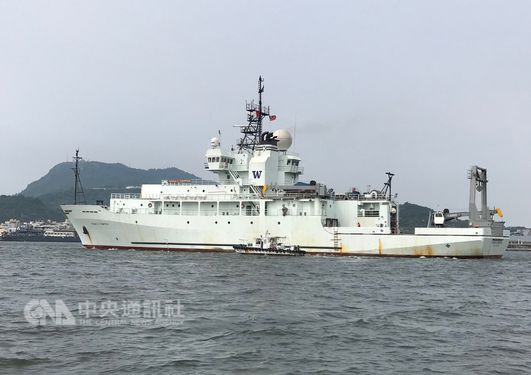 Taipei, Oct. 19 (CNA) The American Navy research vessel Thomas G. Thompson stayed in Kaohsiung one day longer than scheduled, with the ship believed to be undergoing repairs, according to Taiwan International Ports Corp.
The corporation said the reason for the delay is unknown. It is understood the vessel experienced a problem with its supply tank and the one-day delay was required before it headed for Australia on Friday afternoon.
There has been speculation in some quarters that the vessel's port call in Taiwan could be part of U.S. plans for a global show of force directed at China because the ship belongs to the U.S. Navy Office of Naval Research. In addition, Matthew O'Connor, the Kaohsiung branch chief of the American Institute in Taiwan (AIT), visited the vessel on Wednesday.
Foreign Minister Joseph Wu (吳釗燮) said on Wednesday that the arrival of the Thomas G. Thompson in Kaohsiung is not related to military cooperation between Taiwan and the United States and should not further antagonize Beijing.
The ship's latest port call is its 4th visit to Kaohsiung, all of which have been made for scientific purposes, Wu said.
The Ministry of National Defense (MND) reaffirmed that the visit is to collect maritime data in waters around Taiwan in cooperation with research fellows at National Taiwan University (NTU).