Taiwan's VP to attend Dominican Republic's presidential inauguration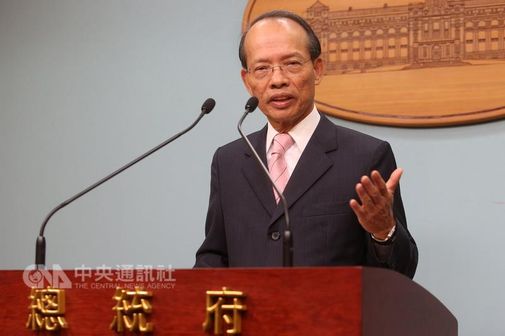 Taipei, Aug. 5 (CNA) Vice President Chen Chien-jen (陳建仁) is scheduled to embark on a visit next week to attend the inauguration of the Dominican Republic's re-elected president, during which he will make transit stops in New York, the Ministry of Foreign Affairs said Friday.
The vice president will depart for the Caribbean diplomatic ally on Aug. 13 and will attend the Aug. 16 inauguration of President Danilo Medina and Vice President Margarita Cedeno de Fernandez, who won re-election in May, said Deputy Foreign Minister Javier Ching-shan Hou (侯清山) at a news conference.
Chen is making his first overseas visit as vice president at the invitation of the Dominican Republic government, extended by Dominican Republic Foreign Minister Andres Navarro when he was assigned by Medina to visit Taiwan to attend the swearing-in ceremony of President Tsai Ing-wen (蔡英文) and the vice president on May 20, Hou said.
Chen will lead a 14-member delegation, which includes his wife Luo Feng-ping (羅鳳蘋) and Presidential Office Deputy Secretary-General Tseng Hou-jen (曾厚仁), Hou said.
After their departure on Aug. 13, Chen and his entourage will make a short transit stop in New York before arriving in Santo Domingo on Aug. 14, he said.
During a visit that will last until Aug. 17, Chen will hold meetings with Medina and his vice president to discuss issues of mutual concern.
He will also visit bilateral cooperation projects, including an emergency service center, a care center for children, a solar power plant financed by Taiwanese businesspeople and an orchid farm.
After wrapping up the visit, the delegation will make a stopover in New York, where Chen will meet with Taiwanese expatriates living there, Hou said.
Chen and his delegation are scheduled to return to Taiwan on Aug. 20, Hou said.
Meanwhile, Hou confirmed that Chen is planning to visit the Vatican, Taiwan's only diplomatic ally in Europe, but said related details are still in the works.
In response to reporters' questions on whether the planned visit will be affected by the news that China might establish formal ties with the Holy See, Hou said he has no information on the matter, adding that it was just speculation.
(By Lu Hsin-hui and Elaine Hou)ENDITEM/ke